Are you a pup parent looking for the perfect plaything for your furry friend? Look no further! Our Playology comparison guide is here to help you find the best toy for your pup. These look like great toys! Lots of choices made with dog-safe materials, and all-natural scents - these are definitely some toys to consider! We've done the research so you don't have to, so sit back, relax, and let us do the legwork!
Does your pup need a new toy? Uh- duh! Of course, he does!
Playology toys for dogs are the perfect solution! For one thing, dogs crave scent! And these toys are made with scent unleashed directly into the toy, making them irresistible to your pup! Plus, they're durable so you won't have to worry about them getting destroyed in a few days. And get this: they are slobber-wicking (did you know that was a thing?)! Yes - that means that the rope toys are made with high-tech fibers that wick away moisture similar to performance athletic wear! Crazy - but cool!
Your pup will have hours of fun and entertainment. They'll love the natural smells embedded in (peanut butter, turkey, chicken - is Fido drooling yet?) and the durability of the toys, and you'll love the fact that you won't have to buy new toys every few days. Plus, they are one of the healthiest toys as you can rest assured knowing that your pup is playing with a safe and all-natural toy.
This is an article reviewing all the different Playology Dog Toy styles you can buy on Amazon!
Playology Squeaky Dog Toys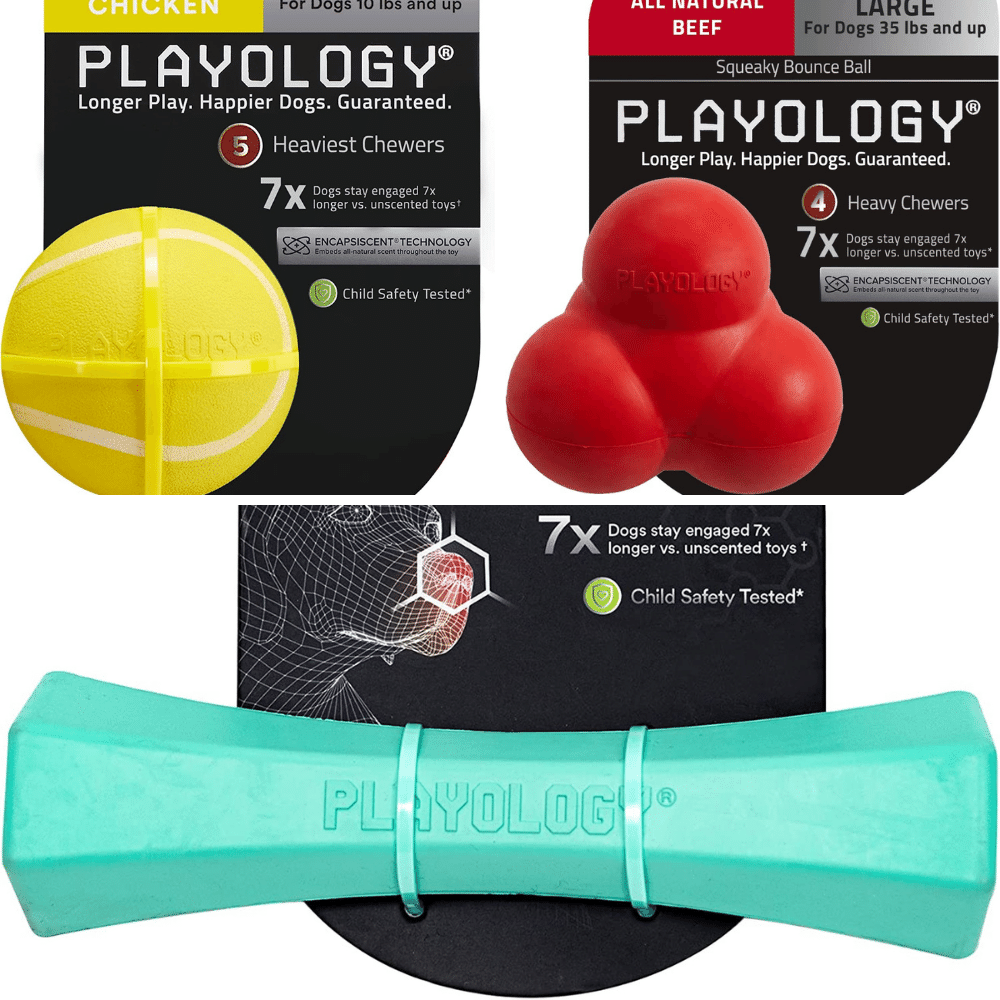 Playology Squeaker Toys
Click to Check Price on Amazon
What We Love About It
For pets that can't get enough of a good squeaky chew, the Squeaker Series is the ultimate must-have. Featuring three shapes – a regular ball, an oddly shaped ball that bounces in unpredictable directions when thrown and a stick-shaped squeaky chew – these toys are made of durable rubber to hold up against those who like to be extra enthusiastic with their chewers. And to top off the fun, each toy also comes in one of five mouthwatering scents: beef, holiday gravy, chicken, bacon or peanut butter! Best of all, these toys don't just smell inviting to your pooch - they also make for hours of entertaining play.
What You Should Know
Looking for the best squeaky chew for your furry best friend? Look no further – you've come to the right place. These toys are designed with an Encapsiscent (I think Playology made that word up!) technology that taps into a canine's 10,000x more powerful sense of smell, allowing them to experience the world through scent. Encapsiscent technology means they use all natural scents embedded directly into the material, so when your pup starts chewing, scent particles are released and Fido has a euphoric scent unleashed to entice him to keep chewing!
Best of all, these toys are human-tested and dog-approved – from meeting hazardous toxin standards to testing for ASTM safety guidelines.  ASTM makes rulings on child safe materials - and these dog toys are held to that standard!
Finally, dirt and sand trapped on the surface of a toy can grind down your pup's teeth, so we make them easy to clean, making these toys a refreshing source of canine entertainment!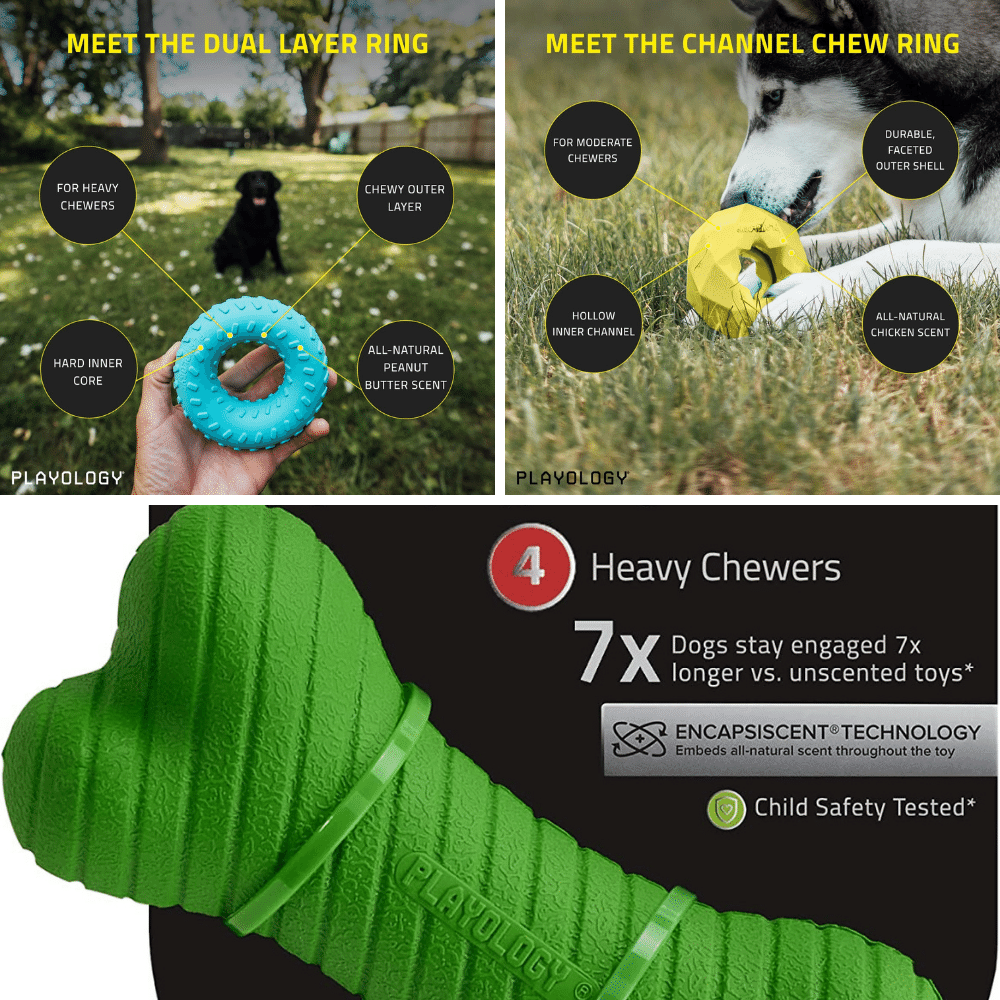 Playology Toys for Aggressive Chewers
Click to Check Price on Amazopn
What We Love About It
Dogs love to chew, but sometimes regular playthings just don't stand up to their chomping! Playology's Dual Layer Bone chew toy is an absolute must-have for heavy chewers with big appetites. Dog lovers everywhere rave about the perfect blend of soft and chewy outer layer combined with a hard inner core.
Plus the scents unleashed in these chews include mouthwatering scents like beef, chicken, cheddar cheese, sweet potato and even peanut butter!
Best of all, it's available in three shapes – bone, ring and channel chew ring – plus three sizes for small to large dogs. What more could a pup ask for in a chew stick? And every toy Playology delivers with this great product for all pets from teething pups to senior dogs - every one gets a chew stick made especially for them.
What You Should Know
What better way is there to keep your pup entertained and occupied? With these toys, you can rest assured that they come with human-tested and dog-approved safety ratings, plus those all-natural smells are embedded using encapsiscent technology (there's that word that Playology made up again!). Remember, encapsiscent technology means the all natural scent has been embedded at a microscopic level. That's pretty impressive!
And a study at Purdue University said this will keep a pup engaged with the toy up to 7 times longer than a non-scented toy! How about those numbers!
Through extensive research, these playthings are designed with the consideration of keeping your pup's teeth safe from any potential damage--just rinse them off with warm water and pat dry! Keeping tails wagging has never been easier, or more enjoyable.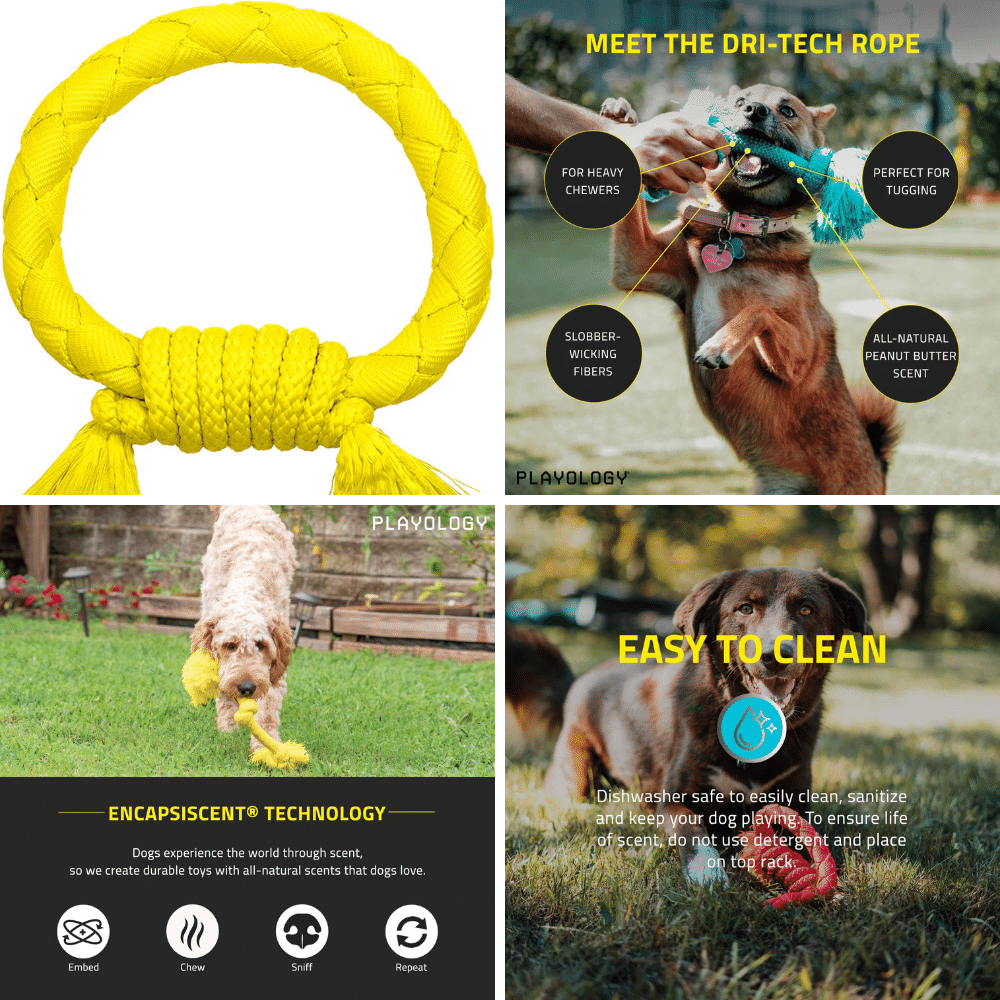 Playology Rope Toys
What We Love About it
Playology Rope Toys are more than just ropes - they are an investment in your four-legged friend's playtime fun. They come in three distinct styles: plain ropes, perfect for some classic tug o' war and games of fetch, or knotted rope balls with flapping tails that can provide hours of entertainment, and rope rings that are unique to Playology.
So many awesome choices for your pooch to play with!  You can choose between medium and large sizes, made to fit whatever breed of furry companion you have, and a wide selection of six flavors available - beef, chicken, holiday gravy, peanut butter, holiday gravy, and cheddar cheese.
Now get out there and find the Playology Rope Toy that fits your pup's personality perfectly!
What You Should Know
Playology offers some of the best rope toys for pets, designed to provide hours of safe engaging fun. The rope is made of tear-resistant fibers, durable enough for moderate chewers yet still powerful and resilient to tugging and thrashing.
Best of all, these rope toys are made with slobber-wicking(What? Who knew there was such a thing!) material to help keep the toy clean, ensuring a longer-lasting life.
Not to worry though; if your dog isn't completely satisfied (or you aren't) Playology boasts a 100% Happiness Guarantee on any items bought through Amazon or Petco! Who could resist great quality and an amazing toy that pups enjoy?
Add some spice to your pup's playtime routine with one of these Playology Rope Toys.
Please Note: No rope is going to last forever! Please throw this toy away when it starts to fray. Do not allow Fido to swallow pieces of the rope!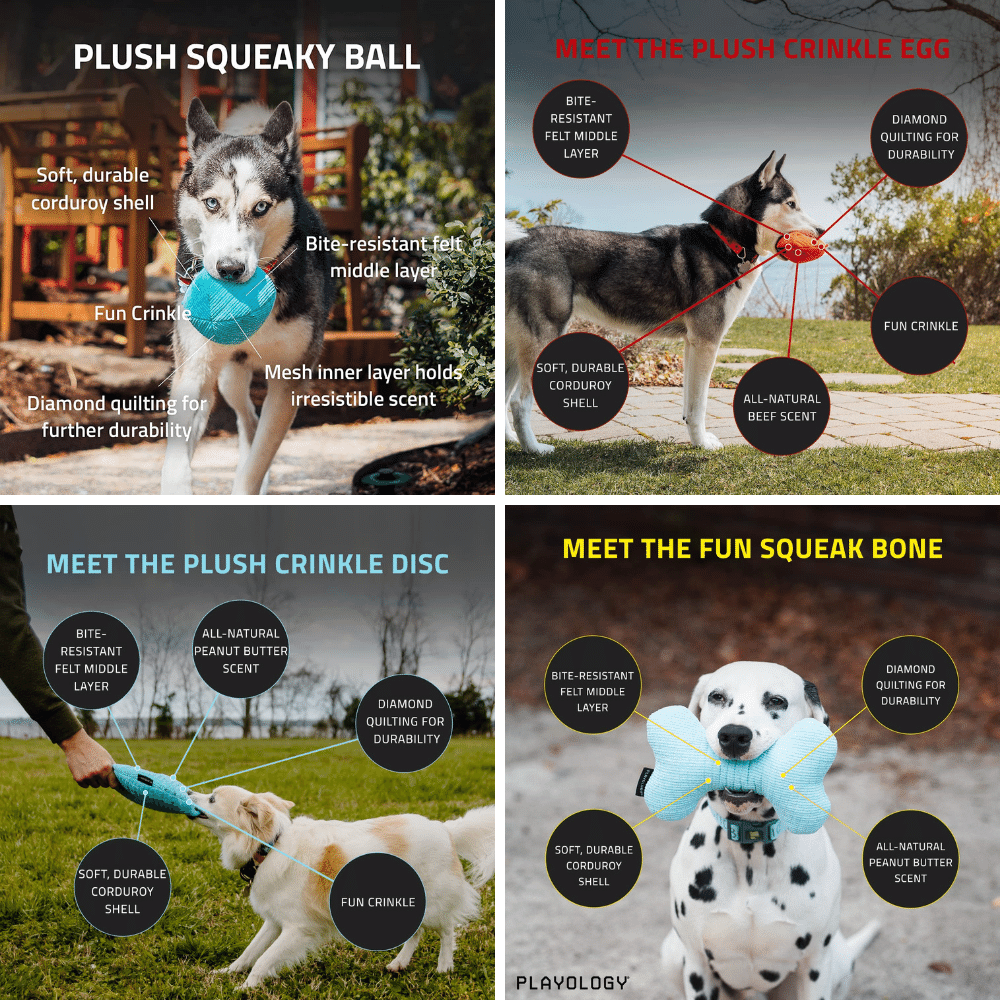 Playology Plush Toys
What We Love About It
These stuffies are the perfect way to give your pooch some added stimulation. They come in five different shapes - egg, disc, ball with a squeaker, bone and ring - each designed to give your pup hours of entertainment.
But these toys don't just provide amazing hours of fun: the beef and peanut butter aromas will leave your dog's senses tantalized. Best of all? You can choose between red and sky blue colors when selecting which toy to pick.
What You Need to Know
Playology Plush Toys have what your pup desires! With a soft and durable corduroy outer shell and bite-resistant felt middle layer, these plush bundles come with all the features your furry friend needs.
Not only do the inner layers boast an irresistible all natural scent from Encapsiscent Technology, but diamond quilting provides maximum durability.
Best of all – these toys are made with child-safe materials so you know your pup is in good paws! From the fun crinkle in the discs to the squeakers in the bones, these toys are sure to bring joy to your furry family member.
And even better - you can purchase these toys in single packs or double packs! Now you don't have to make that hard decision of which one to buy! Buy them both!!
Get yours today and watch as your pup enjoys their new favorite item!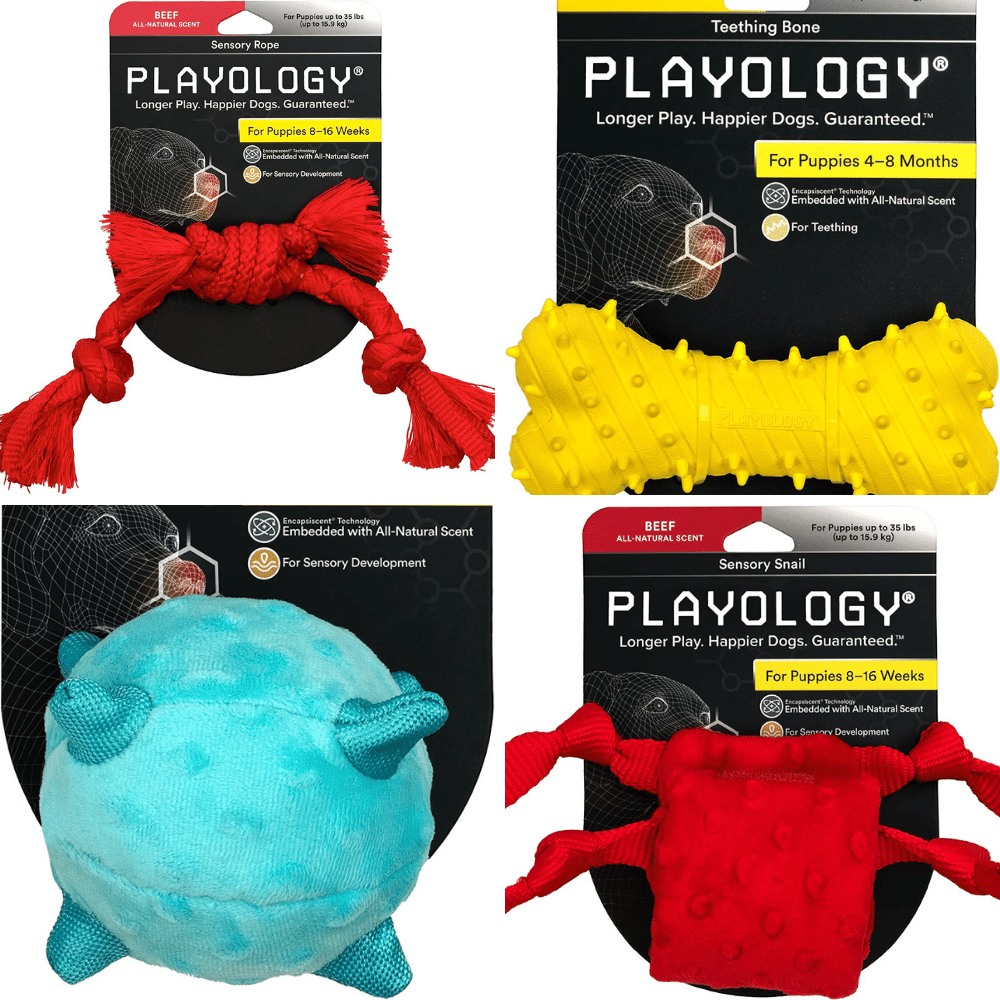 Playology Toys for Puppies
What We Love About It
These are specifically designed to help puppers grow and have fun with age-appropriate chews!
They come in four shapes – bone, snail, ball, or rope – so you can give your pup the perfect playtime gift.
There are three aromas: beef, peanut butter and chicken. Your puppy can choose their favorite flavor or rotate through them all (good luck stopping them from picking the same one every time!).
If they happen to get bored with one shape or scent, Playology has got you covered – there's plenty of diversity to keep those pup-play sessions lively!
What You Should Know
These toys are equipped to provide your pup with the perfect play experience! Uniquely shaped and thoughtfully designed, the ball and snail feature suckling spikes to engage younger puppies, providing them with an important tactile sensation.
Each has a squeaker that is sure to bring a smile to your pup's face.
Natural Beef, chicken or peanut butter scented toys will also encourage your pup to explore their new favorite item.
Best of all, because each toy is made specifically for certain age groups – 8-16 weeks old with the ball, snail, and rope toys; 4-8 months old with the teething bone – you can rest assured your puppy has access to age-appropriate items that promote healthy mental and physical growth.
It's never too early to start having FUN!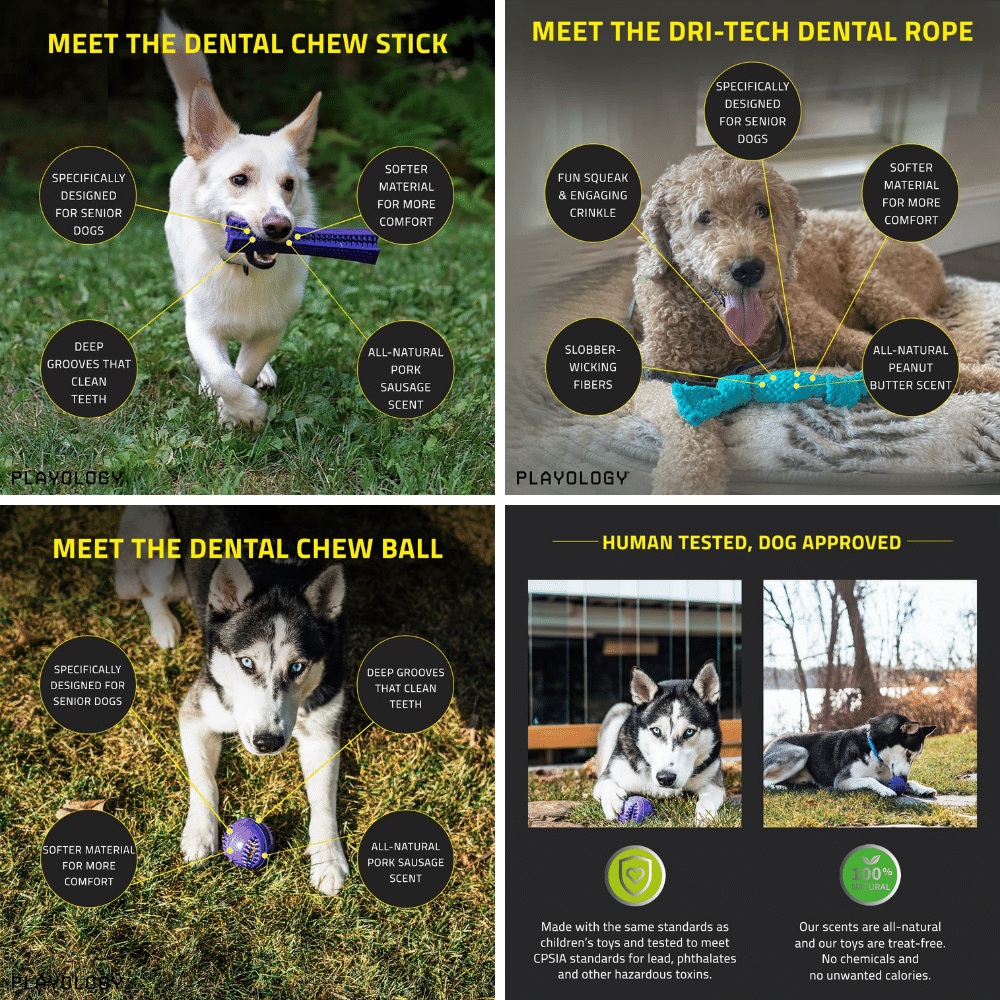 Playology Toys for Senior Dogs
What We Love About It
Your senior pooch has special needs and Playology knows it. This series comes in three shapes - ball, stick and rope.
For those older doggos who still want to play, they have a specially designed ball and stick plush stuffie that is extra comfy on aging teeth and gums.
But that's not all; the toys have an amazing pork sausage or peanut butter aroma to make senior playtime more enjoyable.
The rope toy is also built with deep grooves to help clean their teeth as they chew.
These are some of the healthiest toys for Old Roy around!
What You Need to Know
Playology Senior Dog toys are specifically designed to keep older pups engaged and entertained, with a dental chew stick, ball or rope meeting those needs perfectly.
They are made of a softer material that is more comfortable for those aging teeth and gums, plus deeper grooves to help get some extra dental clean-up as your dog chews away.
It's also available in medium or large sizes - so choose whichever would be best for your ole' pup!
And of course, Playology remains committed to encapsulating their toys with tiny scent particles embedded into the material at a microscopic level that release an all-natural pork sausage smell only your pup can appreciate. With the combination of using smells they love and providing added comfort, senior pups will love these toys.
Playology Dog Toy FAQs
You want to buy the best playthings for your pup, but don't know which ones to choose.
With so many different toys on the market, it can be hard to know which ones are the best for your pup. You want  durable, safe, and stimulating items, but you don't want to break the bank.
Look no further! Playology remains committed to the same safety standards in their toys that human children's toys are held to! We've compiled a list of the most frequently asked questions about the best toys so you can know more about these products. With innovative designs and durable materials, you can trust that your pup will have hours of fun with these toys.
Are Playology Toys Legit?
Yes, they are a legitimate company that specializes in creating interactive toys. But I bet that's not what you meant! Are they legit the best toy out there? Well - they are pretty amazing. They use the latest technologies to create toys that are engaging and stimulating for your pup. Their dog chews are made with dog-safe materials, with absolutely no toxins deemed hazardous to Rover based on the same safety standards toys for human children are held to! Dogs crave scent - and every toy, every squeaky chew, every chew stick has been embedded with microscopic scent bits that dogs love directly into the material. It's not going away! Rover is going to love it!
Are Playology toys durable?
Yes, they are designed and engineered to be durable and long-lasting. They are made from quality materials and have undergone rigorous testing to ensure they can withstand the rigors of play. Each one is designed to be safe, non-toxic, and easy to clean.
How long do Playology toys last?
They have a wonderful durable design meant to last a long time, but how long? Well - that depends so much on your doggo. No toy is going to last forever - especially if Rover loves it. Depending on the type of toy, they can last anywhere from several weeks to several months. All of their toys are made with high-quality materials and are rigorously tested to ensure that they are safe and durable. If you have any concerns about the longevity of your toy, please reach out to our customer service team for assistance.
What toys are best for dogs that destroy everything?
The best toys for super chewers that tend to destroy everything are those that are made of durable materials such as rubber, nylon, or even hard plastic. Look for toys that are designed to be chewed and are labeled as "indestructible." It's also important to choose toys that are the right size for your dog's breed and age. Additionally, look for toys that have multiple textures and shapes that can help keep your pup's interest and help them to stay entertained for longer. Finally, make sure to rotate toys regularly to keep your pup from getting bored and to ensure they don't become too attached to any one toy. Dog lovers everywhere recommend brands such as Playology, Kong, Benebone and Lumabone for their durable design.
Who owns Playology?
Playology is owned by a company called Logical Brands. Other featured brands in this company are Grrreen and Hound2O.
What toys should dogs not have?
Pups should not have any playthings that are small enough to be swallowed, such as small balls or the squeaker within some stuffies. Toys with sharp edges, such as sticks, can also cause injury. Items with strings, ribbons, or cords can become tangled around the neck or limbs and cause choking or strangulation. Plush animals that contain stuffing can be chewed and ingested, potentially causing intestinal blockage. Avoid anything with magnets, as these can cause serious internal damage if swallowed (the same is true for your human children!).
Finally, dogs should also not be given rawhide toys. I know - they are EVERYWHERE! But don't be tempted to give them this "toy." Sure - they love them - but they are made with toxins deemed hazardous (bleach and formaldehyde) to your pooch's health. Plus, if Rover swallows a piece of rawhide, it could cause an intestinal blockage. And if that happens - Rover will need an emergency visit with your vet! Just say no to rawhide!
What do vets recommend for dogs to chew on?
Vets recommend giving your pooch safe chew playthings that are specifically designed for pups. These chew toys should be made of non-toxic materials and should be large enough that your pupper can't swallow them. Chew toys can help relieve boredom and provide mental stimulation for your doggo. Additionally, they can help to keep your doggy's teeth and gums clean. Some popular chew toys for pups include rubber chews, rope chews, and dental chews. Be sure to supervise your pooch when they are playing with their chew toys to ensure that they don't swallow any pieces.
Why do dogs sigh?
Canines sigh to communicate a wide range of emotions, such as contentment, stress, anxiety, and even sadness. It's thought that they sigh as a way to release tension and express their feelings. It's also thought that they sigh when they are feeling relaxed and content, as a way to show their trust and comfort in their environment. They may also sigh when they are feeling overwhelmed or anxious, which can be a sign of distress. If you notice your canine sighing more than usual, it may be a sign that they are feeling stressed or anxious and could benefit from some extra attention and reassurance.
Does my dog think I'm a dog?
No, your dog does not think you are a canine. Dogs are highly intelligent animals and are capable of recognizing humans as distinct from other animals. They can recognize their owners and other people by sight, smell, and sound, and can even understand human words and gestures. Your woofer may view you as a pack leader, or even as a family member, but they do not think of you as a woofer.
Conclusion:
While we can't speak for every pooch out there, the Playology team has put together a great selection of playthings that are sure to get tails wagging. With a special formulation that makes them smell great to dogs and a wide variety of options for different ages, breeds, and play styles, we're confident you'll find the perfect Playology toy for your precious pup. So what are you waiting for? Get clicking and find the best product for you.
As an affiliate of Amazon and other marketing website, we may earn a small commission from certain qualifying purchases.
Other Related Articles: