Are you a pet parent looking for the best dog toys for aggressive chewers? Is your dog chewing you out of house and home? Look no further! I can help you!
We know how frustrating it can be when your dog chews through every toy you give them. That's why we've compiled a list of the best dog toys for aggressive chewers - so your pup can stay entertained and your home can stay intact.
With these top-rated dog toys, your pup will have hours of fun playing and chewing without destroying anything in sight. And since they're all made from tough materials, you don't have to worry about them hurting their teeth either.
Check out our list of the best dog toys for aggressive chewers today!
How We Choose the Best Toys for Aggressive Chewers
First and foremost – I have a houseful of dogs that can destroy dog toys with about 2 licks! Seriously! So I know what you are looking for if your dog uses his chompers to practically "eat" toys. I have been purchasing dog toys for a long time being a lifelong dog owner. Plus, Amazon is my friend! My husband jokingly calls the Prime Truck driver my "boyfriend" because he stops by so often!
Please note that we do NOT encourage you to purchase plush dog toys for your aggressive chewer. They will destroy those toys in seconds - and you will have a mess to clean up!
I am happy to dig through the options Amazon to help you find virtually indestructible dog toys so that you don't have to. Many of these dog toys have been enjoyed by my pack … and for the toys my dogs haven't had the pleasure of playing with yet – I have read thousands of reviews so you don't have to.
Let's go find your dog's next favorite toy!
Why We Love It
Welcome to the world of Benebone chew toys, your pup's new favorite companion! If you have an aggressive chewer on your hands, one that refuses to break its chewing habits, then this durable dog chew toy is exactly what you need. It is made from tough nylon and designed to last – so your pup can keep up with their constant chewing. And better yet, it comes in several different sizes so that you can find the perfect match for your furry friend!
This Benebone chew toy will give you peace of mind knowing your pup is safe and encouraged to keep their teeth and gums clean. My personal dogs love these dog toys as they're not only one of the toughest dog toys on the market but they are also long-lasting.  Other chew toys just don't compare.
The makers of Benebone know how important it is to ensure the safety of our four-legged pals and they've taken every possible step towards making sure their chew toys stand up against the toughest of chewy friends - without breaking the bank. So come on over today and pick up your well-designed Benebone Dental Dog Chew Toy for Aggressive Chewers! Available in sizes ranging from XS-XL, surely there's something here that fits like a glove into your pup's ever-growing collection of toys. Let's get ready for hours of fun – playtime has officially begun!

What You Should Know
HOLIDAY CHEW TOY SPECIAL - Get a 4-pack of our best-selling Benebone dog toys, perfect for aggressive chewers. Made of tough nylon, these dog toys are designed to last and provide hours of fun. Reading this article AFTER the holidays? That's OK! Benebone packs are available all year long!
- REAL FLAVOR - Unlike other durable dog toys that just taste like plastic, Benebones are infused with real bacon, chicken, or peanut butter flavor. Your dog will love the taste of these indestructible dog toys and you'll love the durability.
- MADE FOR AGGRESSIVE CHEWERS - Our chew toys are made of tough nylon and are not intended to be consumed. They are designed to withstand the strongest jaws and provide hours of playtime enjoyment.
- AMERICAN MADE CHEW TOY - Benebones are made in the USA and not China. This is important because many chew toys come from China, where there is a high risk of lead poisoning.
- SIZES - Benebones come in three sizes: small, medium and large. Honestly, I always buy large even for my small 5-pound pup! But, the ability to buy different sizes is nice! Note that Benebone does have puppy packs that are a little bit softer for teething puppies! You can find them with this link.
Why We Love It
Pamper your pup with the KONG Classic Dog Chew Toy! This durable natural rubber chew toy is the perfect way to keep man's best friend entertained for hours on end. From classic shapes and sizes to creative designs, Kong has something for every kind of pooch. Whether you're looking for a bouncy game of fetch or an obstacle course challenge, the Kong toy will exceed your expectations. It is also one of those almost indestructible dog toys on the market.
Your pup may be tough but this resilient durable natural rubber ensures even the most aggressive chewers won't be able to make quick work of it – plus, it's guaranteed to last and last! Not only that, but it keeps your furry friend happy and engaged so they can let loose their pent-up energy and brighten up your day. You can fill these tough dog toys with treats to occupy and reward good behavior too. Dogs love the challenge of trying to get all their goodies out from within this wonderful little chew toy.
It'll soon become an indispensable part of your pooch's playtime, entertaining them for hours. Get them a KONG Classic Dog Chew Toy today – your four-legged pal will love you for it!
What You Should Know
MADE IN THE USA - All Kong chew toys are made of durable natural rubber and are made in the USA with globally sourced materials.
- RECOMMENDED BY VETS - Kong is the most widely used and recommended dog chew toy by vets, making them one of the best indestructible dog toys available.
- STUFF WITH TREATS -The unique design of this dog toy provides a satisfying chewing experience for dogs. Dog owners stuff these chew toys with treats or food to encourage their dog to play with it longer and help clean their teeth as they chew.
- KONG dog toys come in various shapes, sizes and colors – but they all have one thing in common: They are extremely tough toys! Kong chew toys are made from a special non-abrasive natural rubber formula that is safe for dogs to chew on. It also bounces erratically so it's great fun for your pet! This is one of the toughest dog toys available on the market today!
Why We Love It
The Nylabone Power Chew Textured Dog Chew Ring Toy gives your pup the best of both worlds - an interactive chew toy for hours of play and fun, plus a powerful dental cleanser for top-notch dental health.
The pet-safe nylon material is designed to stand up to even strong jaws, and the textured surface helps scrape away plaque buildup for easy brushing afterward, making it another one of the toughest dog toys around.
It's available in multiple sizes so you can buy the best size for your pup! Plus it comes with a delicious medley of flavors that are sure to please.
Oh – and did we mention that it's made in the USA? That's right - you can trust that you're getting an extremely durable yet safe chew toy that's proudly crafted right here at home. Let your pup get their play AND chew time in on one toy – pick up the Nylabone toys today! Pet parents everywhere love this brand.
What You Should Know
-LONG LASTING - Nylabone Power Chew Textured Dog Chew Ring Toy Ring Flavor Medley Small/Regular is one of the toughest chew toy for your dog.
-MADE IN THE USA - This means you can really feel good about these dog chew toys! Made here at home, this dog toy is safe for your dog's mouth and overall health.
- PROMOTES DENTAL HEALTH - This chew toy's ring shape helps remove plaque and tartar from your dog's teeth while they chew on the toy. It also massages their gums and cleans their teeth as they chew.
- VARIETY OF SIZES - There are many sizes available, so you can find one that fits your dog perfectly. You can also buy different flavors to keep things interesting! Tough chewers everywhere love this dog toy!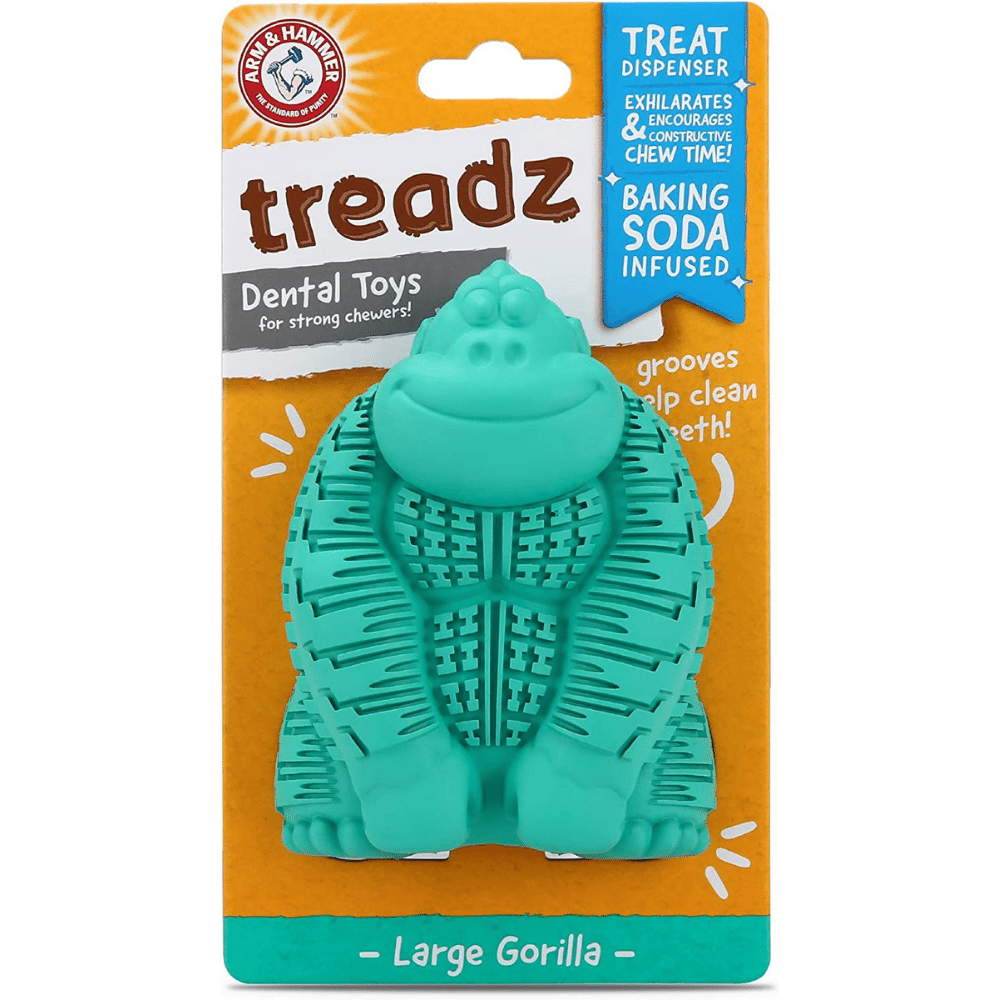 Arm & Hammer for Pets Super Treadz
Click Here to Check Price on Amazon
Why We Love It
Say goodbye to toy time stress with Arm & Hammer for Pets Super Treadz Gorilla Dental Chew Toy! These chew toys are tough and built to stand the test of even the most aggressive chewers, putting them on the indestructible dog toy list!
Your pup will love chomping away on this durable dog toy that stands up to even the toughest chewers while being treated to healthier pearly whites thanks to its unique baking soda infusion that helps brush away plaque and tartar.
Not only is the Gorilla super tough, but it also has a textured rubber surface that massages your pup's teeth as they chew away on it. In addition, this versatile toy can be used for solo play or as part of a game of fetch—lots of options for tail-wagging fun! Now you don't have to sacrifice safety or quality when it comes to giving your doggo what he needs in a dental dog toy and an enjoyable time!
Don't worry, this chew toy won't break apart easily and it's made without any chemicals, BPAs or phthalates, so you can feel secure in knowing that your playful pup is having a safe chewing session each and every day.
Arm & Hammer for Pets Super Treadz Gorilla Dental Chew Toys – A better chew & cleaner teeth!
What You Should Know
MULTIPLE SHAPES - Arm & Hammer for Pets Super Treadz are available in two shapes: alligator or gorilla. Both shapes are designed to provide your dog with hours of fun while they chew away at the durable toy.
- LONG LASTING - These durable dog toys are made from tough material that will last, so you can rest assured knowing your pup is getting a quality product. The material also helps remove plaque and tartar from your dog's teeth, which means fewer trips to the vet! This is one tough dog toy!
- INFUSED WITH BAKING SODA - Your dog will love chewing on these chew toys because not only do they taste great, but they also help remove plaque and tartar from their teeth!
4.5 Heavy Duty Squeaky Dog Balls
Click Here to Check Price on Amazon
Why We Love It
This is a big squeaky toy ball (4.5 inches in diameter) so the size alone will help slow the rate that your aggressive chewer will destroy this toy. They also have a smaller ball (3.5 inches in diameter), but be sure to get whichever one is a bit bigger than your dog's chompers! This makes the durable toys list because of its unique design.
What You Should Know
GUARANTEED - This chew toy has a 360-day guarantee from the manufacturer – that is unusual! If you have super-chewers at your house – you know there probably isn't a toy on this earth that will last a full year! But – if this company wants to send you a new toy a couple of times a year – who are you to complain?
NOISE-MAKER - It will keep some dogs more entertained than a quiet ball – but it may just drive you crazy! The manufacturer says the squeaker is safely contained – but if Fido does chew a hole in this ball – be sure to grab that noise-maker quickly and throw it away! You do not want a choking situation on your hands.
UNIQUE BALL SHAPE - We also love the spikes on the ball. Those spikes are going to help clean your dog's teeth while they chew away on them. The overall health of your dogs is closely related to healthy gums and clean teeth. Finding a chew toy that is entertaining and promotes good health is a fantastic find in our book!
Toys for Aggressive Chewers FAQs
Most dogs love to chew, but you don't want them to destroy their toys before they are hardly out of the package! Pet parents everywhere are looking for dog chew toys that will stand the test of time.
It can be tough finding a good dog toy that your dog won't tear apart in minutes. Finding the perfect chew toy is a challenge - and I am here to help you.
These FAQs about dog toys for aggressive chewers will help you find the perfect toy for your pup. We've gathered information on the best materials, shapes, and sizes of toys that are durable enough to stand up to even the most aggressive chewers.
What to give dogs that are heavy chewers?
There are a few things you can give dogs that are heavy chewers. Some good options include bully sticks, Kong toys, and dental chews. Bully sticks are made of compressed beef muscle, so they're a natural, healthy option for dogs who love to chew. Kong toys can be filled with peanut butter or other treats to keep dogs entertained for hours. And dental chews help clean teeth and freshen breath.
Whatever chew toy you choose to give your dog, make sure to supervise them while they're chewing to avoid any accidents. And always choose safe, digestible chew toys that won't cause choking or other health risks.
What is the most indestructible toy to give a dog?
The most indestructible toy to give a dog is a Kong. Kongs are rubber toys that can be filled with food, like kibble or peanut butter, which will keep the dog occupied and entertained for a while.
Many dogs love to play fetch, so another option is to buy a durable ball that won't easily break or tear. Tennis balls and rubber balls are both good choices. People ask if there are balls or toys made from Kevlar®, the same material used in bulletproof vests, and at the time of writing this article, I could not find any such toys. It's not a bad idea for our crazy chompers, but I don't think it exists.
What is the safest chew toy for aggressive chewers?
There are a few different chew toys that are considered safe for aggressive chewers. Kongs are a popular option because they can be filled with food or treats that will keep your dog occupied for awhile. Other good options include hard rubber balls, nylon bones, and antlers.
It's important to supervise your dog when they are playing with any type of chew toy, as some toys can be dangerous if ingested. Make sure to replace any toy that becomes damaged or worn down and stop using it immediately.
Do dogs relieve stress by chewing?
Yes, dogs relieve stress by chewing. This is because when a dog chews something, it releases oxytocin, which is a hormone that helps to reduce stress. In fact, studies have shown that dogs who are given toys to chew on tend to be less stressed than dogs who are not given any toys to chew on. This is because the act of chewing helps to keep the dog's mind occupied and prevents it from becoming stressed.
Will my dog ever stop destroying toys?
Your dog may eventually stop destroying toys, but it's also possible that he'll continue to do so throughout his life. Dogs often chew and destroy toys as a way of relieving boredom or anxiety, and some dogs simply enjoy the act of destruction.
Dogs that are power chewers should avoid the following type of toys: plush toys, tennis balls, any soft toy and even rope toys should only be provided with supervision.
If your dog is routinely destroying his toys, consider giving him fewer toys to play with or providing more stimulating activities for him to engage in. You can also try getting him tougher toys that are less likely to be destroyed. Ultimately, it's important to remember that every dog is different and what works for one may not work for another.
Are pig's ears good for dogs to chew on?
Pigs ears are a good chewy treat for dogs because they are high in protein and low in fat. They also contain essential vitamins and minerals, such as vitamin C, vitamin B6, iron, zinc, and selenium. Plus, they're a natural source of glucosamine and chondroitin, which can promote joint health in dogs.
Pigs ears should not be given to dogs who are allergic to pork or who have pancreatitis, diabetes, or obesity. And pigs ears should always be given to dogs in moderation to avoid overeating and gastric upset.
Conclusion:
Whether your dog loves to play fetch, chew on bones, or just run around and chase balls, there's a perfect toy out there for them. Extreme chewers give their pet parents special challenges! But that's ok! We are here to help you find the safest chew toys available.
When it comes to dogs, there are two distinct chewing personalities:
Nibblers – These dogs chew their toys for short periods of time, and when they bite down, they don't use much force. It takes a lot of chewing for a nibbler to destroy a toy. This has not been the article for them!
Destroyers – These destructive dogs (some are large dogs, and some are small!) aggressively bite and tear into their toys. They will sit and work the toy over and over until all they have left is a broken toy. You need durable toys for these piranha jaws!
We have searched far and wide for dog lovers everywhere to help them find the best toys for making chewing fun and NOT destructive to your furniture!
So what are you waiting for? Let's save your couch and go check out our list of best dog toys for tough dogs on Amazon and get your pup started on the path to hours of fun! Thanks for reading!
As an affiliate of Amazon and other marketing website, we may earn a small commission from certain qualifying purchases.
Related Articles: