Are you looking for a new way to keep your pup entertained? Dog snuffle mats are the perfect solution! These mats are interactive puzzles that are designed to stimulate your dog's senses and keep them engaged and entertained. You can hide kibble or treats in long "grass" or "hair" as well as hidden pockets that your pup has to sniff out and explore.
Snuffle mats are great for providing mental and physical stimulation for your pup. They help to keep your pup's mind active and help to reduce boredom and destructive behaviors and stimulate your dog's nose. Plus, they are a great way to keep your pup busy.
Once again, while researching for my blog, I have discovered something new: Snuffle Mats! They are a fun, interactive mat that you hide treat in - and your pup goes searching for the treats! The sniff through long strands of carpet-like fibers and fleece strips hiding areas, look in pockets, and generally have fun searching for treats.
Several locations mention that you can give one to Rover while you are away - but I would NEVER do that! You are just asking for your dog to keep looking for treats, long after the treats are gone, and they are likely to destroy the mat! In my opinion, these mats should only be used under direct supervision, and then picked up and put away until the next time you decide to load it up for your pup.
I have personally never used one - but I know a few of my dogs would think this is great fun! My dogs are very treat motivated. I may have to invest in one for myself soon!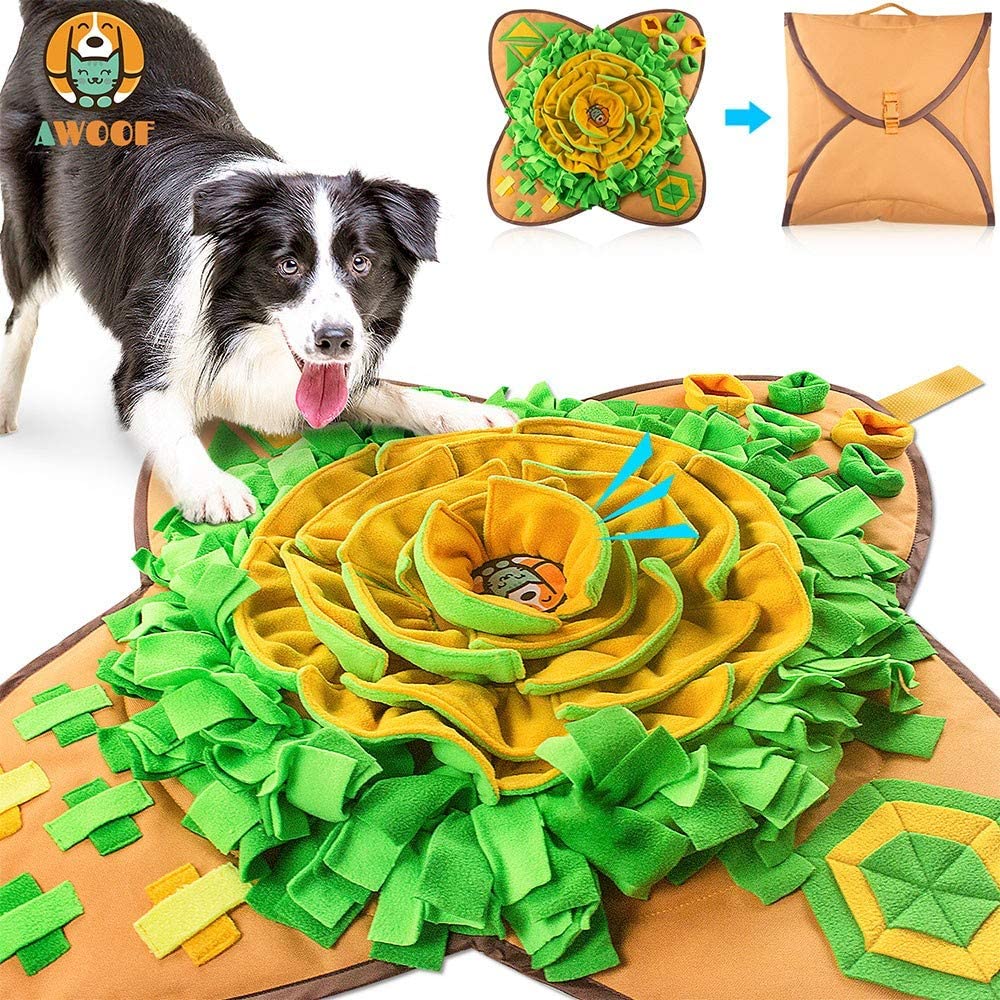 AWOOF Snuffle Mat Pet Dog Feeding Mat
Check Price on Amazon
Why We Love It
AWOOF Snuffle Mat Pet Dog Feeding Mat is a must-have for all dog owners! This mat is designed with a big orange flower in the middle that can easily hide large chunks of food. The outer ring is made of rich and messy fleece grass ideal for small size food. Plus, it comes with 4 additional feeding games for the smart and experienced dogs, 4 release buckles to help keep the mat in place, and is made of thick oxford cloth and polar fleece for maximum durability and comfort.
What You Need to Know
AWOOF Snuffle Mat Pet Dog Feeding Mat is the perfect way to develop good habits in your dogs and provide them with extra fun.
There are 4 layers in the big orange flower in which you can hide treats or food kibble. You can also you use the fleece grass for additional hiding spots. Around the outside of the mat are many pockets you can hide kibble in for added intrigue! The center of the mat has a squeaker that your dog can set off using either their nose or by stepping on it.
The open mat is just under 29 inches square opened up, and will fold up into a 16 inch square that is about 3.5 inches thick that is easily stored. The mat is machine washable on a gentle cycle - or can be washed by hand if you prefer.
AWOOF also offers a 100% quality warranty. They promise the durability and workmanship of this dog snuffle mat with a replacement or full refund! Your choice if you are not completely happy with it.
This mat is sure to keep your pup entertained while engaging the dog's natural foraging instincts. So why wait? Get your own AWOOF Snuffle Mat Pet Dog Feeding Mat today!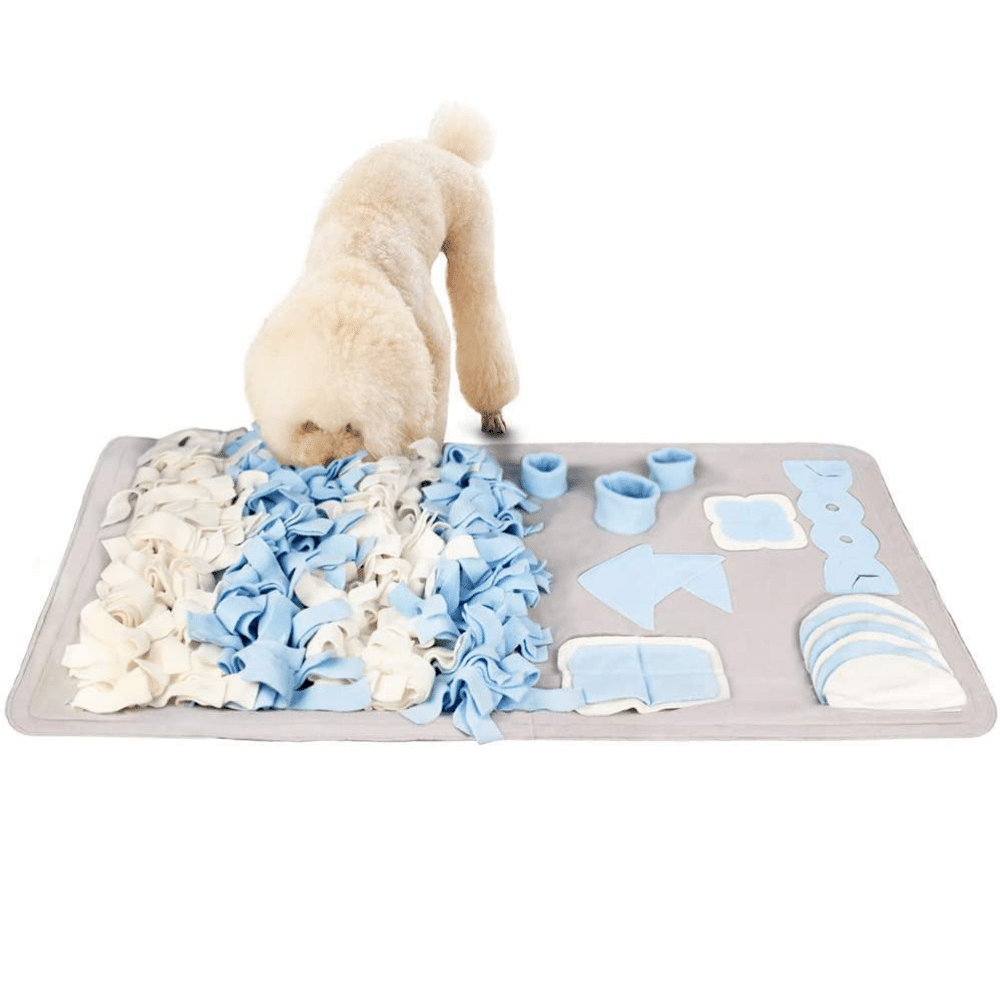 STELLAIRE CHERN Snuffle Mat
Check Price on Amazon
Why We Love It
The STELLAIRE CHERN Snuffle Mat is the another fun way to engage your dog's sense of smell and natural foraging skills. The easy to fill dog snuffle blanket mimics the hunt for food in nature and is great for stress release. It's also made of polar fleece and upcycled materials, making it eco-friendly, durable and easy to clean. Plus, its anti slip bottom keeps it securely in place on the floor for less-messy pet feeding.
What You Need to Know
The STELLAIRE CHERN Snuffle Mat is perfect for all types of dogs'. This large mat is 23.6" x 39.4" which makes it a great choice for interactive training.
This beautiful fleece mat comes in three different colors: gray background with white and light blue decoration, light blue background with gray and cream colored decoration, or pink background with pink and white decorations. It also features an area of fleece "grass"  as well as several pockets and cubbies as hiding places for kibble or treats for Rover to find.
It's also machine washable can be rolled up for easy storage. The non slip backing means it won't move all over the floor as Rover enjoys hunting for his food at meal time!
Whether you're looking for a way to keep your pet entertained or a new way to challenge them through training, this mat is sure to do the trick. And if you're not satisfied with your purchase, we offer a no-risk purchase option so you can shop with confidence.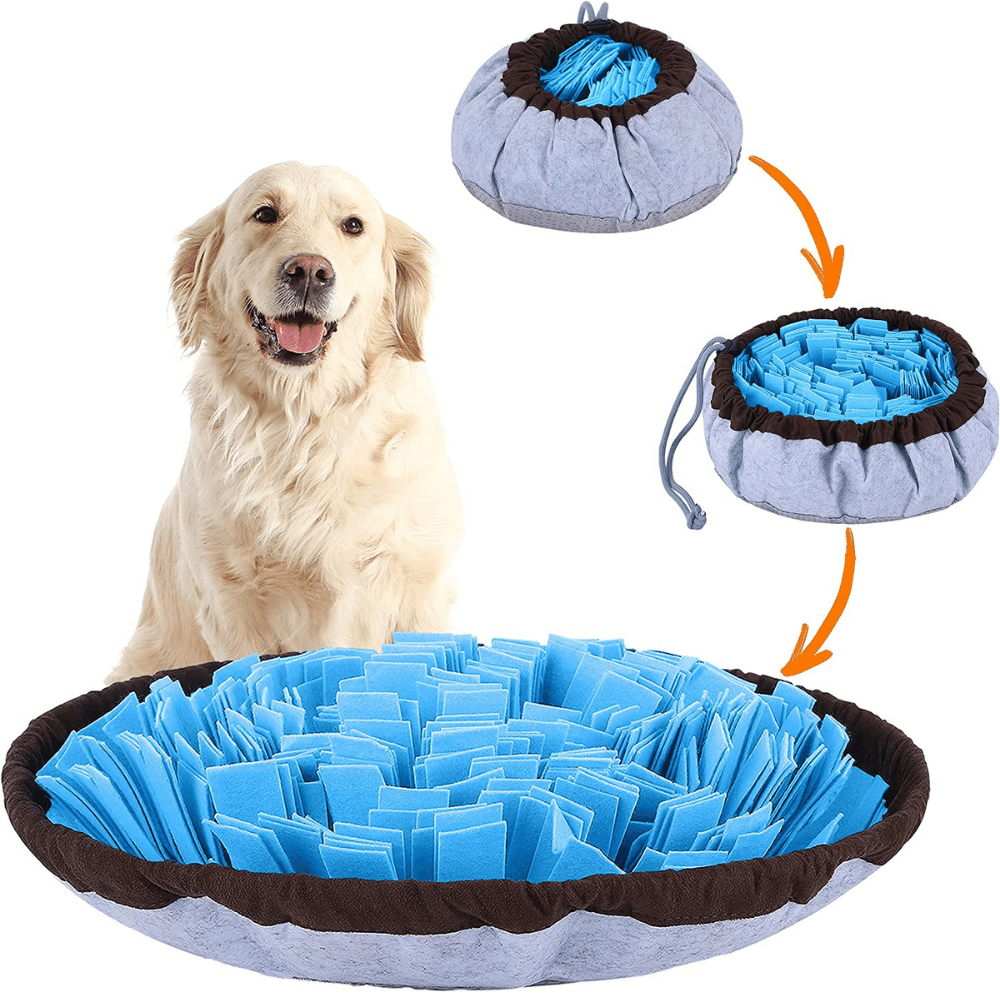 PET ARENA Adjustable Snuffle Mat
Check Price on Amazon
Why We Love It
The PET ARENA Adjustable Snuffle Mat is an amazing dog puzzle toy that helps to enhance your pup's sense of smell while they search for treats. This puzzle is made of eco-friendly, sustainable, anti-pilling upgraded polar fleece material and is both machine washable and able to be hand washed easily. The drawstring belt allows you to quickly convert this toy into a snuffle mat, feeding bowl, or even a small storage bag. Plus, the non-slip bottom design makes this a great choice for any home.
What You Need to Know
The PET ARENA Snuffle Mat is one of the best snuffle mats for improving your pup's digestion by slowing the speed at which they consume the food hidden within the bowl, increasing mental stimulation, and reducing anxiety.
This puzzle features a round hiding area that is approximately 19.7 inches around when open all the way. It closes to a small 10 inch bowl with the drawstring pulled tight. You have the ability to open the bowl as much or as little as you'd like when Fido is searching for his treats!
This bowl can be hand washed or machine washed. Pet parents on Amazon say that this dog snuffle mat has help up very well to dogs like Rottweilers, Labrador Retrievers, and blue heelers! Those are some tough dogs - so it's sure to hold up for your best friend, too! Just remember to always use under supervision and pick up when Fido has found all the food.
With this dog puzzle you can help your pup learn to eat slower, increase their mental health, and reduce destructive behaviors. So why wait? Get your pup their own PET ARENA Mat today!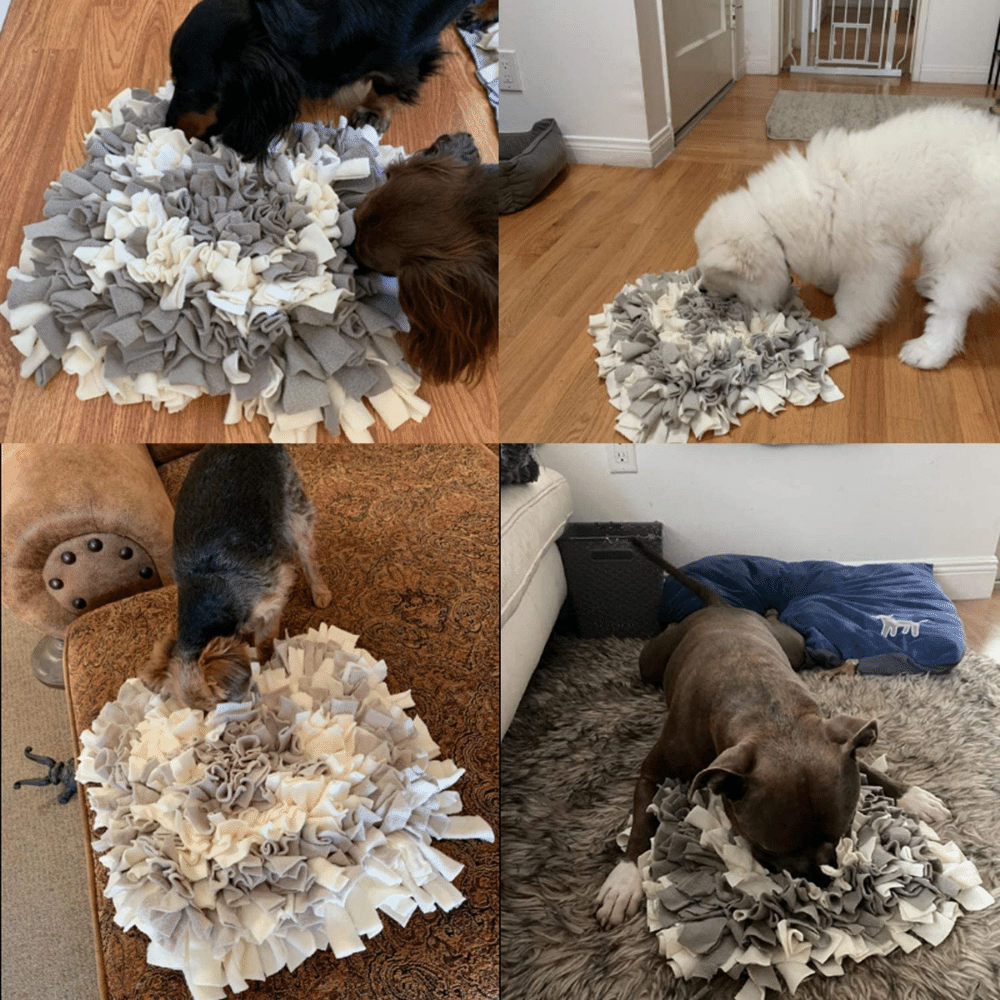 LIVEKEY Pet Snuffle Mat for Dogs
Check Price on Amazon
Why We Love It
The LIVEKEY Pet Snuffle Mat is the perfect way to train your pup's sense of smell while keeping him occupied and entertained. This unique mat hides snacks or kibble in a fun and stimulating way, so your pup can search and use his nose to find them.
Plus, it helps Rover to expend energy and reduce anxiety in a safe and healthy way. The mat is made with environmentally friendly felt cloth, and has longer and thicker "hair" to help you hide treats better. The bottom has a non-slip cloth to keep the mat in place while your pup is searching.
What You Need to Know
The LIVEKEY Pet Snuffle Mat for Dogs is just over 12 inches square if you are measuring based on the mat that the felt pieces are woven into. If you flatten the felt around the outside, the measurements are closer to 18 inches square. If you choose to, the manufacturer comments that you can purchase multiple mats and hook them together to make a single large snuffle mat for Rover and his friends to explore!
The mat comes in 3 different color choices: gray and white; pink, purple and blue; or yellow, blue and purple and it is made of a dense, sturdy fleece fabric. The mat is easy to clean either with hand washing or machine washing. All materials are high-quality, non-toxic, durable and odorless, so you can rest assured that your pup is always safe and comfortable.
LIVEKEY also has other snuffle mats that you can explore for additional sniffing fun for your pup!
Finally, LIVEKEY has a guarantee that if you are unhappy with their product for any reason, they will solve it within 24 hours of you contacting them!
Get your LIVEKEY Pet Mat for Dogs today and watch your pup light up with joy!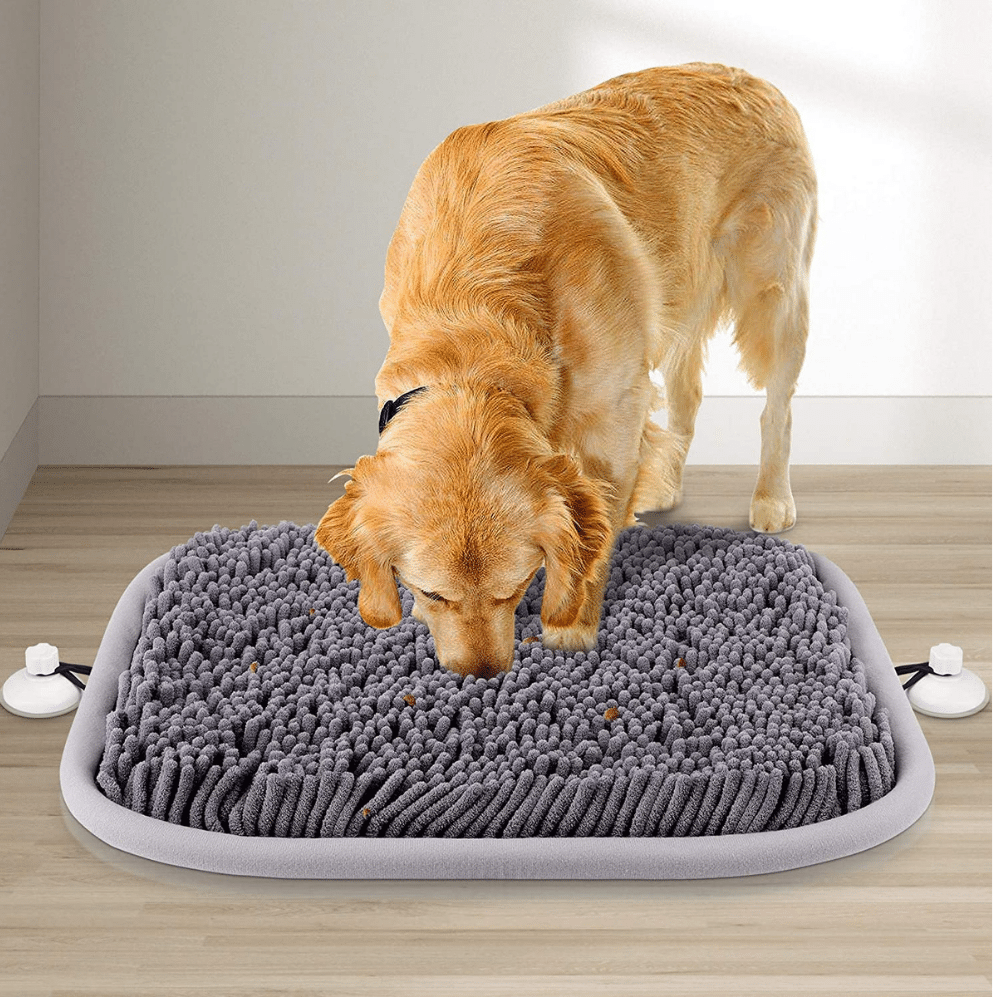 RundA Snuffle Mat
Check Price on Amazon
Why We Love It:
RundA Snuffle Mat is a must-have for all dog owners! This unique training mat allows Fido to find snacks or kibble hidden in the mat, while helping to train their sense of smell and consume their energy. With this mat, your pup can stay occupied, avoid being bored and engaged in destructive behavior, and even provides slower eating thus improving their digestion!
Plus, it comes with two suction cups to fix it on the ground, a non skid bottom at the bottom to secure it in place, and thicker hair and a durable edge guard to help keep food from falling out.
What You Should Know:
RundA Snuffle Mat is made with high-quality materials that are non-toxic, durable, and odorless, so you can rest assured that your pup is safe when playing with this toy.
This mat is appropriate for dogs of all sizes! The "hair" of the mat is approximately 2 inches in length so food can be easily hidden. The mat comes in gray only, an dis approximately 21 inches by 17 inches. RundA does have a bigger mat that is 37.8 inches by 17.9 inches if you'd like a larger mat! It features two main hiding areas with six smaller hiding places around the edge of the mat.
Plus, it's easy to clean - just hand wash or machine wash for best results. And if you ever have any issues with your purchase, RundA offers a warranty to help you get a satisfactory solution. So why wait? Get your own RundA Snuffle Mat today!
Snuffle Mat for Dogs - FAQs
It can be hard to find the best snuffle mat for your pup, especially when there are so many different brands and types on the market. How do you know which one is best for your pup's needs?
We've compiled a list of the most frequently asked questions about snuffle mats for dogs so you can make an informed decision. From the materials used to the size and shape, we'll help you find the best mat for your pup.
Can you leave a dog alone with a snuffle mat?
No, you can not leave a pup alone with a snuffle mat. These mats are designed to provide a safe and fun way for dogs to explore and forage for food. They are made from durable materials but it is not recommended for most dogs to have without supervision.
Is a snuffle mat mentally stimulating?
Yes, a snuffle mat can be a mentally stimulating activity for your pets. The mat is designed to mimic the natural foraging behaviors of animals in the wild, which encourages problem solving and critical thinking skills. It also provides mind stimulation and enrichment to help alleviate boredom and stress. The mat also encourages natural behaviors like sniffing, pawing, and digging, which can help keep your pets active and engaged. They can also reduce anxiety in your pup, and can be used as a way to slow your dog's consumption of their kibble, aiding in better digestion overall!
How do you introduce a snuffle mat to a dog?
The best way to introduce a snuffle mat to a dog is to start slowly and let your furry best friend explore the mat at their own pace. Start by placing a few treats in the mat and allowing Rover to sniff around and find them. If your pup is hesitant, you can encourage them by tossing food around the mat for them to find. As Rover becomes more comfortable with the mat, you can increase the number of treats or kibble and the difficulty of the puzzle.
What are the benefits of a snuffle mat for dogs?
A snuffle mat is a great way to keep your dog entertained and mentally stimulated. It helps to reduce boredom and stress for Rover while providing them with an outlet for their natural desire to forage.
These mats can help to improve your dog's focus and concentration, as well as their problem-solving skills. It also provides an opportunity for your dog to use their sense of smell to explore and find hidden food. The mat's texture also helps to keep your dog's teeth and gums clean and healthy.
How do I know if my dog needs mental stimulation?
One of the most common signs that a dog needs mental stimulation is if they become bored or restless. If Rover is exhibiting behaviors like excessive barking, chewing, digging, or pacing, they may be telling you they need more stimulation.
Other signs of boredom include a lack of interest in their toys, sleepiness, and lack of enthusiasm. If your dog is displaying any of these behaviors, it's a good idea to try providing them with more stimulation. Activities like puzzle toys, training, and playing games are great ways to give your dog the brain stimulation they need.
How often do you wash a snuffle mat?
You should wash your snuffle mat at least once a week. If your pup is using the mat regularly, you may want to wash it more frequently to get the crumbs and dog slobber out of the mat. To clean your mat, you can use a mild detergent and warm water. Rinse the mat thoroughly after washing and hang it to dry. You may also want to spot clean the mat between washes to keep it clean and fresh.
What should I look for in a snuffle mat?
When buying a snuffle mat, look for one that is made of durable materials and is easy to clean - like all of the mats we reviewed in this article! It should also have a non-slip bottom so it won't slide around when your pet is playing with it. Additionally, look for one that has a variety of textures and pockets so your pet can have different experiences while playing. Finally, make sure the mat is the right size for your pet - it should be big enough to provide a challenge, but not so big that your pet gets overwhelmed.
What should dogs be doing all day?
Dogs should be getting plenty of exercise, mental stimulation, and socialization throughout the day. Exercise can include walks, runs, or games of fetch. Mind stimulation can include things like puzzle feeders, training sessions, and playtime with other dogs. Socialization can include things like trips to the dog park, walks around the neighborhood, or even just playing with people. Additionally, it is important to make sure your dog is getting enough rest and relaxation throughout the day.
Are Snuffle mats good for chewers?
Yes, snuffle mats are a great way to provide mental stimulation for heavy chewers. The mat's unique design allows your pup to "hunt" for food in hiding places on the mat, using their natural instinct to search and sniff. This encourages your pup do some nose work and engages his mind, instead of just chewing on things. Additionally, the mat is made of durable materials that can withstand your pup's chewing, making it a safe and fun way to keep them entertained. But if your dog is an aggressive chewer, do not leave the dog with the mat unsupervised! They will most likely destroy the mat in one session if you do not pick it up when all of the kibble has been found.
Conclusion
Snuffle mats are a great way to provide your pup with mental stimulation and a fun game of hide-and-seek. With five different options to choose from, you can find the perfect mat for your pup that meets your budget and their needs.
Whether your pup loves to rummage through fabric or prefers to search through a sea of crunchy tidbits, these mats are sure to keep them engaged and entertained. From playful patterns to interactive toys, you and your pup are sure to have hours of fun with these snuffle mats.
Thanks for stopping in at Red Barn Reviews. I don't know about you - but I've convinced myself that I need to purchase one of these mats. I know my dogs would have a ball with it. Now - which one should I choose?
If you ever have any questions that you'd like me to address - please shoot me an email at RedBarnReviews@gmail.com. Love an article - tell me that, too! I really do appreciate you spending part of your day with me. See you soon!
As an affiliate of Amazon and other marketing website, we may earn a small commission from certain qualifying purchases.
Related Articles