Looking for a special way to show your pup some extra love this Valentine's Day?
Pups love to play and explore, so why not give them something special this Valentine's Day? We've got a wonderful selection of toys that your pup will love. From squeaky toys to chew toys and more, we've got something for every pup. Plus, these toys are designed to last. Depending on your pup, of course! If yours are mine - they will at least last a few weeks. LOL! Seriously, though, I do try to think about what toys will last longer than others!
With our selection of toys for Rover, you can make sure your pup has the best Valentine's Day ever. These toys are sure to keep your pup entertained and engaged, and they'll be sure to show you just how much they appreciate your love.
This is an article reviewing the best Valentines toys for your fluffy best friend you can buy on Amazon!
I've told you many times that my dogs crazy chewers. There are some great toys in today's list that really should last a long time. And let's face it - a holiday designed to show your love? Who do you love more than your best furry friend. Let's show them the love that they always show you be getting them a Heart's Day special toy!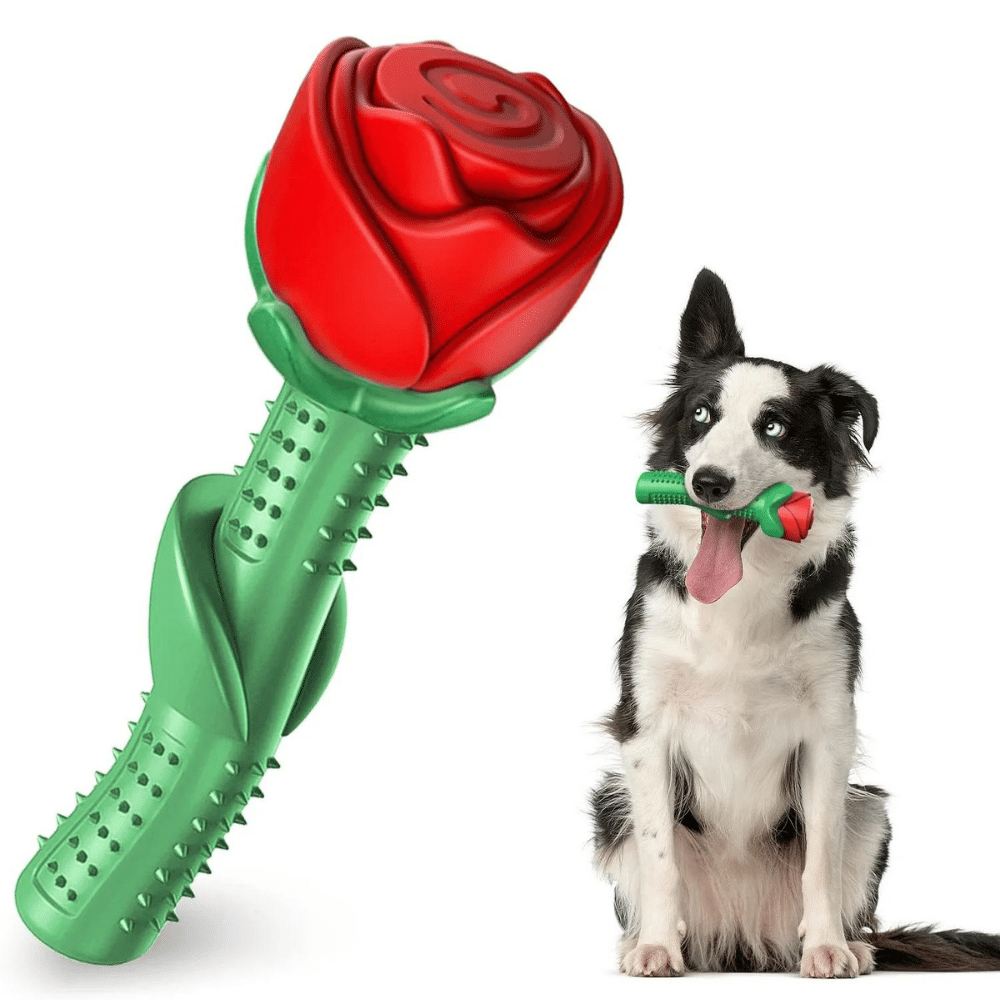 Best for Aggressive Chewers
Check Price on Amazon
Why We Love It:
This Valentine's Day, show your pup some extra love with this interactive chew toy! This rose-shaped toy is awesome for aggressive chewers and is designed to help your pup grind their teeth, clean their teeth, and prevent serious dental health problems.
Plus, it's made from durable, non-toxic materials, so you can rest assured that your pup will stay safe while playing with it.
What You Should Know:
This interactive toy is fantastic for keeping your pup entertained and active. Not only will it provide mental stimulation, but it can also help keep your pup fit and healthy.
Plus, it's designed to last, so you won't have to worry about it being destroyed after a few days of use. And if you're not satisfied with the toy, you can get a free replacement or a full refund. You've gotta love dog toy companies that will offer that guarantee!
So why wait? Get your pup this Valentine's Day rose chew toy and show them just how much you care!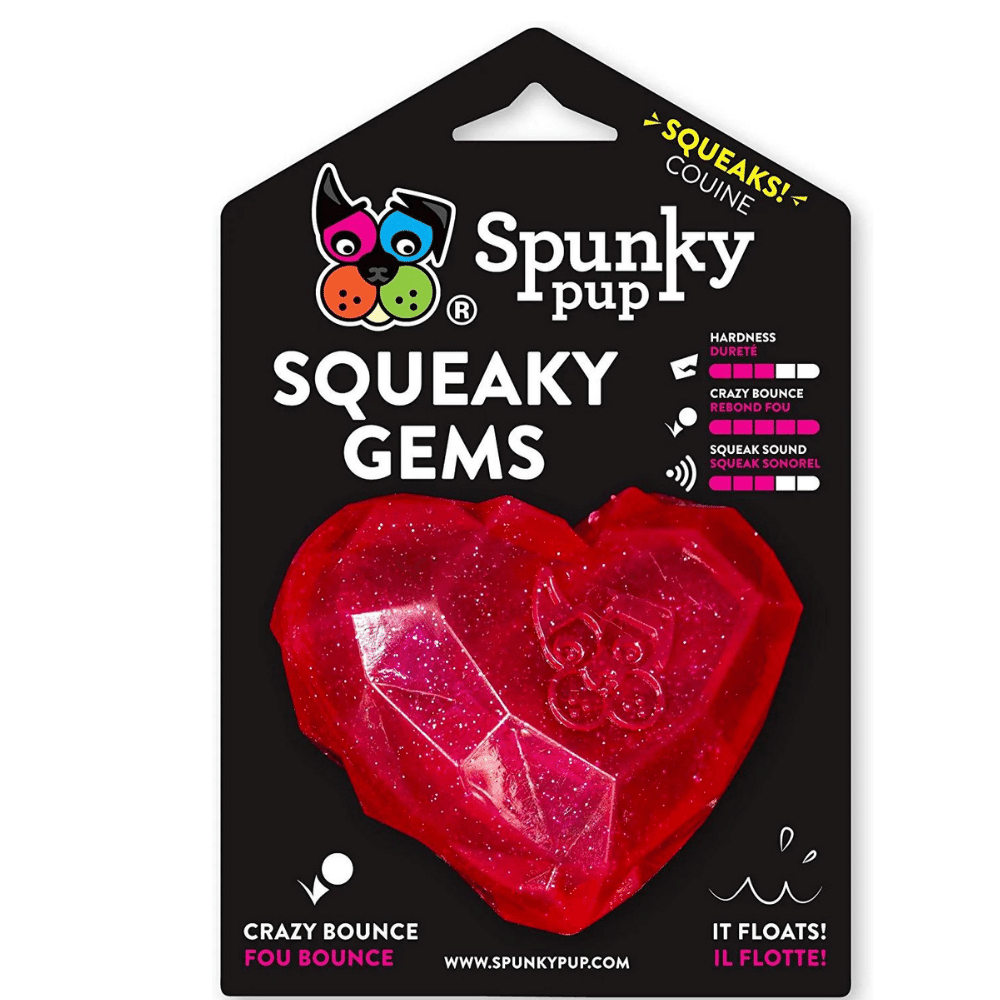 Best Toy for Dogs that Love Fetch
Check Price on Amazon
Why We Love It:
Show your pup some love this Valentine's Day with the Spunky pup Squeaky Gems Heart Dog Toy. This fun 3" x 3.25" x 2" inch translucent red gem cut heart shape bounces unpredictably to keep Fifi from getting bored while playing fetch. Plus, each squeeze energizes your pet to play, exercise and retrieve the toy.
What You Should Know:
Keep your high-energy pet entertained for hours with this multi-sided shape with a squeaker. A durable non-toxic rubber makes it easy to clean and is dishwasher safe. Ideal for small puppies and small to medium sized pups. Probably NOT a toy for aggressive chewers!
Have a great time with Fido and this interactive fetch toy that will keep your pupper's heart beating with joy. Compact, it's the right size to take on trips and toss around at the beach, lake or pool because it even floats.
Spunky Pup is dedicated to producing high-quality, interactive, and eco-friendly toys to handle the play needs of spunky pups everywhere.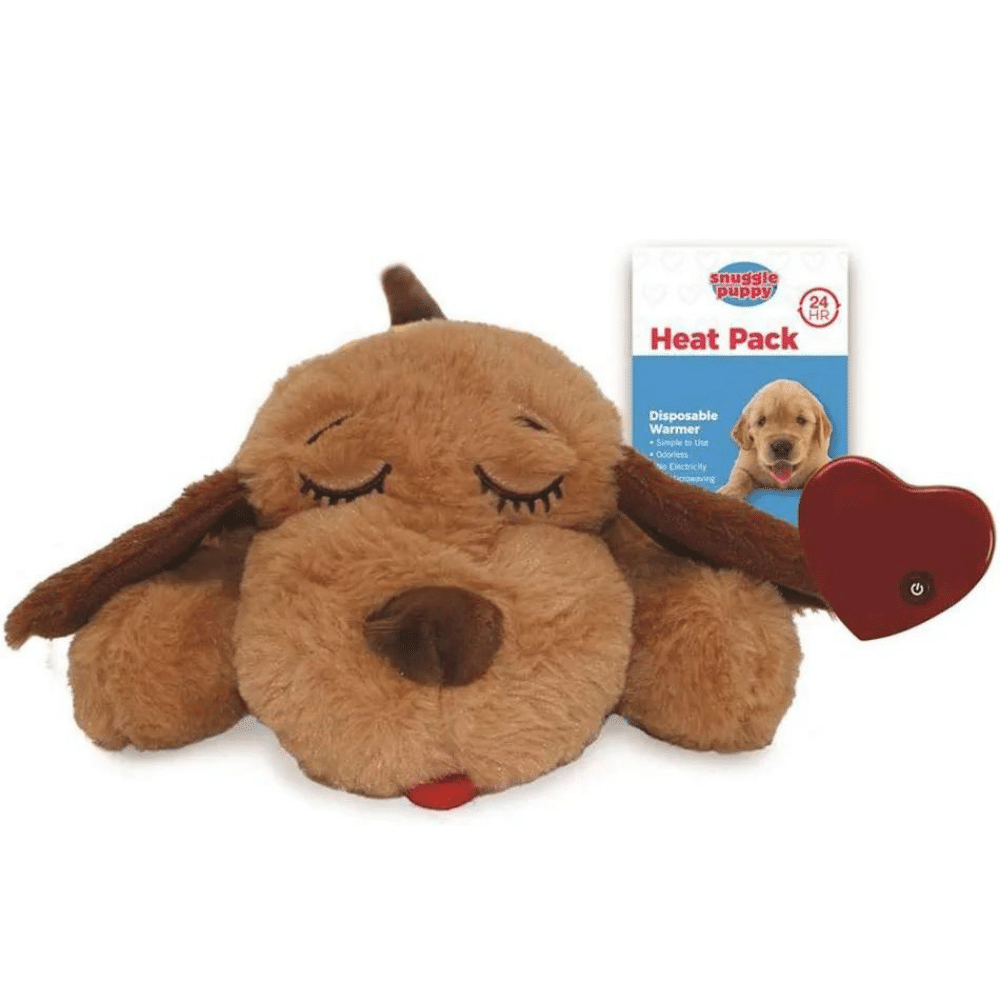 Best for Puppies Than Need Calming
Check Price on Amazon
Why We Love It:
Valentine's Day is all about love, and what better way to show your pup some love than with a Snuggle Puppy Heartbeat Stuffed Toy? This toy is designed to provide comfort and reduce anxiety for your pup, making it the best Valentine's Day gift for your furry friend.
The Snuggle Puppy comes with an industry leading "Real-Feel" heartbeat that is sure to soothe your pup. The toy is made from certified safe materials, and is machine washable and easy to clean.
What You Should Know:
The Snuggle Puppy is an awesome way to reduce negative behaviors in your pup. It helps with crate and kennel training by reducing barking, whining and anxiety, helping you get more sleep. The Snuggle Puppy includes AAA batteries and a simple to use Heat Pack. It is also backed by a satisfaction guarantee, so you can rest assured that your pup will love it. So this Valentine's Day, give your pup the gift of comfort and love with the Snuggle Puppy Heartbeat Stuffed Toy.
I've had a lot of people purchase this toy when they get a new puppy and they want to crate train their puppy at night. This little guy gives your new puppy a "sibling" to sleep with so that they don't feel alone. It's a great way to comfort a new puppy who has just moved to a new home.
This puppy is NOT designed to be a toy that you allow your furry friend to drag around the house to play with. It is definitely a toy you give them to help settle and calm an anxious puppy.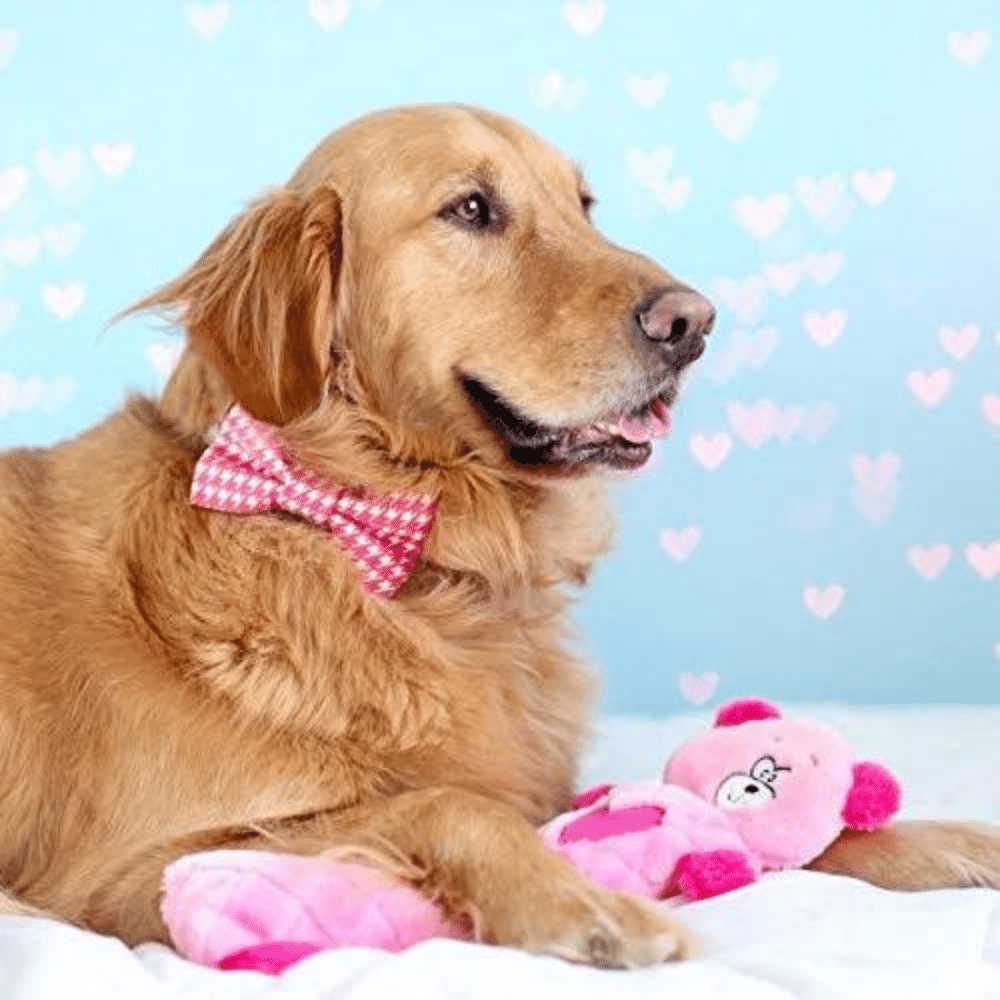 Best Toy for Dogs That Love Plushies
Check Price on Amazon
Why We Love It:
Show your fog some love this Valentine's Day with ZippyPaws' Jigglerz Valentine's Day Tough No Stuffing Squeaky Plush Dog Toy! This adorable pink bear toy is sure to bring your your fluff nugget hours of fun and entertainment. With crinkle paper inside the head and tail, your pup will be entertained with a variety of sounds. Plus, no stuffing ensures a mess free fun both for you and your dog!
What I love the most about this toy is there is no stuffing in it. My fluff nuggets very quickly destroy plush toys with stuffing - and that stuffing gets everywhere! This is a great alternative to stuffed animals!
What You Should Know:
We know doggos go nuts for squeakers so we've tried to make ours better and more fun! ZippyPaws' Squeaker Engineer has created new squeakers for more ways to squeak! Try a ZippyPaws toy and see why we've earned the slogan "a squeakin' good time"!
Remember, though, if Rover does pull this toy open - it is important to pull that squeaker out and throw it away so he doesn't try to swallow it! Squeakers can be a hazardous choking problem!
ZippyPaws places the utmost emphasis on durability. We work very closely with our factories to ensure that our fabric, stitching, and squeakers are of the highest quality. We all have pups so we know that safety is the #1 concern for pet parents!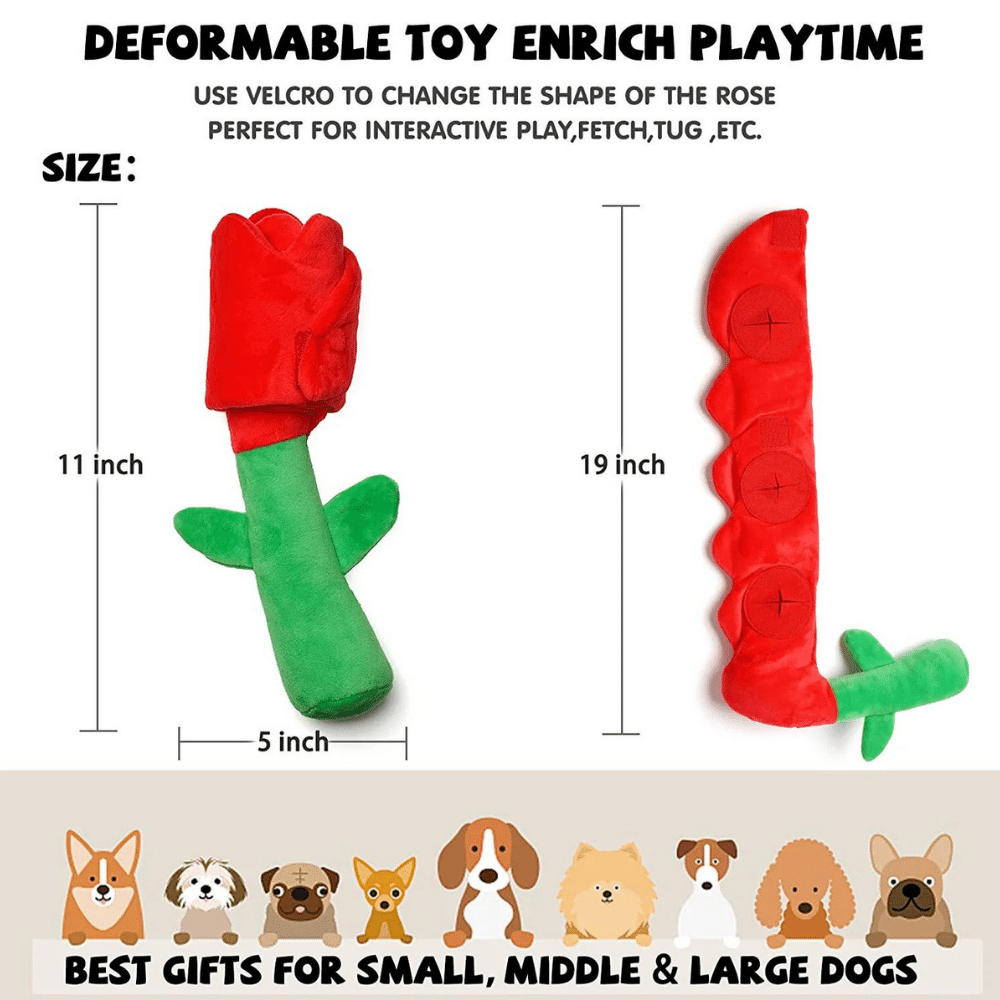 Best Toy for Dogs that Enjoy Treat Toys
lilfrd Rose Toys, Puzzle Enrichment Snuffle Squeaky Crinkle Toy
Check Price on Amazon
Why We Love It:
Make Valentine's Day special for Fifi with the Lilfrd Rose Dog Toy! This festive toy is designed to keep your fluff nugget entertained and mentally stimulated. It has crinkle paper rose petals and leaves, a squeaky flower branch, and a thick velvet surface that's stuffed with soft cotton. The chew-resistant lining and reinforced construction make this no stuffing chew toy tougher and longer-lasting. Plus, it's easy to clean by hand or machine.
What You Should Know:
This Valentine's Day, give Rover an unforgettable surprise with the Lilfrd RoseToy! The toy is perfect for pups who enjoy treat dispensing puzzles and foraging skills training. It helps stimulate their brains, keeps them away from boredom, and relieves anxiety.
You unroll the petals and there are little pockets that you can tuck treats or kibble into. Roll the flower back up, and now it's up to Fido to figure out how to unroll the toy and find his treats.
Reviewers on Amazon said it worked well - but I don't supposed it's going to hold up forever as Fido isn't going to "gently" open the little pockets the treats are hidden in. But - it also makes a good tug toy after the treats are out - so it can serve that purpose, too!
The crinkle paper and squeaky flower branch will make loud sounds to keep them engaged. The thick velvet surface is stuffed with soft cotton, making it ideal for teething and dental cleaning.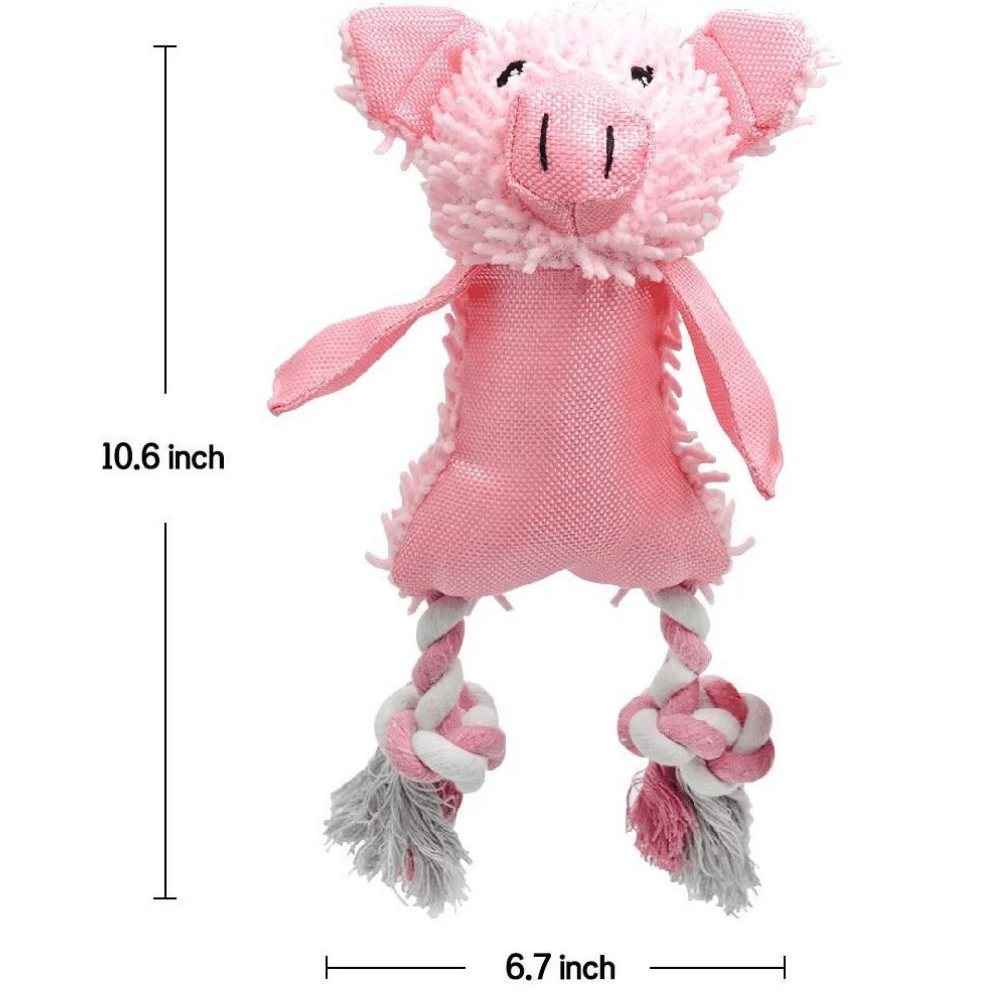 Best Rope Toy for Pups
UOLIWO Squeaky Pig Toys for
Check Price on Amazon
Why We Love It
Looking for an adorable, safe, and durable squeaky rope toy for your pup? Look no further than the UOLIWO Squeaky Pig Toy! This soft and cuddly toy is made of high-quality plush fabric and Oxford material that is safe for your pet to chew and play with. Best of all, it's machine washable so you can keep it clean and fresh.
What You Need To Know
Each pig includes three squeakers - one in each arm and one in the body - to keep your pet entertained with a variety of different sounds. If and when your dog opens this toy up - be sure to get all three squeakers out and thrown away! The toy can still be lot of fun even without the stuffing and squeakers!
The rope legs are wonderful for satisfying your pet's natural chewing instincts, and the small size is just right for puppies and small to medium puppers.
It's a nice sized toy - about 10.5 inches long and 6.5 inches wide. Toys like this help fight boredom and anxiety in pups. Plus - anytime you play with your fluff nugget- you are building your relationship. This can certainly be a good tug-of-war toy or a fetching toy!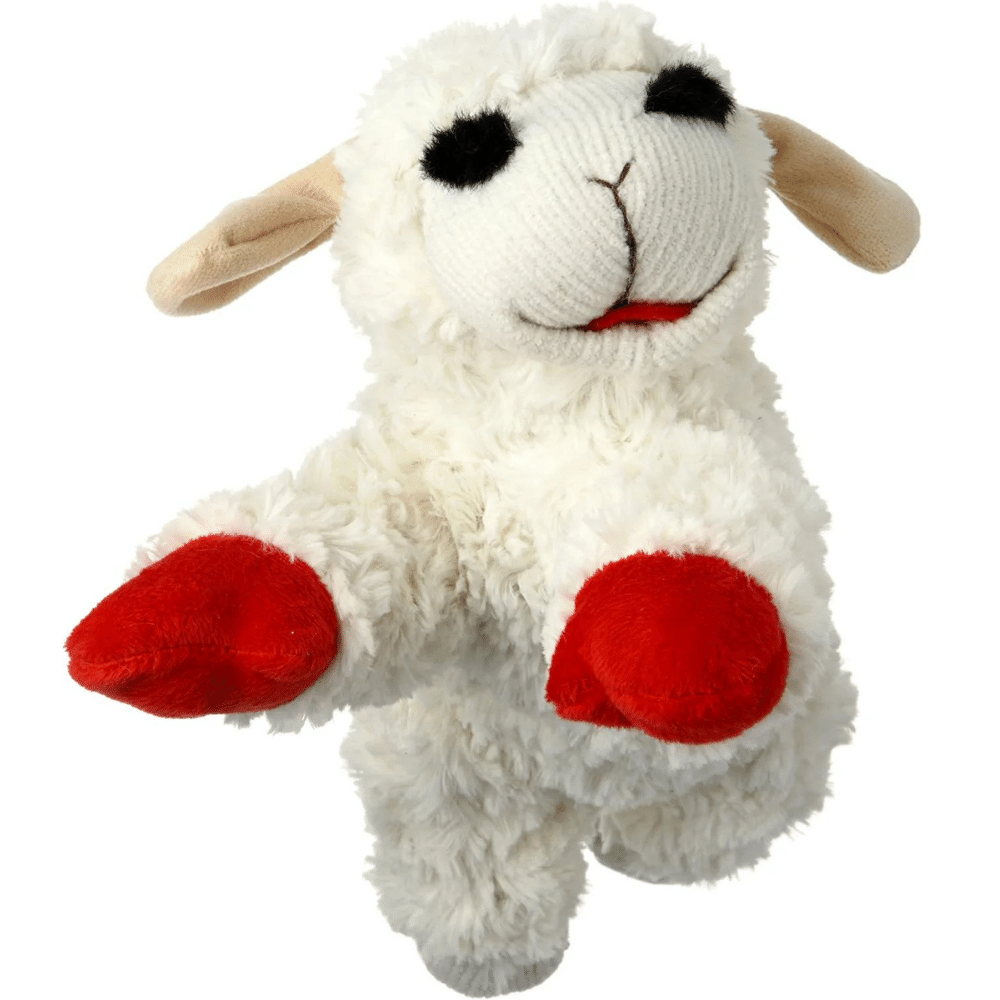 Best Lambchop Stuffy Toy
Multipet Plush Dog Toy, Lambchop
Check Price on Amazon
Why We Love It
Are you a fan of Shari Lewis' Lamb Chop? Now your dog can enjoy the same classic style in plush form with our Multipet Plush Dog Toy. Made of extra soft plush fabric, this toy is super for cuddling and playtime fun for puppers that are not super chewers.
What You Need to Know
Your woofer will love the added excitement of a squeaker inside this toy. Whether you're playing fetch or just watching your dog amusing itself, this toy is sure to provide hours of fun. But you know what we always say about squeakers ... when the toy gets opened up - throw those noise-makers in the trash. That doesn't mean you have to throw the whole toy away, though! My doggos love flat toys!! There is still lots of play left in a flattened toy.
Lambchop comes in 4 different sizes! That means you can buy this toy for many different size puppers! The smallest one is just 6 inches long, and the big one is 24 inches long! To find the various sizes, you have to scroll down on the Amazon page - just above the reviews. That's not normal in my experience. Usually the various sizes are right up by the main image - but not with this toy. I
Let your furry friend have some Lambchop love today!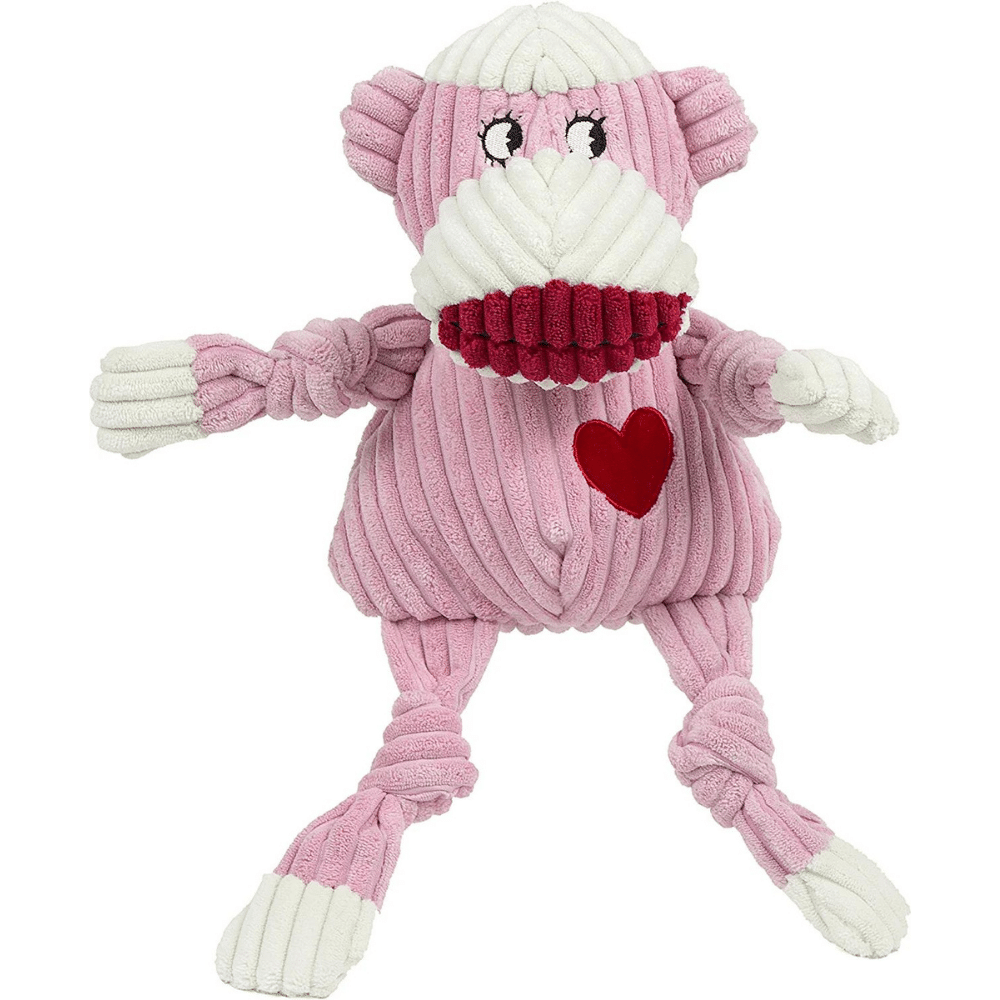 Best Monkey Stuffy for Puppies
HuggleHounds Plush Corduroy Durable Squeaky Knottie
Check Price on Amazon
Why We Love It
Our Plush Corduroy Durable Squeaky Knottie is wonderful for both puppies and large dogs. This tough toy is made with Tuffut Technology to provide extra durability, and the knotted limbs are perfect for chewing.
This adorable toy comes in many different animal shapes. We are featuring the monkey because it fits with our Valentine's Day theme, but also available is a lobster, rabbit, duck, ant eater, flamingo, fox, giraffe, frog, gorilla, hedgehog, lion, lobster, llama, dog, and moose.
What You Need To Know
Amazon reviewers gave mixed reviews about how long this toy will actually stand up to an super chewer - but they had raving remarks about how cute and soft these toys are. So, you will have to judge for yourself it this one will hold up to your little Chewbacca!
With multiple squeakers inside, your pet will never get bored of this toy. You know my rant: when the toys gets opened up - be sure to throw those squeakers away. No need to throw the entire toy away immediately, but get rid of those choking hazards quick!
The Knottie is also available in two sizes: the large one is about 15 inches long and the small is only about 9 inches long. You can choose which size is best for your Valentine!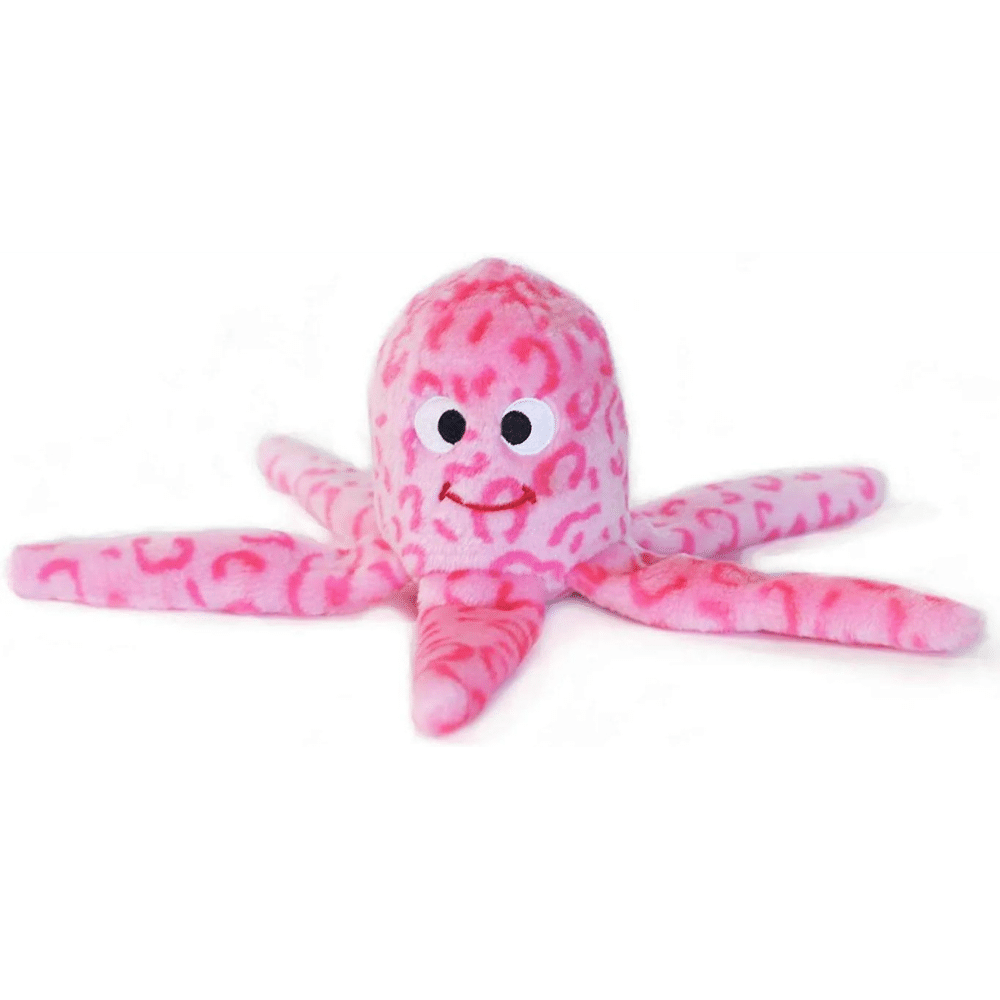 Best Floppy Toy for Dogs
ZippyPaws Floppy Jelly Squeaky Dog Plush Toy
Check Price on Amazon
Why We Love It
This jelly friend is soft to the touch and filled with squeaks to keep your pup entertained for hours on end. This five legged octopus has a squeaker in the head, and the legs are not filled with stuffing. This toy is perfect for cuddles and playtime alike.
What You Need to Know
ZippyPaws Floppy toy comes filled with one large blaster for loud noisemaking, excellent for keeping your dog entertained. The squeaker is found in the head of the octopus and is said to be pretty loud.
This bright pink jelly toy is the just the right color for indoor and outdoor play since it stands out in the grass and is highly visible.
When you buy a ZippyPaws product, you know you're getting the best quality for your fluffy friend. We stand by our products and are proud to offer only the highest quality toys available.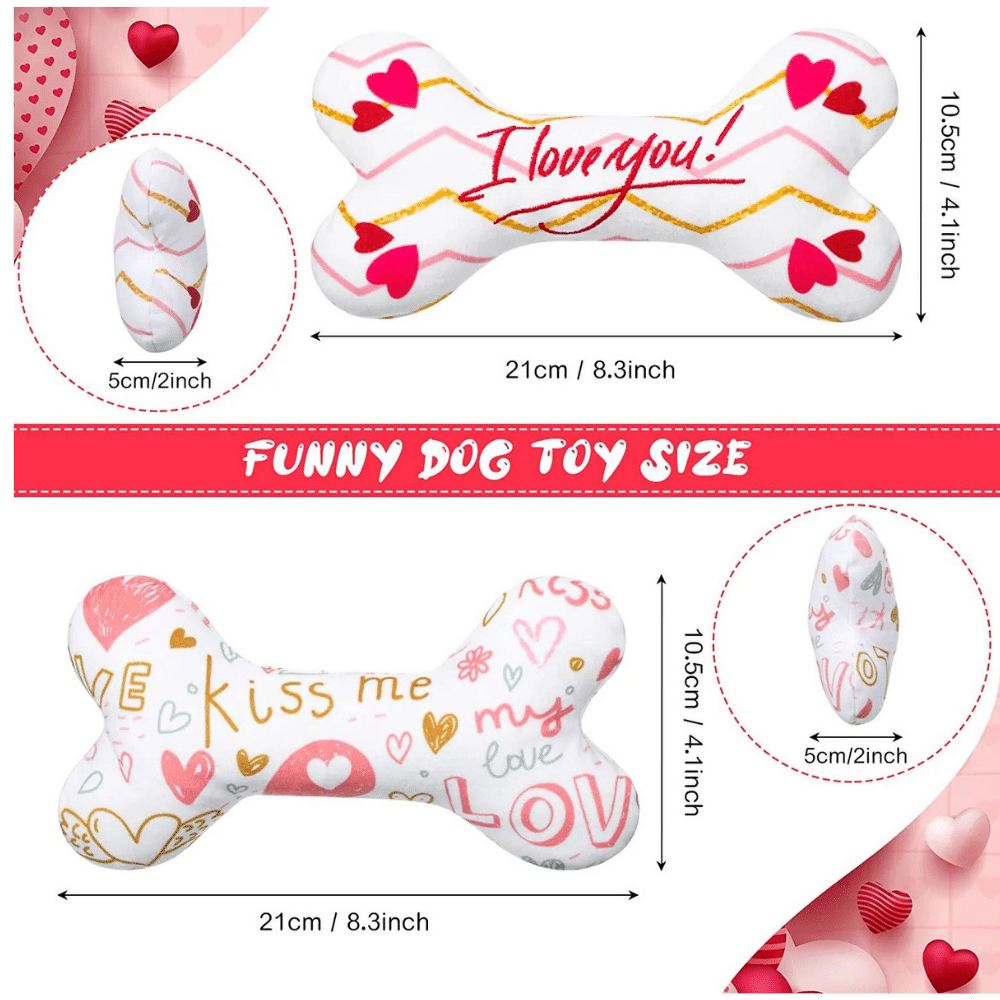 Best 2 Piece Plush Dog Bone Toy
2 Pieces Valentine's Day Toy Bone Toy
Check Price on Amazon
Why We Love It
Look no further than these fun and interesting toys! Just what is needed for indoor or outdoor play, these adorable squeaky plush bones are sure to keep your dog entertained for hours on end. They are printed with multiple sweet nothing words to share your love with your best furry friend.
What You Need To Know
Each toy has a squeaker in it, making a loud noise to get your pup's attention and keeping them entertained for hours.
Be sure to throw away the squeaker if your pup pulls these toys open! We do not want any choking hazards laying about to hurt the love of your life!
These soft and cuddly toys are made of polyester fiber material, short plush on the surfaces, bright colors that are hard to fade, and without any unpleasant smell. They are durable and will last long.
With two different designs to choose from, these plush bones are perfect for any dog! Indoor or outdoor play, they will keep your pet amused and happy.
Valentine's Day Dog Toys - FAQs
You want to get some Valentines' Day dog toys, but don't know what to buy.
With so many different Valentine's Day toys available large dogs, small dogs and all dogs inbetween, it can be hard to decide which one is the best for your dog. You want to make sure you get something that will be fun and entertaining for your furry friend, but also something that is safe and durable.
We've put together a list of the most frequently asked questions about Valentine's Day dog toys so you can make an informed decision on what to get your four-legged companion.
What should I get my dog for Valentine's Day?
A great Valentine's Day present for your dog would be a new toy or treat! Puppers love playing with balls and chewies and getting treats, so it's a great way to show them how much you care. You could also get them a cozy bed or blanket, a new collar or leash, or even a special trip to their favorite dog park. Remember, your dog loves your time more than anything else! Be sure to give Rover extra time to show him how much you love him! Whatever you decide, your pup is sure to love it!
What toys make dogs happy?
There are a variety of toys that can make your furry best friend happy, depending on the type of dog and its preferences. Some of the most popular playthings include chew toys, stuffed animals, and interactive toys such as puzzles and treat dispensers.
Chew toys, such as rope toys, rubber toys, and antlers, are great for pups that like to chew and can help keep their teeth clean.
Stuffed animals can provide comfort and companionship, and interactive toys can keep fluff nuggets entertained and mentally stimulated. In addition, interactive toys can help puppers learn new tricks and behaviors.
But what's the best way to make sure that Fifi is happy? Spend time with her. Hold her on your lap and whisper sweet nothings into her ear! Play a good game of fetch. Take a run in the park or a hike up the hill. Just spend time together and that is one of the best ways to make sure your fluffy friend is happy.
What toys are dogs attracted to?
Pups are attracted to toys that are interactive and engaging. Toys that involve chasing, fetching, tugging, and chewing are especially popular with many dogs. Balls, ropes, Frisbees, and chew toys are also popular choices. Some puppers also enjoy interactive toys that require them to solve puzzles in order to get a treat. These types of toys are great for stimulating a dog's mind and providing mental stimulation.
How do I spend Valentine's day with my dog?
Valentine's Day is a great time to show your dog some extra love and affection! Here are some ideas for how to spend the day with your furry friend:
Take your pup for a special Valentine's Day walk with a few extra treats.
Have a special Valentine's Day themed photo shoot with your pup.
Make some special Valentine's Day treats for your pup. Just be sure they don't have any artificial sugars in them as xylitol is toxic to your best friend.
Spend the day snuggling with your dog on the couch. A good nap together might be good for both of you!
Play some special Valentine's Day themed games with your pup. OK - your dog won't know they are "themed" games - but you will! And that's part of the fun, too!
What are 3 things dogs need every day?
Canines need three main things every day: exercise, nutrition, and mental stimulation.
Exercise is important for Rover to stay healthy and fit. Regular walks and playtime are essential for a dog's well-being.
Nutrition is also very important. A balanced diet of proteins, carbohydrates, vitamins, and minerals is essential for a dog's health. Lots of fresh water is important, too!
Finally, mental stimulation is important for keeping Rover healthy and calm. Providing your dog with interactive toys, puzzle games, and training sessions can help keep them mentally sharp.
How do I spoil my dog for a day?
Spoiling Fido for a day can be as simple as giving them extra cuddles, playing their favorite games, and giving them special treats. You can also take them on a special outing, such as a trip to the park or beach, or a longer hike in the woods. If you want to go the extra mile, you could also buy them a new toy or treat, or give them a special grooming session. Whatever you choose, your dog will be sure to appreciate the extra attention and love!
What smell makes dogs happy?
Canines have a very strong sense of smell and are often drawn to certain scents that make them feel happy and relaxed. Some of the smells that make pups happiest include the scent of their owners, the smell of food, and the smell of other animals.
Additionally, some essential oils, such as lavender, chamomile, and jasmine, can have a calming effect on your furry best friend when they smell them.
Oddly enough, dogs often like things that smell bad to humans! Do you have a puppy that loves your sweaty tennis shoes? How about something smelly they locate out in the park? Yeah - I'm not sure why - but some of those stinky smells make them very happy, too!
What do dogs love the most?
Dogs love different things, depending on their individual personalities. Generally speaking, however, they love attention, playtime, treats, and exploring the outdoors. They also love spending time with their owners, and will often show their affection by licking, cuddling, or simply sitting close by. Some dogs also love to learn new tricks, and will show their excitement when they finally figure out how to do something.
How do I entertain my dog mentally?
One of the best ways to entertain Rover mentally is to find plenty of interactive activities for them to engage in. This could include things like playing fetch, teaching them tricks, or playing hide and seek. You can also give them puzzles and toys that require them to think and problem solve. This could include treat dispensing toys that require them to figure out how to get the treat out. Additionally, you can also take them for walks, hikes, and runs to keep them physically and mentally stimulated.
What is something fun I can do with my dog?
There are lots of fun activities you can do with your sweet nugget! Here are just a few ideas:
Go for a walk or hike – exploring new places and taking in the sights can be a great way to bond with your dog. Plus, it's free!
Play fetch – a classic game that can be played in any open space.
Go swimming – many dogs love the water and it can be a great way to get exercise.
Try agility training – this is a fun and challenging activity is great for both you and Rover! You'll both get exercise and learn a new skill.
Have a picnic – bring your pup to a park or beach and enjoy a meal together.
Go camping – explore the outdoors together and make some amazing memories.
Heart's Day is a wonderful time to celebrate your dog and how much you love them. So let's get this party started! Gifting your dog is easy! You can give Rover something to fit any budget (even free!) and make your pup's day extra special. From classic toys like plush hearts and squeaky bones to unique items like edible Valentine-themed treats or an interactive treat dispenser, there are endless ways to share the holiday spirit with your furry companion.
Not only do these gifts provide hours of entertainment, but they also strengthen the bond between you and your dog. So, this Valentine's Day, why not surprise your pup with a special gift that he or she will love? You may even get some extra cuddles in return!
Thanks one more time for stopping in to visit with us here at Red Barn Reviews. We know you could do lots of other things - and yet you choose to spend some time with us. I hope you found a perfect gift for your favorite furry best friend today!
Other Related Articles: