Time to let the Disney magic out! Rover can be part of the magic of Halloween with the latest Disney-themed products. We review the best of the best in this article, so you can unleash your pup's inner Disney fan! This chapter of our Disney series is focused on Best Disney Costumes for your Pup. I just look at these pictures of pups on parade and I want to buy them all! Why wait for Halloween to dress up Rover? Get ready for your next movie night theme today! Let's hit the shop!
Does your fluffer have a special place in your heart? We already know she does!
We have the perfect way to show her how much you care: with a selection of Mouse-themed clothing. Now you can make your pup look like your favorite goofy characters from movies. Can you picture your dog wearing a gown to look like Snow White? How about a bouncy tail like Tigger? I know - add a wig and suddenly Jasmine appears!  Mickey would be so happy to know that Fido is sporting togs from his favorite friends!
Not only will your pup look adorable, but they'll also feel comfortable and safe in their outfit. They are designed with your pup's comfort in mind. With adjustable straps, breathable materials, and a variety of sizes, you can find the perfect costume for your pup.
This is an article reviewing the most magical clothing for your pup that you can buy on Amazon!
Our team of experts (yep - that's me!) has personally read thousands of reviews on Amazon to find the best designs for your dog at Halloween or anytime you just want to have Rover look amazing. And there are SO MANY adorable ways to dress your fluffy friend up. If you are into Disney - you are going to have a hard time choosing just one costume. I know I love them all!
You want to buy a Disney dog costume for Rover, but don't know which one to choose. LOL - I'm not sure this article is going to help you choose JUST one - but it is hilarious to see the goofy variety available.
It can be hard to find the perfect Disney dog costume for your pup because there are so many different styles and sizes available. How do you know which one will fit your pup and make them look their best?
Our team of experts (that's pretty much me!) has read thousands of reviews on Amazon to find the best Disney dog costumes. We've tackled the beast (and honestly, it was fun!) so that you can easily find and purchase the perfect outfit for your pup.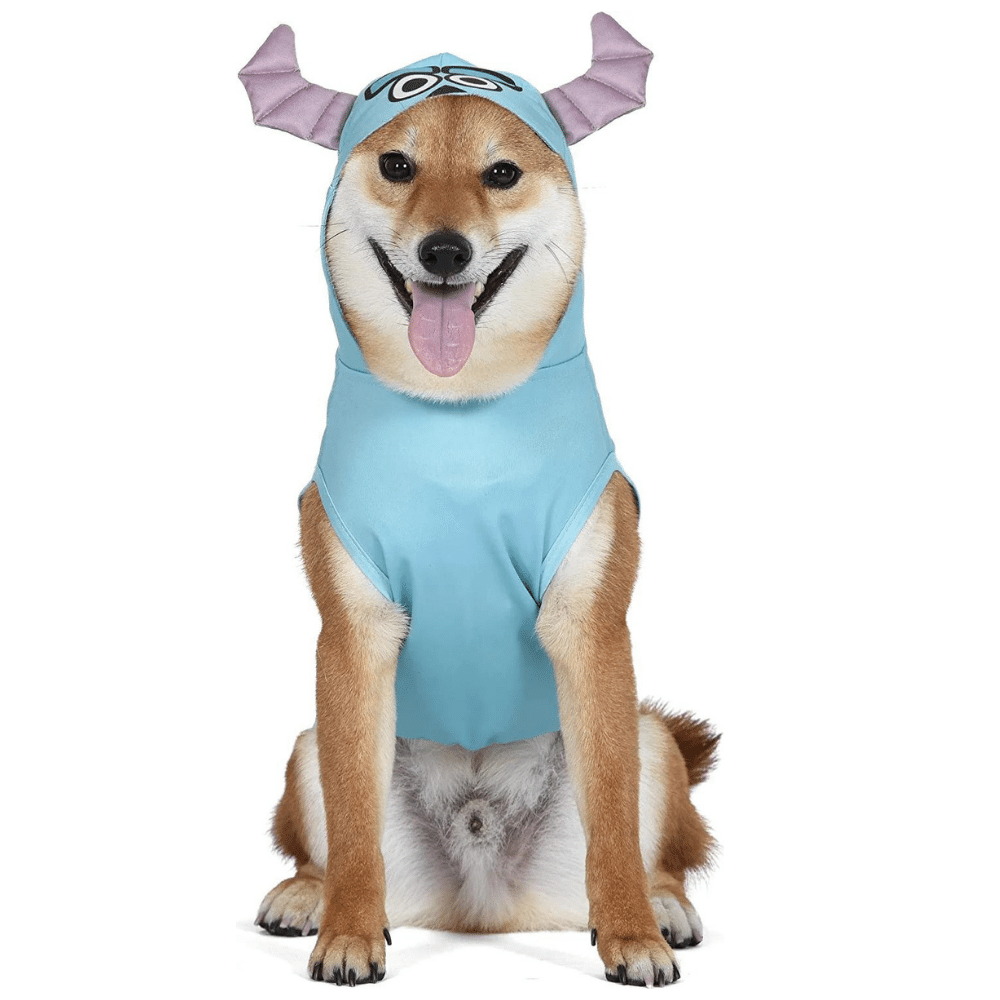 Best Sulley Costume
Check Price on Amazon
Why We Love It
Bring the excitement of Monsters, Inc. to life with your dog wearing this Sulley costume this Halloween! This officially licensed PIXAR costume is perfect for any Monsters, Inc. fan, and your pup will look just like Sulley with the included hood.
The costume features ultra-soft, high quality, lightweight polyester fabric that your dog will actually be comfortable in. Plus, it's machine washable so you can keep it looking like new. With this costume, Fido will be ready to join the party.
What You Should Know
This Sulley costume  is perfect for any pet owner who loves Monsters, Inc. It's designed to fit all life stages and is easy to care for. This costume comes in six sizes from X-Small through XX-Large - so regardless of how big your "monster" is - you should be able to find a Sulley costume that will fit for trick or treating this year!  Your fur baby will love being able to join the excitement, and it's a great way to show your love for Monsters, Inc.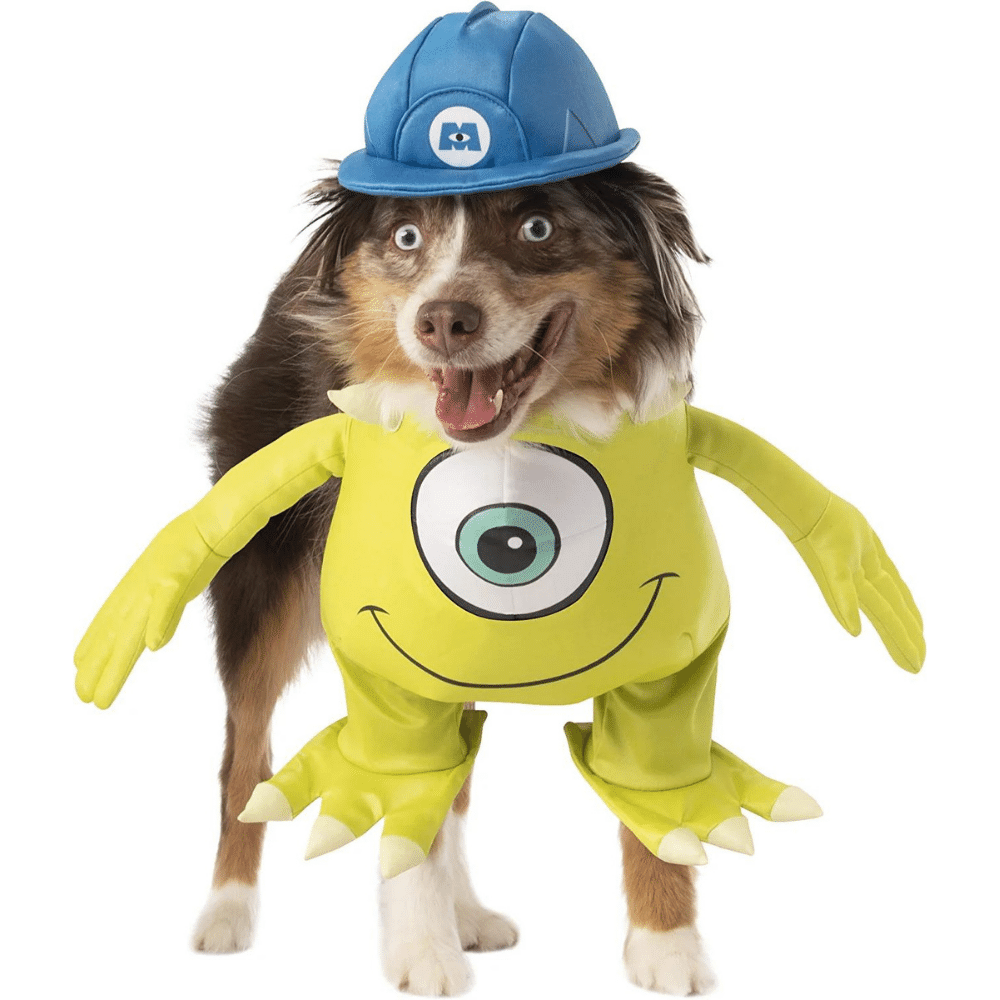 Best Mike Wickowski Costume
Check Price on Amazon
Why We Love It
Bring your fur baby to life at Halloween with this officially licensed Monsters Inc pet costume! Perfect for parades, parties, and photos, your furry friend will be the center of attention dressed as Mike from Monsters Inc.
This pet costume comes complete with a step-in suit with attached arms and a headpiece, so you can complete the look. The pet costume is designed to fit most, but make sure to check the Rubie's Pet Size Chart and watch the sizing instruction video to ensure a comfortable fit.
What You Should Know
When selecting a costume, it's important to consider the style and shape of your animal. Not all pet regalia will fit all our furry friends, so make sure to read the Rubie's Pet Size Chart and watch the sizing instruction video before making your selection.
Amazon reviewers have noted that this pet costume runs a little small, so it's best to order a size up if you're not sure. You and your best friend will be sure to make a splash with this Monsters Inc Mike costume!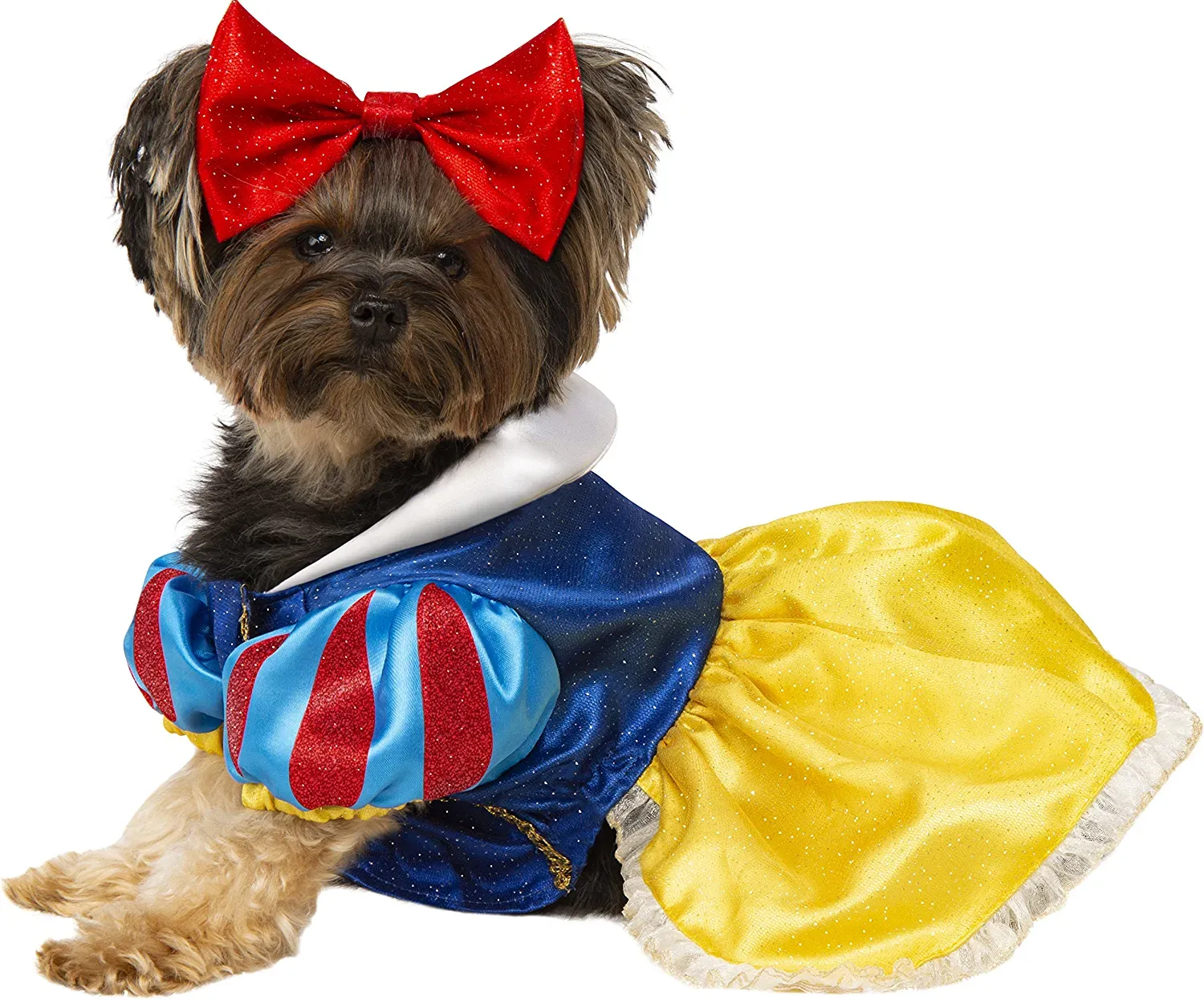 Snow White Costume
Snow White and the 7 Dwarfs
Check Price on Amazon
Why We Love It
Your girl will be the belle of the ball with this magical Snow White Princess Pet Costume! This adorable pet costume is perfect for any princess and her family who loves Snow White and wants to fit in for  Halloween's spooky season or any special occasion. The costume includes a gown with an attached collar and separate headpiece featuring a big red bow, so your best friend can look just like the classic Disney princess. This ensemble is officially licensed by Disney, so you can rest assured that you're getting an authentic, high-quality product.
What You Should Know
Are you looking for the perfect costume for Halloween or the next great pet parade? Rubie's designs are all super cute and the ones we really like the best when we were doing our research. Whether you're throwing a holiday party, taking your pet to a pet parade, celebrating a birthday, or just wanting to dress your pet up because you like to, Rubie's has the perfect suit for your furry friend. Their designs are for all life stages, so you can find the perfect size for your pet. Plus, all of their attire is safety-tested and officially licensed, so you can trust that you're getting a high-quality product. So why wait? Get your pet dressed in the  perfect costume today!
All of the reviews we ready said that you really need to read their sizing chart provided and that even then they tend to run small. Also note that Rubie's does not take returns.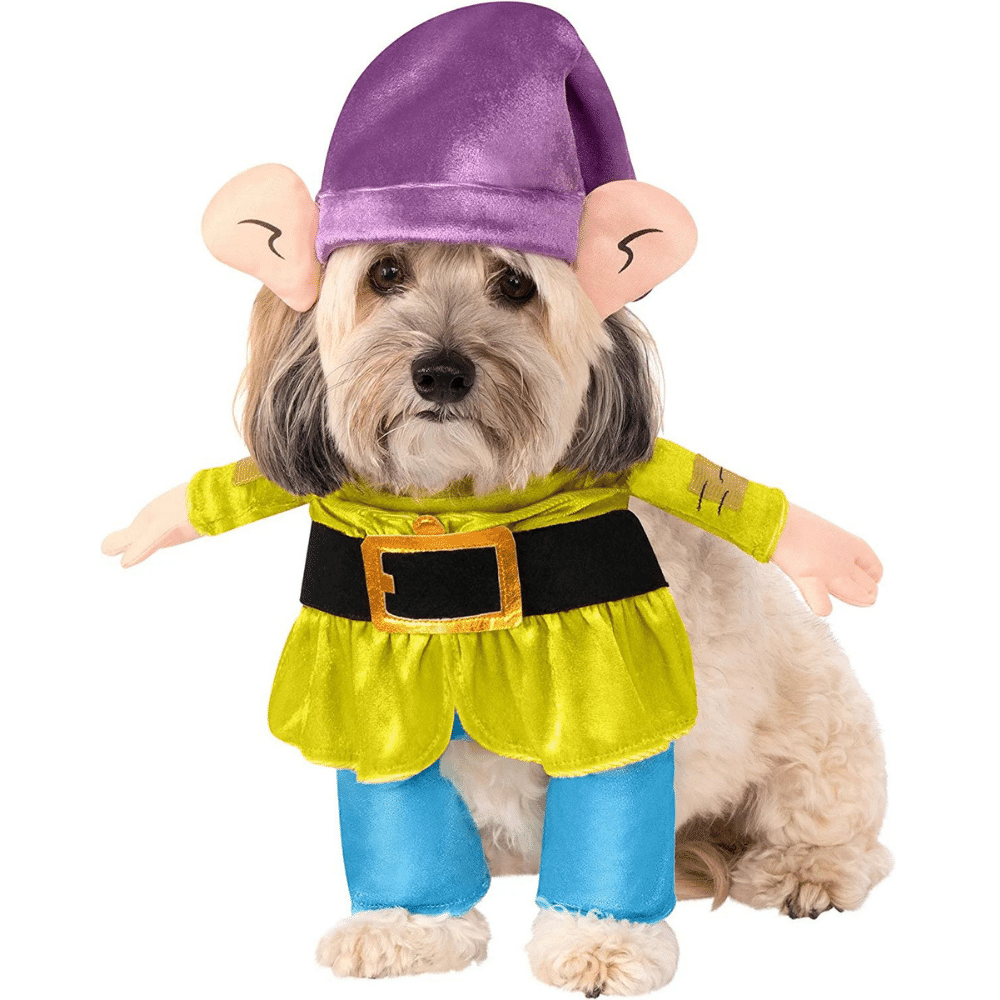 Dopey the Dwarf
Snow White and the 7 Dwarfs
Check Price on Amazon
Why We Love It
Rubie's Dopey the Dwarf Pet Costume is the perfect way to dress up your furry friend in a silly and adorable costume. It is officially licensed so you can be sure that you are getting a high-quality and safe costume. This a step-in suit with attached faux arms and a headpiece, so it is easy to put on and take off. Fido will look just like Dopey from Snow White and the Seven Dwarfs!
What You Should Know
This get-up is perfect for any pet-loving family who loves Snow White and the Seven Dwarfs. It is made from a comfortable and breathable material that is safe for Fido to wear. It comes in 4 sizes from small to x-large. The ensemble features a hat with oversized ears, so your pupper will look just like Dopey! This dog wearing costume is sure to be a hit at any party or gathering.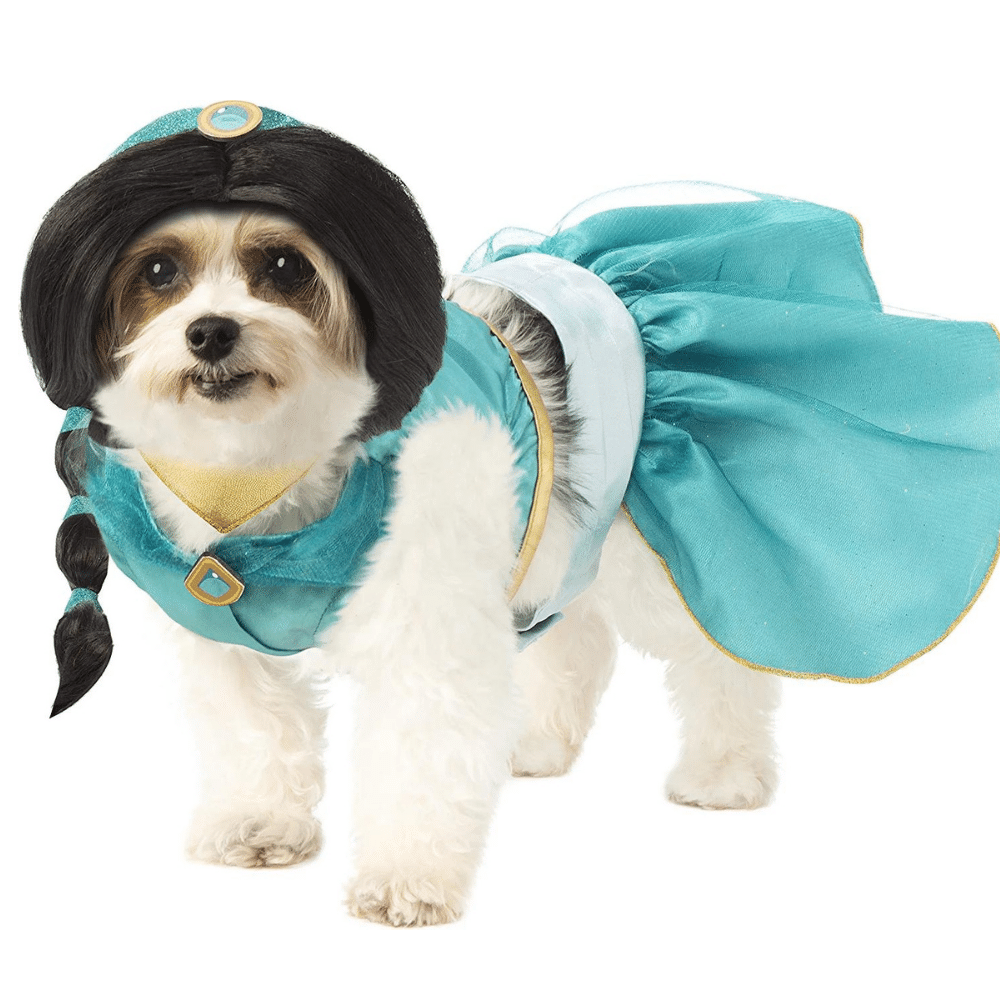 Best Jasmine Costume
Check Price on Amazon
Why We Love It
OK - Jasmine is my husband's all time FAVORITE princess (well, beside me, of course!). You can only guess why! Who wouldn't love a princess who shows her bare midriff (lol! that term always cracks me up!). Plus - if I got to fly on a magical carpet ride - I'd go in a heartbeat! Let's give your puppy the royal treatment with Rubie's Princess Jasmine! This officially licensed pet costume from Rubie's boutique is a great choice for anyone that loves the Aladdin movie. This costume comes complete with a wig (too funny!) with an attached headpiece, top, bottom, and collar.
What You Should Know
You must have noticed by now that I am featuring a lot of designs by the same company: Rubie's. I love them because they are family-owned, family-focused and located here in the USA! To me - those are some great reasons to always consider their products.
This costume comes in four sizes: small to x-large. Be sure to ready their sizing guide and Amazon reviewers often say their suits run a bit small. So if you are on the edge of two sizes - always order up. Also note that they (the Amazon Reviewers) stated that the wig is pretty heavy and they do not recommend this costume for small puppers. The wig is just too heavy. But if your princess is medium to x-large - the wig should be fine!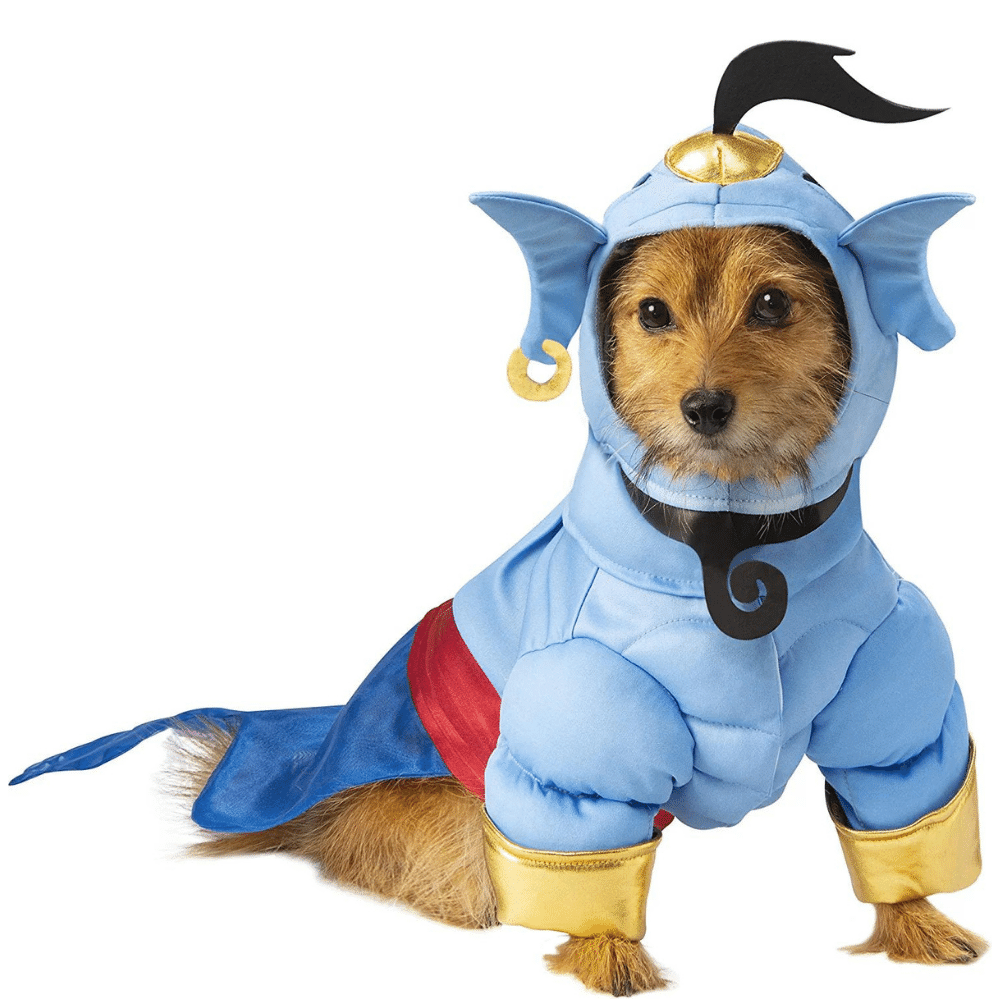 Best Genie Costume
Check Price on Amazon
Why We Love It
Oh come on! Look at those attached arms of this costume from Rubie's Aladdin series. That is what I first noticed! Rover suddenly gets bulked up and poof! You have your own magical genie.
What You Need to Know
This ensemble comes complete with a Genie headpiece, muscle shirt with attached cuffs and belt for your special little genie! Everyone will wonder where Rover has gone - and how they can get a genie of their own. This is a Rubie's trademarked costume that they recommend for medium breeds. It does come in sizes small through x-large. Be sure to look at their sizing chart to determine which would be the best fit for your magical genie!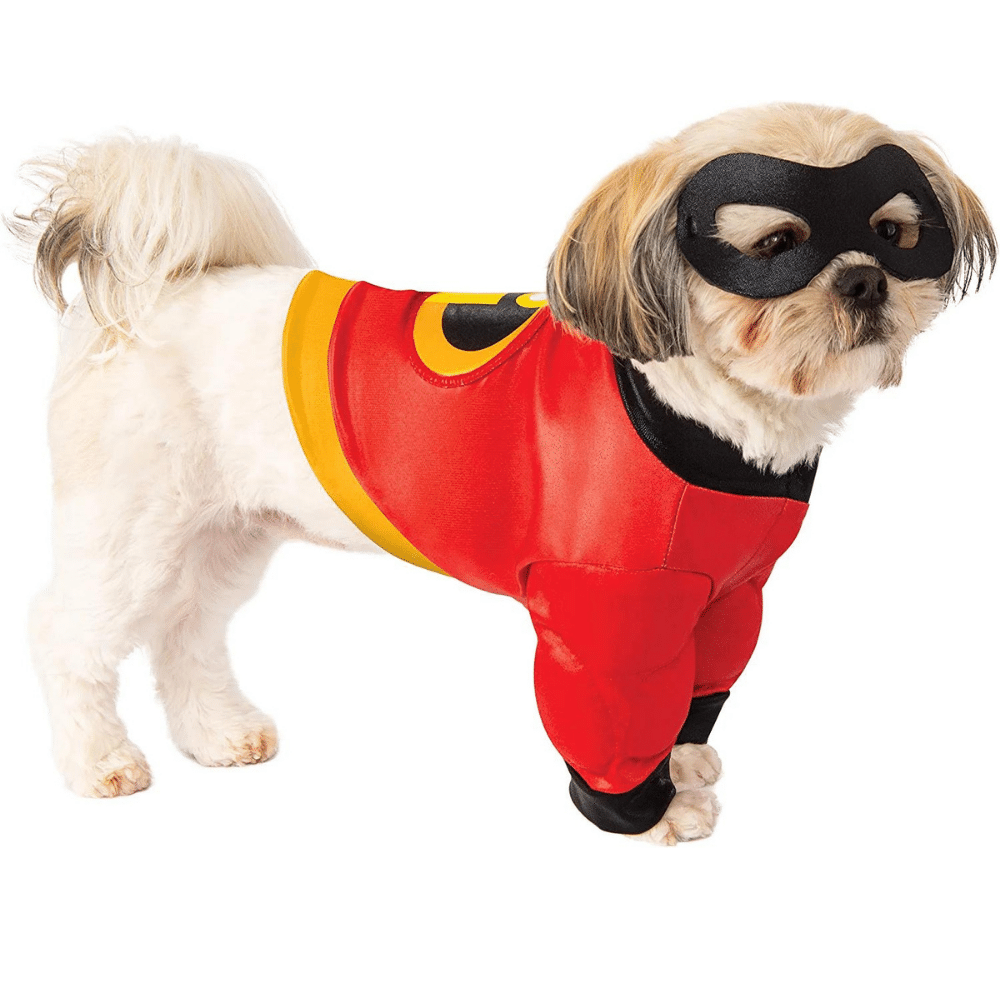 Best Incredibles Costume
Check Price on Amazon
Why We Love It
Is your puppy incredible! Of course he is!! So let Rover join in on the trick or treating with Rubie's Incredibles 2 Shirt and Mask Costume! This officially licensed Disney pet costume is perfect for your four-legged friend to join in on Mouse-themed magic. It features a comfy shirt and mask that will make your furry friend look just like one of the characters from the movie. This Disney costume is sure to win the at the pet parade!
What You Should Know
This dog costume is designed to fit most breeds, so you can find the perfect fit for your best friend. The shirt and mask are made from a lightweight, breathable material that won't irritate your pet. Plus, the costume is easy to put on and take off, so your pet can join in on the party in no time. So let Rover join in on the party with Rubie's Incredibles 2 Shirt and Mask Pet Costume!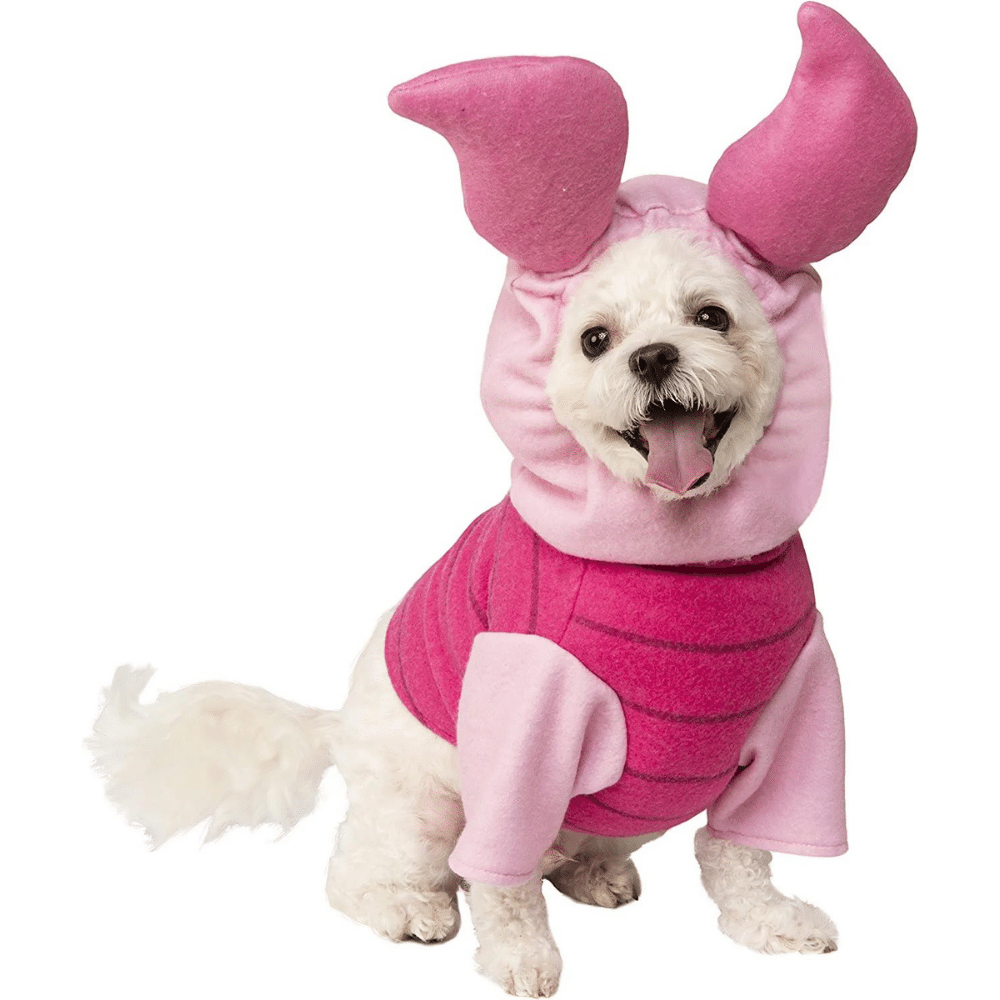 Best Piglet Costume
Check Price on Amazon
Why We Love It
It's time to show up with your dog wearing Disney magic with Rubie's unisex Piglet dog costume! But wait! This same company offers Winnie the Pooh, Eeyore, as well as Tigger!! Whether your pup is a fan of Piglet or just loves to dress up, Rubie's has you covered.
This dog costume is made with a soft and comfortable material that will keep your pup cozy and warm. The Piglet costume features two parts: a body portion that the dog's front legs step into plus a head piece with adorable  ears. The Eeyore outfit is similar, but with long floppy ears. Winnie the Pooh and Tigger are also two piece Halloween pet costumes and Tigger has an attached tail to his shirt that will make it bouncy fun!
What You Should Know
Rubie's offers a variety of sizes for the dog costume, complete from small to x-large. It also comes in a variety of characters, including Piglet, Winnie the Pooh, Eeyore, and Tigger.
However, Amazon reviews suggest that the costume tends to run small, so make sure to check the sizing chart before ordering. Also, be sure to supervise your dog wearing the costume to make sure they don't get too hot or uncomfortable.
Disney Costumes for Dog FAQs
You want to find the perfect Mouse-themed dog attire, but you don't know where to start. Well now you do! You're welcome.
With so many different Halloween costumes on the market, it can be hard to figure out which one is the best fit for your furry friend. You want something that is comfortable and looks great, but also something that won't break the bank.
The trick is found in this blog entry: it has the perfect choices for you and your best friend! We've taken the time to research the best Disney dog costumes for your pup so you don't have to. These Halloween costumes are comfortable, stylish, and affordable, so you can give Fido the perfect look for their next dog costume party.
What are the most popular costumes for pets?
The most popular tend to be those that are comfortable and easy to put on. Popular get-ups include superheroes, princesses, and animals such as cats, puppies, and bunnies. Popular accessories for pets include hats, bow ties, and tutus. It is important to make sure that the dog costume you choose for your pet is not too tight or too loose, and that it does not restrict their movement. Additionally, you should always make sure that the costume is made from breathable materials to ensure your pet's comfort and safety.
What should I be for Halloween with my dog?
A great idea for a Halloween costume with your dog is to disguise yourselves as a pair of superheroes! You could be Pooh and Piglet, or Aladdin and Princess Jasmine, or any other Disney-duo that you can think of. With a bit of creativity, you and your fur baby can come up with the perfect Halloween costume. Just know that when you and your dog wearing matching outfits - you are sure to win the prize at the contest this year!
Do dogs like Halloween costumes?
It depends on the dog! Some may be perfectly fine with wearing a costume, while others may be uncomfortable or even scared. The best way to know for sure is to introduce the costume slowly, allowing your dog to get used to it and become comfortable with it. Start by just having your dog wear the costume for short periods of time, and reward them with treats or positive reinforcement for wearing it. If your dog shows signs of discomfort, then it may be best to forgo the costume.
How much money do people spend on dog costumes?
The amount of money people spend on dog ensembles varies greatly. Some people may choose to just buy a simple bandana or bowtie for their pup, while others may opt for a more elaborate costume. Generally speaking, people tend to spend anywhere from $10 to $100 on Halloween attire. The type of costume and the quality of materials will also determine the cost.
Is it OK to put dogs in costumes?
It is generally considered to be safe as long as they do not restrict their movement or cause them any discomfort. It is important to ensure that the costume is not too tight and does not interfere with the dog's ability to breathe, bark, or move. Additionally, it is important to make sure that the costume does not contain any small parts that the dog could choke on.
Do clothes help canines with anxiety?
Yes, for some, it can help with anxiety. Wearing them can provide a sense of security and comfort for anxious puppers, as it can act as a physical reminder of the presence of their owners. They can also help to reduce stress-related behaviors like excessive barking, chewing, and scratching. Additionally, they can help to protect from the elements and provide insulation, which can help to keep them warm and comfortable.
On the other hand, it can cause more anxiety for others! You just have to try it out with your dog. If you can, start with a t-shirt you've worn and not washed yet. It will smell like you which should give your dog some comfort! Tie it close around their mid-section with a knot and see how they feel about it. If Rover immediately tries to get out of it, you know it's probably not a good idea for your pooch.
Why do people dress their dogs in clothes?
People dress their furry friends up for a variety of reasons. Some do it for practical reasons, such as to keep them warm in colder climates. We have a couple of fluffer nuggets that don't have heavy fur, and it is cold where we live in the winter. They wear a sweater all winter long and seem to appreciate it.
Others do it them for aesthetic reasons, such as to make them look fashionable or to express their own sense of style.
Additionally, some people put them in garments to make them stand out from others or to make them look cute.
Conclusion:
I hope we've given you some great Disney-themed inspiration when it comes to outfits for your pup.  From toys and activities to food items and attire (be sure to check out other blog posts in this series), your pup can experience the wonder of the Mouse with ease. With a wide variety of options available, you can find something to suit the interests and lifestyle of your four-legged best friend.  Disney-themed apparel is a great way to show off your pup's love for Mickey Mouse and his pals. As evidenced by all these amazing offerings, it is clear that Disney and Disney enthusiasts have created something special for everyone's furry friends. With just a bit of creativity, you can enjoy a magical experience that both you and your pup are sure to adore – what's not to love?
So if you are looking for some goofy and exciting ways to incorporate the Magical Mouse into your pet's life, take the time to explore all the possibilities that this beloved brand has to offer! Now head on out to Amazon to choose the most magical costume for your pup! Mickey would be proud!
And, by the way, thanks for hanging out with me today! I love to help you shop and I look forward to sharing more tail-wagging love with you soon.
As an affiliate of Amazon and other marketing website, we may earn a small commission from certain qualifying purchases.
Related Articles: