Ho! Ho! Ho! Christmas is coming and your family is getting into the spirit of the holidays! Why should your dog not join in, too? Let's search and find him (or her) the cutest holiday-wear around!
There are so many fun-tastic ways to share the holidays with your furry friend. One of them is finding him or her the cutest outfit to wear when out on a walk, showing off at the pet store - or just lounging around the house.
We want to help you make your pup the envy of the pack ... so we have searched high and low to find these adorable accessories that Amazon can deliver to you tomorrow!
Join us - and even the big man himself will be jealous of these outfits!
How We Choose the Cutest Holiday-wear!
Well, as you know, the choices are almost endless. We searched the web to find the most charming holiday-wear we could for all occasions! Check them out below to see if you agree. We've provided a link to each one that you can use to order on Amazon.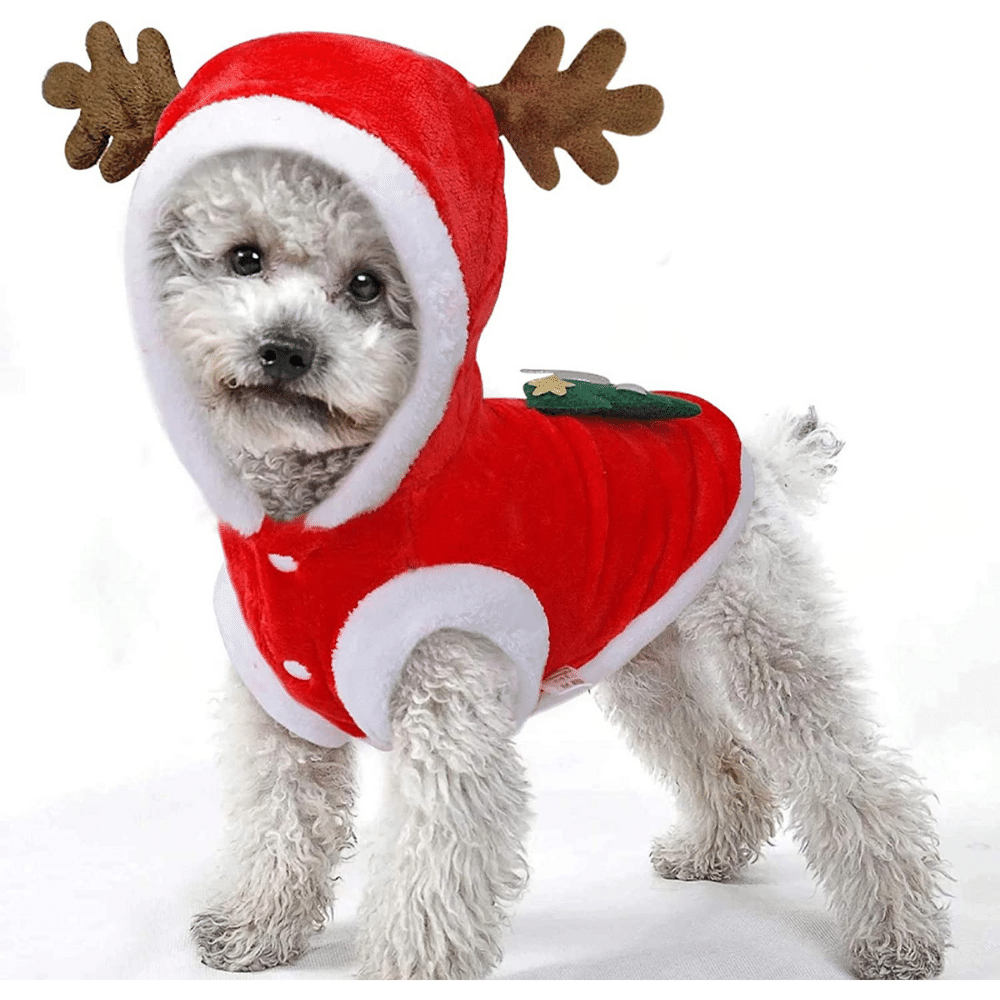 Cutest Reindeer Outfit
Pet Dog and Cat Christmas Clothes Costume
Check Price on Amazon
What We Love About It
What a way to celebrate! If Rudolph isn't able to make it out for St. Nick this year - your pooch will be in the running as the pinch hitter! Decked out like the big guy, but with antlers and a Christmas tree ... your furry baby is sure to be at the top of Santa's list!
What You Need to Know
This fancy little red and white number comes in XS (chest 11", length 8") for small dogs all the way up to XL (chest 18.5", length 15") and is made of soft cotton or fleece.
The costume pulls over your the head of your pooch, and the hood can be pulled up or left hanging.
Most Amazon reviewers said the costume ran small so be sure to consider this when shopping for your pup.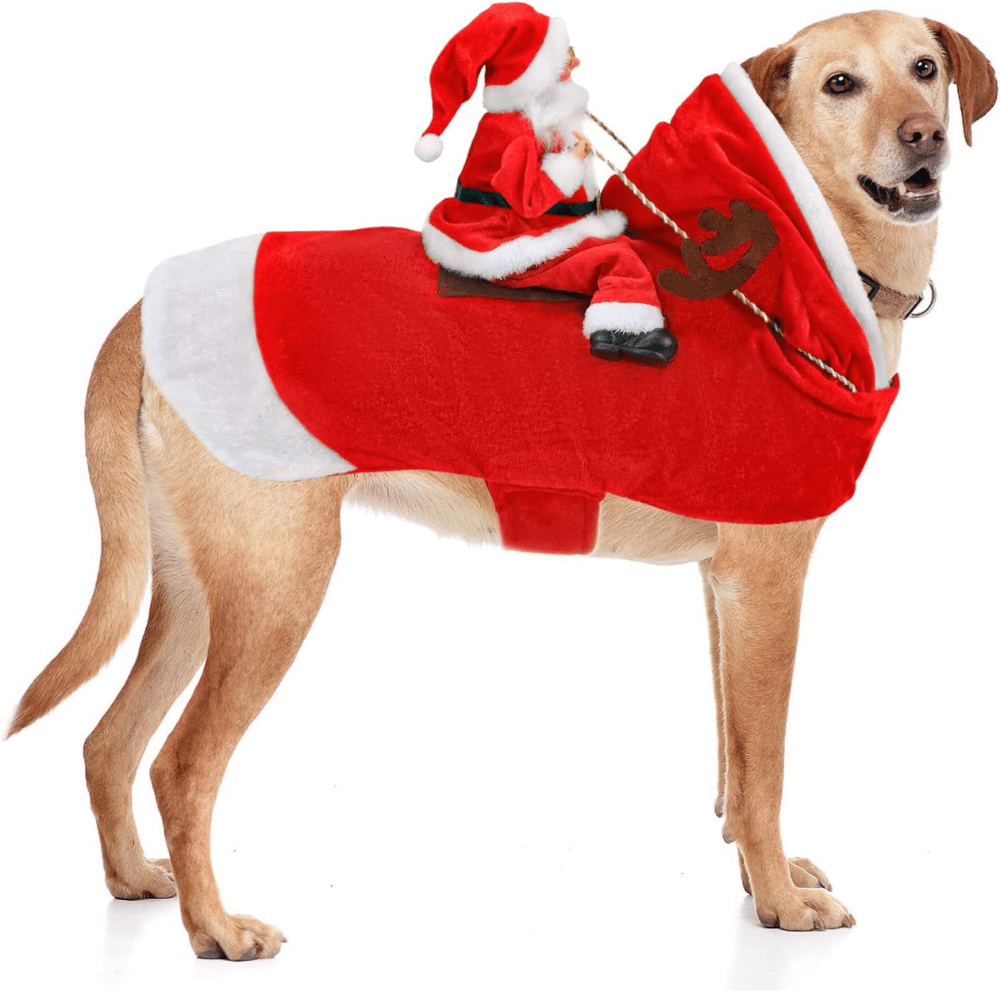 Cutest Santa Toy Costume
BWOGUE Santa Dog Costume Christmas Pet Clothes Santa Claus Riding Pet Cosplay Costumes Party Dressing up Dogs Cats Outfit for Small Medium Large Dogs Cats
Check Price on Amazon
What We Love About It
Your family will know the jolly dude is on his way when they see this outfit running around the house.
What You Need To Know
This holiday-wear for your friend comes sizes Small (Neck 10.2-11.8", Chest 13-18.5") to XXL (Neck 20.4-25.6" Chest 24-32.3") and everything in between (Medium, Large and XL) so it's almost sure to fit on your pup regardless of their size.
It has a velcro closure on the underside to keep the toy Santa on your dog's back, as well as being made of cotton to keep your buddy warm during this festive season.
Amazon reviewers shared that their dog's collar and leash still worked fine with these accessories on. They also commented about how adorbs it was - and that St. Nick stayed perched on their pooches back perfectly!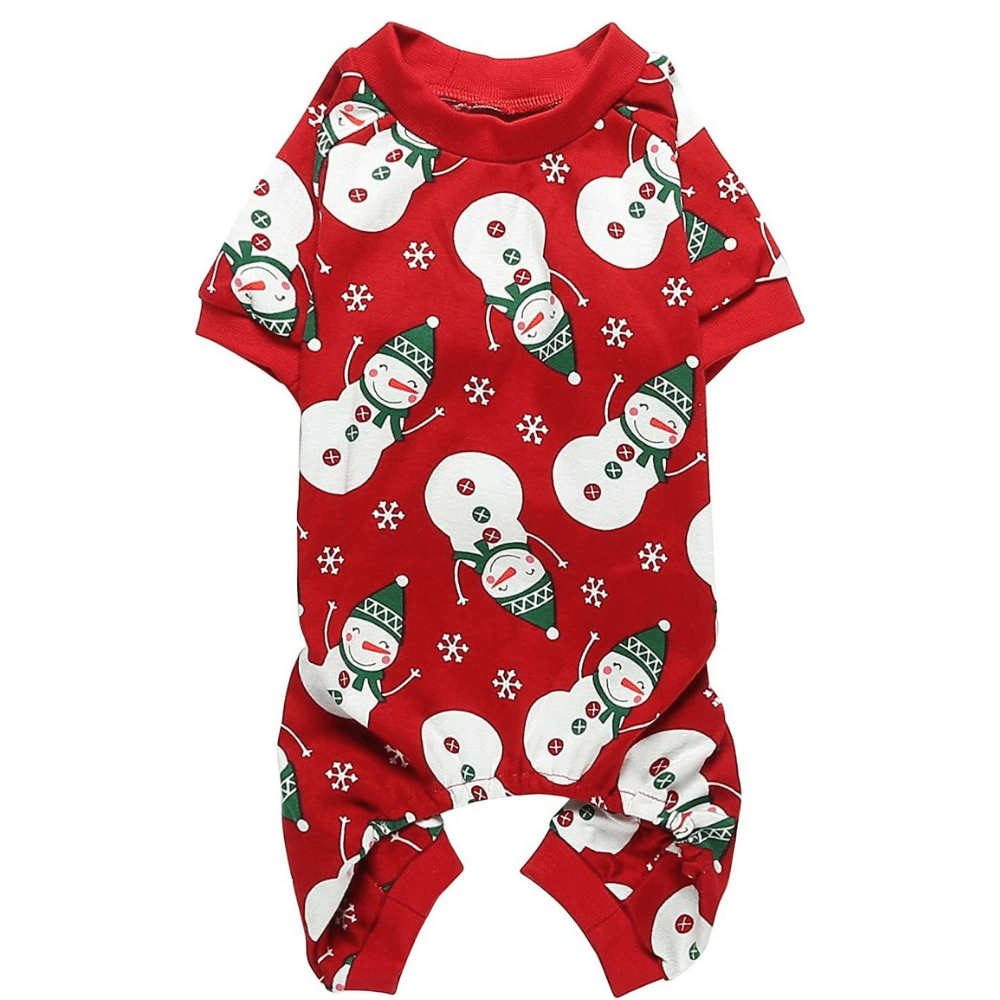 Cutest Snowman Jammies
Lanyarco Cute Snowman Reindeer Pet Clothes Christmas Dog Pajamas Shirts
Check Price on Amazon
What We Loved About It
This sweet pair of jammies isn't just for Christmas - but can be worn throughout the winter with a bunch of snowmen celebrating the whole season long.
What You Need to Know
This set of set of jammies comes in sizes X-Small (Neck 8-10", Chest 14-16") through X-Large (Neck 20-22", Chest 28-34") and everything in-between!
Although it is a single-pack, you can order this in 7 different fabrics! The jammies slide over each paw and are held in place by all 4 legs.
Amazon reviewers commented about how "super cute" it is, it is great quality and it is easy to put on. This sounds like a perfect wintertime outfit.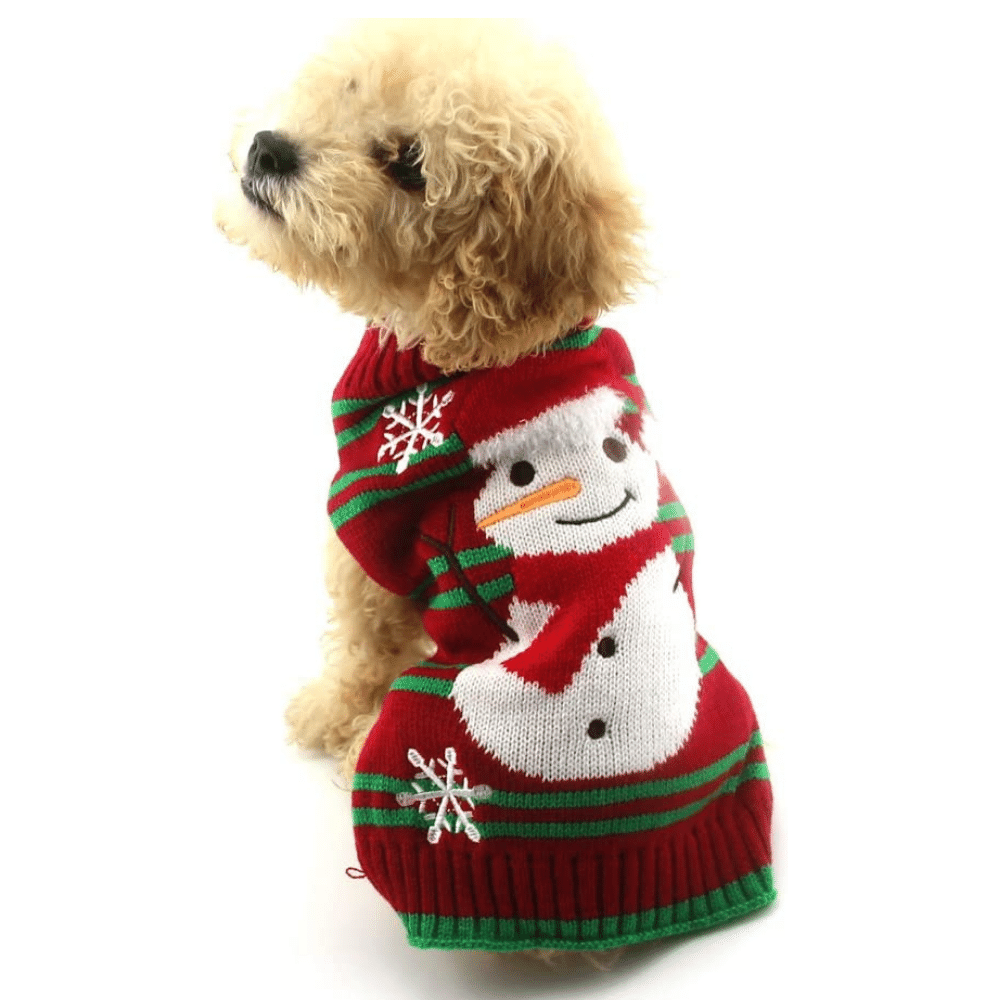 Cutest Snowman Sweater
NACOCO Dog Snow Sweaters Snowman Sweaters Xmas Dog
Check Price on Amazon
What We Love About It
This little snowman sweater has good reason to make our list! Not only will it keep Rover (or Rovette) roasty-toasty all winter long, it sports those red and green colors we all seek during the Christmas season! But, unfortunately, your pooch certainly won't win at the family ugly sweater contest!
What You Need To Know
This adorable little acrylic sweater will keep your fur-baby warm this winter. It is available in sizes XX-Small (Neck 7.5", Chest 9.1", Length 6.9") to 3X-Large (Neck 24.4", Chest 33.5", Length 27.6") and all the other sizes in-between.
This sweater is a single pack - that is you only get one sweater per order, but there are two choices of pattern! The cute little snowman number featured in our picture above, but there is also a red-and-white barbershop stripe version with white snowflakes featured on the red stripes. Decisions, decisions ... maybe you should just get both!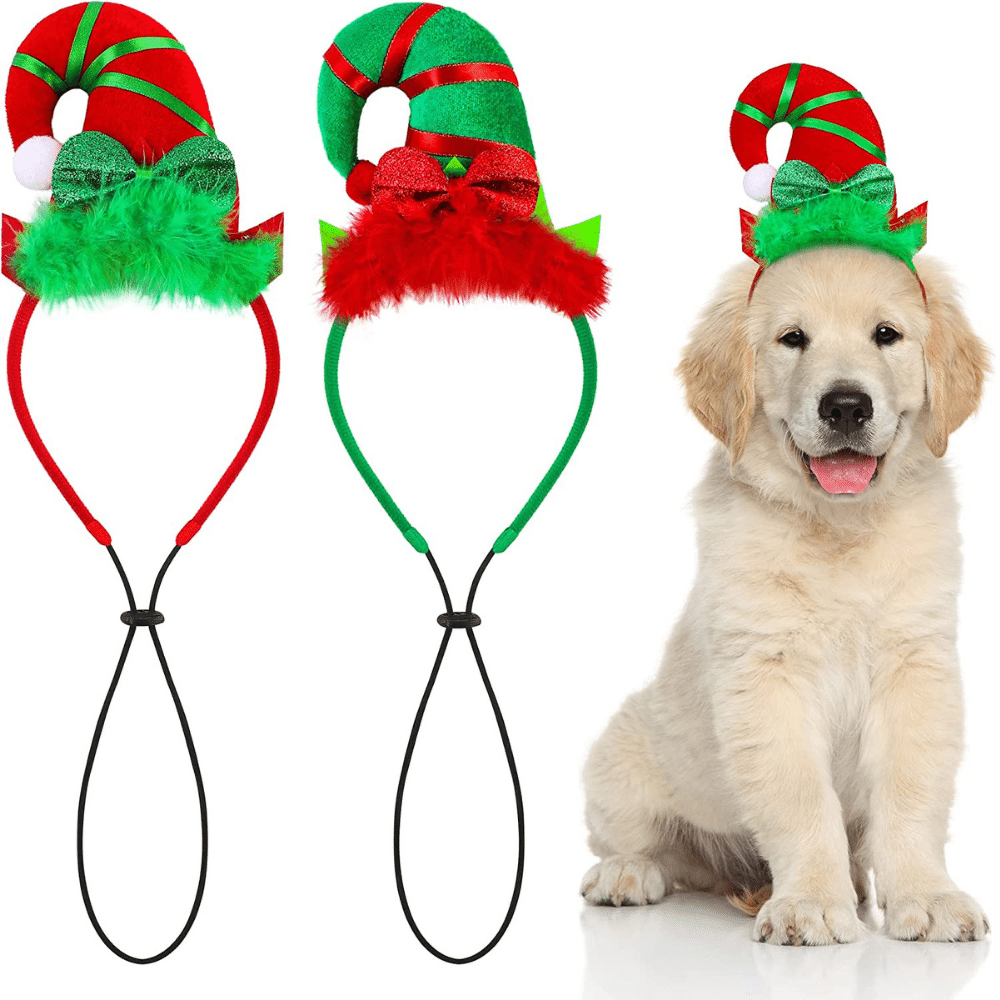 Cutest Elf Hat
Tiibot 2 Pack Christmas Dog Headband Christmas Pet Elf Costume Hair Hoop
Check Price on Amazon
What We Love About It
This adorable little elf hat comes as a two pack! That means you can alternate which one Fido wears out each time - or if you are lucky enough to have two best friends at home - they can both wear one at the same time! Heck, maybe even you could wear one and show up at the elf family reunion and be the center of attention!
What You Need To Know
One hat is red with green accents, while the other is green with red accents. These accessories stay on your floofer with an elastic headband/adjustable robe which can be slid into place to keep it on his furry noggin. The headband is approximately 10 inches across the top and 7.5 inches near the bottom. The headband itself is made of a stretchy plastic.
There really weren't a lot of reviewers already on Amazon ... but we just thought it was so darling (matching our theme of cutest holiday-wear) that we just had to include it!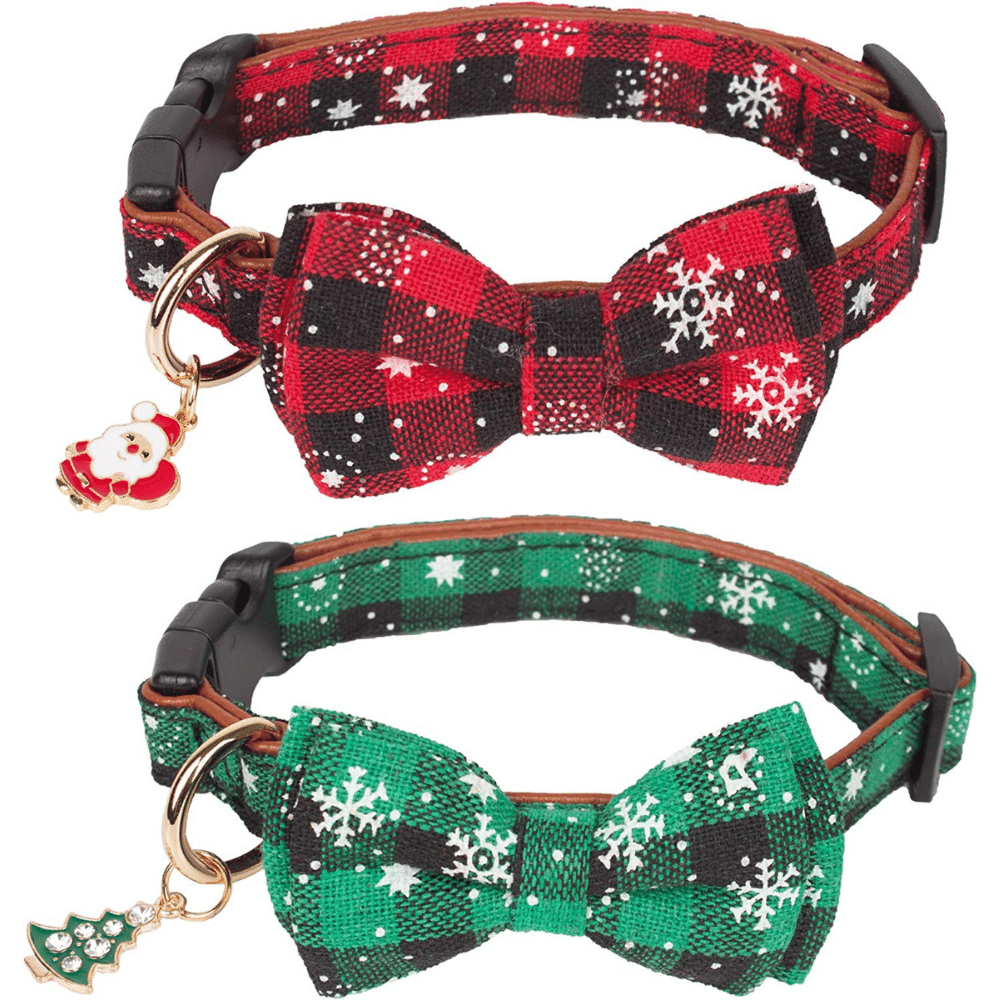 Cutest Bowtie Collar
JCSHIMO 2 Pack Christmas Dog Collar with Bow Tie Red Green Buffalo Plaid Dog Pet Collar
Check Price on Amazon
What We Love About It
This collar set comes in two colors: green and red with a small holiday charm on each leash ring.
What You Need To Know
This buffalo plaid two-pack of collars comes in 3 sizes: small (Neck 9.6"-13.8"), medium (Neck 11.8"-17.8") and large (Neck 14.2" - 21.7"). You get one of each color with each order.
This collar is made of soft polyester that covers a leather collar. It has a plastic buckle and a stainless steel d-ring for your leash.
Amazon reviewers had good things to say about these collars. They said they were well made, the bow would come off if you wanted it to, and they were super sweet. They commented that they are not just ornamental, but could be used as reliable collars throughout the holiday season when out on a walk! The only negative comment found was that they wished the clasp was not plastic, but made of metal like the charm and the d-ring.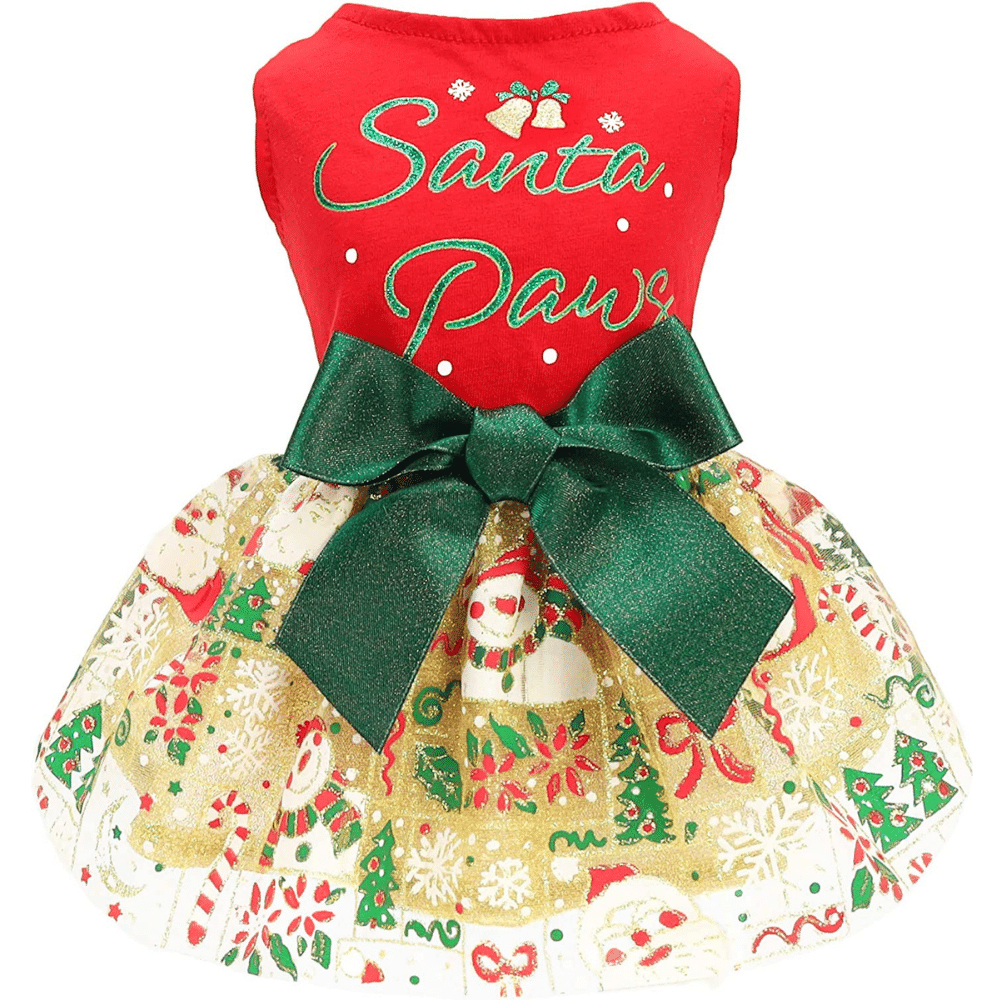 Cutest Holiday Dress
Fitwarm Dog Christmas Outfit, Santa Paws Cotton Dog Tulle Dress, 100% Dog Winter Clothes
Check Price on Amazon
What We Loved About It
Ooh-la-la! Going out on the town? This is the dress for Santa-baby to show off her stuff!
What You Need to Know
This adorable little dress comes in XX-Small (Back 8", Chest 10") to Large sizes (Back 14", Chest 18")(and everything in between). The top layer is 100% cotton and the tulle layer (fluffy over-skirt) is 100% polyester.
The dress features a glitter printed font and a beautiful emerald-colored bow and sash. It is easy on/off and allows for flexible movement with elastic around the chest.
Amazon reviewers gave it very high marks stating that even puppers who don't usually like to wear costumes gave this number a 10! Pups wore it for over 6 hours without trying to pull it off! It's lightweight and doesn't inhibit their normal playfulness.
As an extra bonus, this same style is available in other patterns: birthday girl, 4th of July red/white/blue, Easter polka dots, wedding flower girl, animal print and mermaid/unicorn purple! Your glamour girl can wear this dress all year round!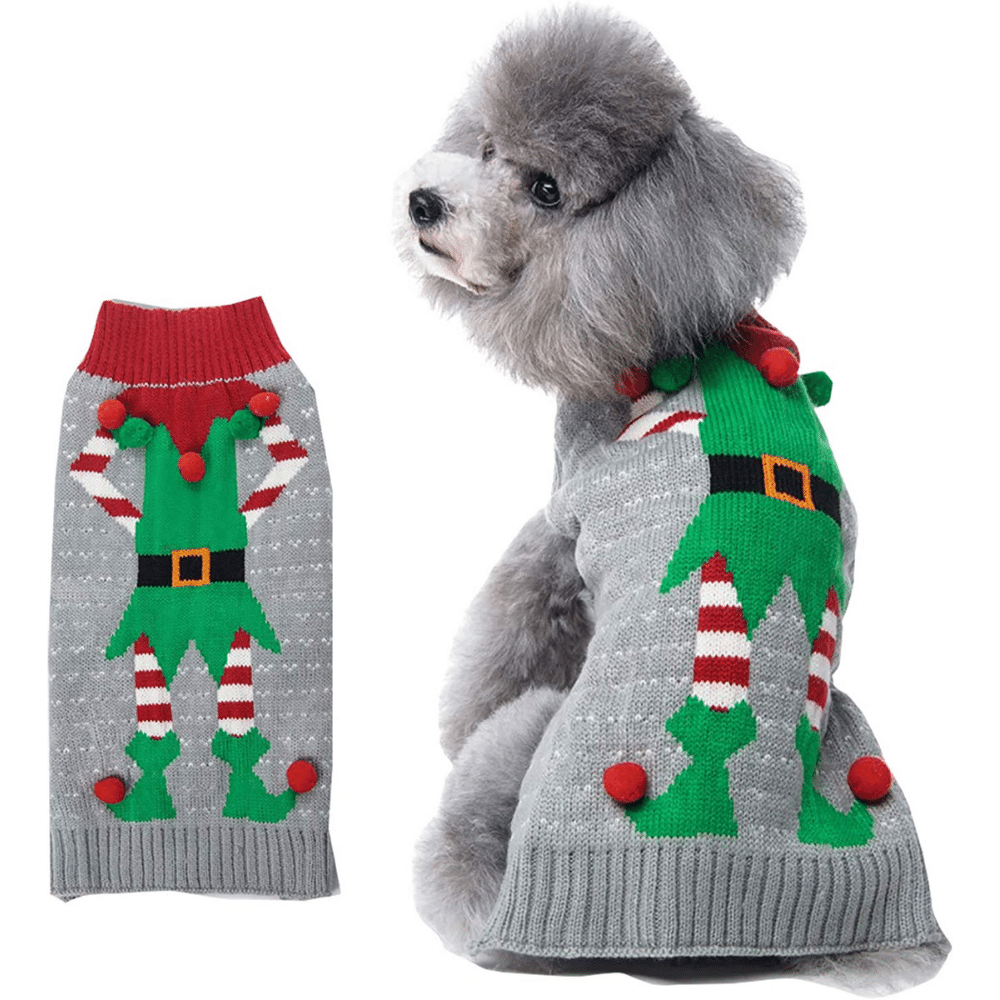 Cutest Elf Sweater
HAPEE Dog Xmas Sweaters, Dog Christmas Sweater
Check Price on Amazon
What We Love About It
This holiday sweater turns your pooch into the fun elf-on-the-shelf that all kids watch for this time of year. And you just never know where he'll show up next!
What You Need to Know
Personally, I would match this little sweater with the elf hat found above and tell the kids that Rover ate that little elf-on-the-shelf - and this is what happened!
This fun little sweater is perfect for doggys of all sizes available in X-Small (Neck 9", Chest 11.4") to XX-Large (Neck 22.8", Chest 27"). It also comes in three different patterns: elf (which they call a clown), red and white St.Nick, as well as brown and red Rudolph the Red Nosed Reindeer.
Amazon reviewers gave it excellent reviews saying it was well made, was great quality and just super enchanting! It was highly recommended!
Doggie Holiday-wear FAQs
Sometimes the hussle-and-bustle of this time of year gets to be a bit much - but how does Fido feel about it? Does he enjoy it? Does it stress him out? How does he really feel about dressing up? We've done the research and here's what we can tell you about your furry family member's holiday.
How do you dress your dog up for Christmas?
Well, this answer is about as varied as their are the number of dogs! Some people just want to keep their best friend in his normal furry coat - while others like to accessorize. We hope this guide has given you a few ideas that you can talk over with your furry friend.
Is it OK to wear clothes on a dog
This is a question that is difficult to answer. If your dog doesn't mind the extra layer, then absolutely go for it! Depending upon where the two of you live - you just want to make sure that Rover doesn't get too hot or tangled up in his holiday finery - calling it a day. Also - watch out that he doesn't chew and swallow any of his new duds.
Is it OK for a dog to sleep in a sweater?
Again, this is really up to Fido! Some pups like the extra layer of clothing, while others hate it. If Fido seems fine with it - then it's a-ok to wear their jammies while sleeping.
Do pets really need clothes?
This is another tough one to answer. Generally speaking, no, they don't. But there are exceptions to most rules. If it is very cold out, your your dog just got a short haircut (or happens to be a hairless breed), they probably appreciate the extra layer. The same is true if is very hot out and you need to walk your pupper on the sidewalk. They actually may NEED a pair of shoes or booties so that they don't burn the pads on their feet.
What can dogs NOT have at Christmas?
Christmas time is a time where we as humans tend to indulge. Be careful not to let Rover indulge, or you may have a very sick pup on your hands. Just like any other time of the year - you need to watch out that Rover doesn't get into things he shouldn't. This includes:
Chocolate
Artificial Sugars (especially xylitol)
Cooked bones (believe it or not - most raw bones are fine)
Poinsettia leaves (very toxic)
Tinsel from your Christmas Tree
Don't let them chew on the lights or the branches!
Grapes and/or raisins
Rawhide chew toys (dangerous if swallowed)
Please note this is not an exhaustive list. If you think of something that is common at your house that I didn't think of - write to me and I'll add it to the list!
Is putting dogs in clothes abuse?
Well, remember when you had to get dressed up as a kid for special occasions? It might not have been your favorite thing to do (or maybe it was!), but it wasn't exactly abuse. Just be aware of your dog's stress level and don't push him over the edge. Let's face it - they're adorable without the clothes! Can't say that about most of us!
Do dogs get stressed at Christmas?
Just like people - some fuzzy friends adore the extra hussle-and-bussle and some hate it. You need to be aware of your doggo's tolerance to extra people, extra lights, extra celebrations and be sure to watch for a sign that he might done with all the EXTRAS!
Can dogs take pictures with Santa?
Many places enjoy having Rover join the crowd to meet the big guy - but it's always wise to call ahead and ask! Be sure to have a leash with you because their will probably be a lot of kids around - some of which are allergic or scared of your sweet mutt.
Can real Christmas trees affect dogs?
Just like humans, some furry best friends are more sensitive to pine than others. The needles can puncture or irritate their mouth and stomach if chewed and swallowed. They probably won't kill your pet - but can make him uncomfortable.
Conclusion:
Thank you for joining us here at RedBarnReviews for this holiday extravaganza. We hope you've enjoyed some of the lovely things we've shared with you. Please click on the Check the Price on Amazon link to decide if one (or more!) of these hot little numbers will find it's way to your holiday celebration! Merry Christmas to all, and to all a good night.
As an affiliate of Amazon and other marketing website, we may earn a small commission from certain qualifying purchases.
Related Articles