Pets are part of the family, and it's important to keep them safe and healthy. But vet bills can add up quickly. Is pet insurance worth it? We've put together this article to help pet parents decide. Read on and get the scoop on the best insurance available!
As a pet owner, you never want to see your four-legged friend in pain or suffering. You will do anything and everything to keep him healthy and happy, which is why it can be so disheartening when something goes wrong and vet bills start piling up.
Pet insurance can help keep finances in check so that medical expenses don't become a burden for your wallet - but what is pet insurance? If you are considering getting coverage for your beloved pet but aren't sure where to begin, this blog post has all the information you need – from activity types covered by certain policies to tips on finding the best pet insurance for you.
What Is Pet Insurance?
Pet insurance is health insurance for your cat, dog or other animal friend. Different companies offer to cover different animals. Some only cover cats and dogs. Others will cover additional animals such as pot-bellied pigs, birds, reptiles, ferrets, rabbits and some rodents. Just like human health insurance, a good insurance company can help manage the cost of rising health care for your best friend.
Should I Buy Pet Insurance?
Well, pet insurance companies say you should ... but ... maybe they have a conflict of interest? I'm not saying you shouldn't - but there are definitely some things you should research first.
Second, you need to consider exactly what the insurance company covers. Are the pet insurance costs worth the value you are going to receive?  Pet insurance premium costs (what you pay per year or per month) vary greatly. The best pet insurance companies will allow you to choose different levels of insurance. Does your pet's age matter? Are you going to cover "well checks"? Do they have accident and illness coverage or just one or the other?? Does the insurance cover hereditary and congenital conditions? Will there be a maximum amount the insurance company will cover? What percentage of the vet bill will your insurance cover? Are there waiting periods before the insurance kicks in? What about a deductible? There are many things you need to consider! And, just like human health insurance, the better your coverage the more the policy is going to cost you up-front.
Now, if your pet has a serious illness or accident - accident and illness coverage is definitely going to help protect your wallet. And, no one wants to think this could ever happen to their furry (or scaly!) friend - it certainly can.
Now, you may be asking yourself - does Red Barn Pups carry pet insurance plans on their dogs? No, I don't. But that doesn't mean YOU shouldn't! I have an awesome vet - and unlike many vets - I know I can work with them on payment plans because I am a "frequent flyer" in their office! It's not uncommon for me to be in there once a week for some reason! I live on a farm - we have a lot of animals!! But I know from prior experience, this is very uncommon. Matter-of-a-fact, I know my vet doesn't do this for every customer. But I've been a client for a long time and I have proven myself reliable for some pretty hefty bills. So you may be asking yourself - why don't you have pet insurance plans??? I just decided it wasn't worth it to me.
But, again, that isn't necessarily true for you. So, I've listed a bunch of different companies below for you to consider and just a bit of information about each to help you find the best pet insurance for you.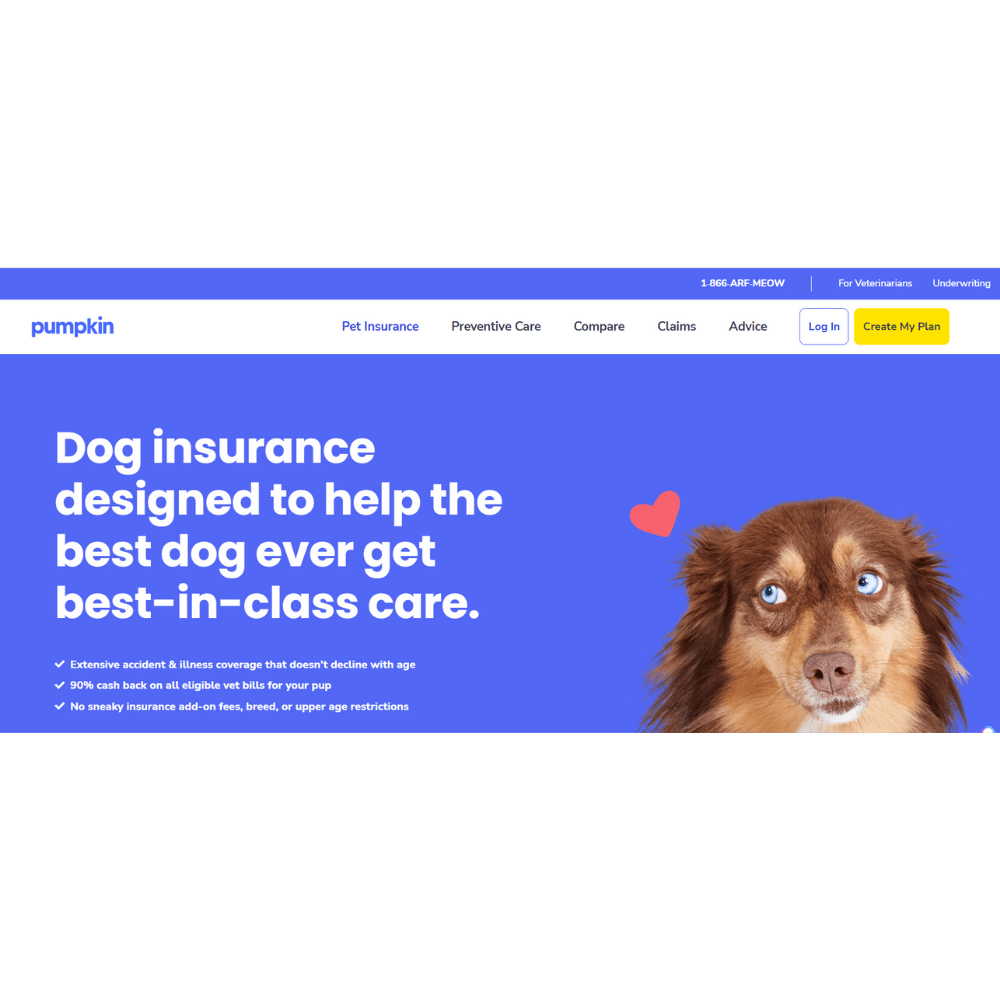 Best Overall Pet Insurance Plan
Pumpkin Pet Health Insurance
Click to See Pumpkin's Website
Pumpkin Pet Health Insurance
Best pet insurance plan overall
Available for cats and dogs over 8 weeks of age. There is no maximum age limit. This is unusual for pet insurance!
No breed restrictions for cats or dogs.
Visit any vet in the US or Canada; covers both in-person and virtual visits.
Covers vet exam fees for accidents and illnesses, dental issues, behavioral issues, prescriptions, alternative therapies, and microchipping at 90% reimbursement. Note - they claim it is NOT up to 90% reimbursement, but actually 90% reimbursement.
Covers hereditary and congenital conditions at no extra charge.
Optional Wellness coverage is an add-on feature.
14-day waiting period for all accidents and illnesses.
Pumpkin has three different annual coverage limits you can choose: $10,000, $20,000 or unlimited annual coverage.
Does not have an accident-only plan.
Owned by Zoetis Inc, the world's largest producer of medicine and vaccinations for pets and livestock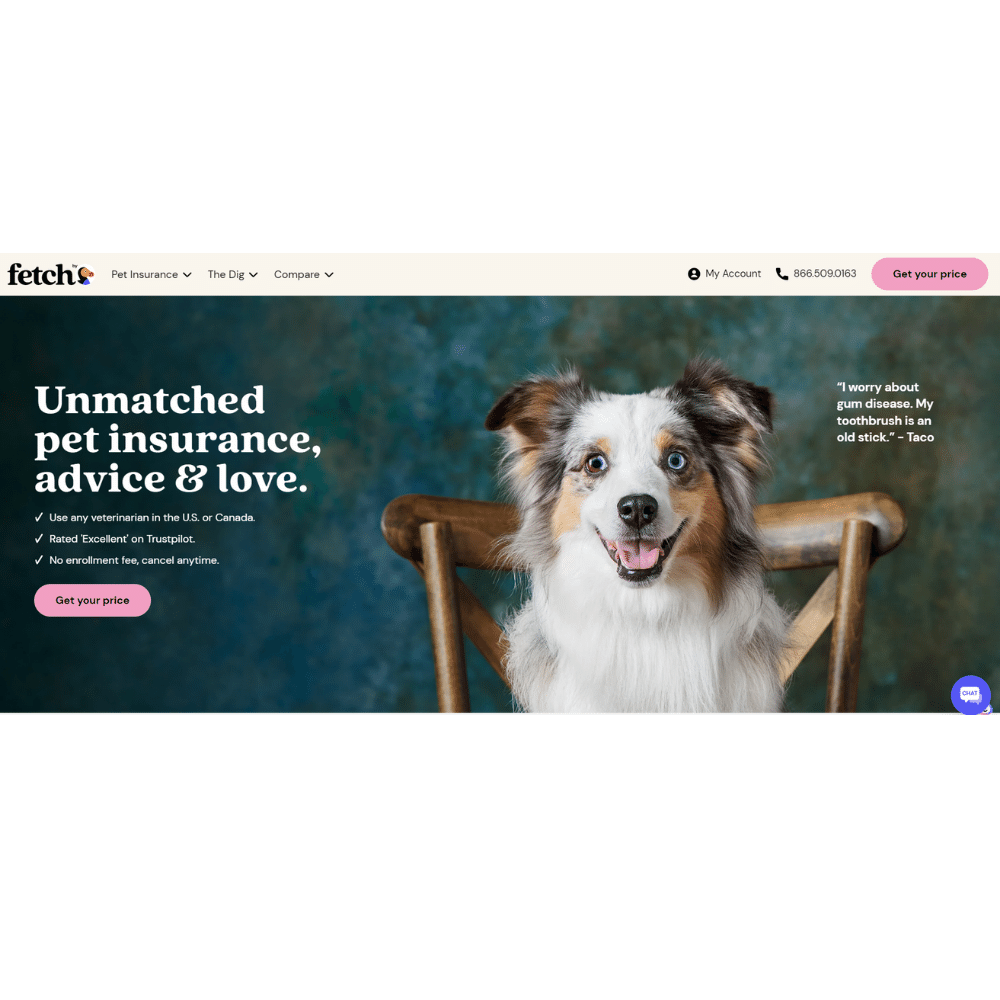 Best Insurance that also covers Boarding Fees
Click to Visit Fetch's Website
Fetch by the Dodo
Best pet insurance if you need boarding fees covered
Covers emergency, in-home, office and virtual vet visits
Covers prescription medications
Covers hospital stays and physical therapy
All dental illnesses of all teeth including caps or crowns if needed.
Acupuncture & chiropractic care
Treatment for aggression & separation anxiety
Hereditary & congenital issues
Breed-specific issues, including hip dysplasia
Diabetes, insulin, and cancer treatments
If your pet is missing, they cover the cost of advertising and pay a reasonable reward for finding them. Up to $1,000 per year.
Routine visits and preventive care are not covered
Pre-existing conditions are not covered.
Claims filed more than 90 days after treatment are not covered.
Prescription food is not covered.
Grooming and cosmetic procedures are not covered.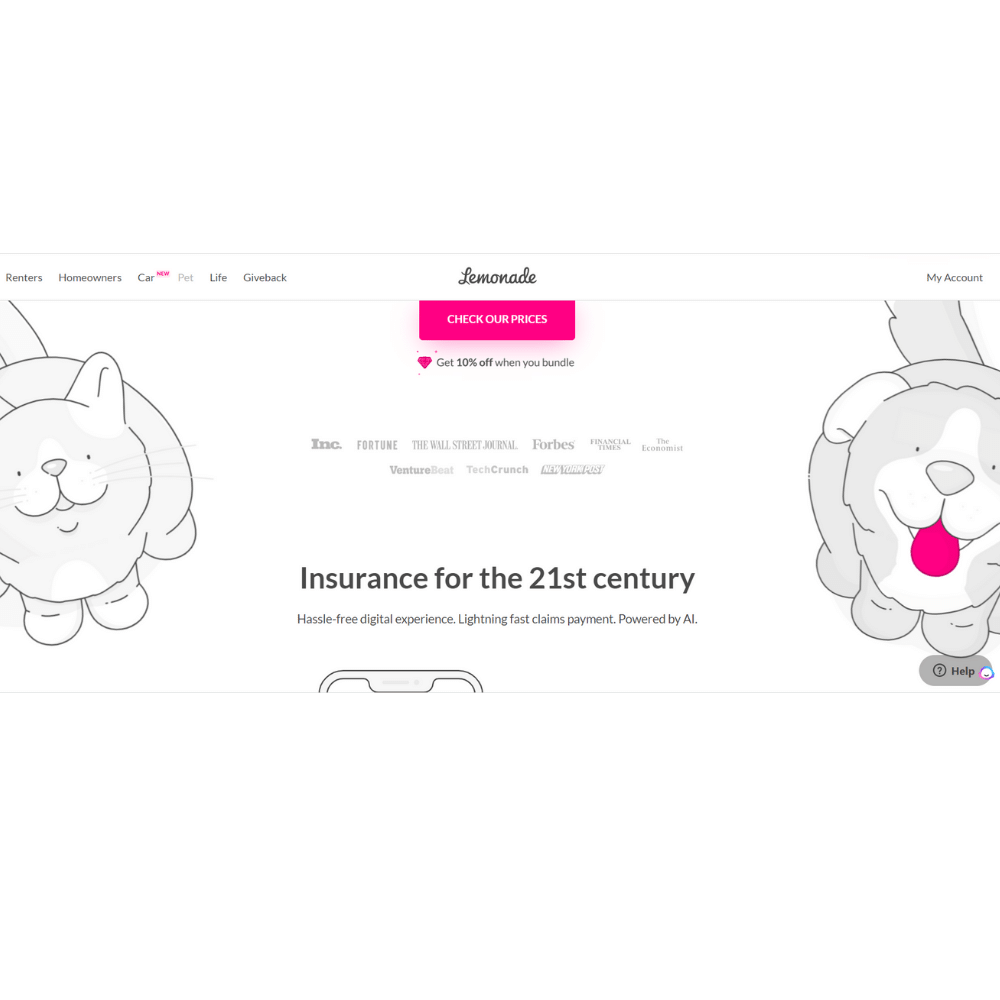 Best Pet Insurance that is App-Based
Lemonade Pet Health Insurance
Click to Visit Lemonade's Website
Lemonade Pet Health Insurance
Best pet insurance plan that is app based. Payments to you are made electronically into your bank account.
A base pet insurance plan with Lemonade will cover medical expenses related to accidents or illnesses.
Pre-existing conditions won't be covered.
Lemonade has a 2 day waiting period for accident coverage, 14 days for illnesses and 6 months for cruciate ligament events
Illness coverage for sicknesses that develop after you purchase a policy will probably be covered by pet insurance.
Does not cover prescription food.
Lemonade offers five add-ons, for vet visit fees, physical therapy, dental illness, behavioral conditions, and end-of-life and remembrance.
Lemonade offers multiple Preventative Care packages, which cover non-emergency medical care for your pet.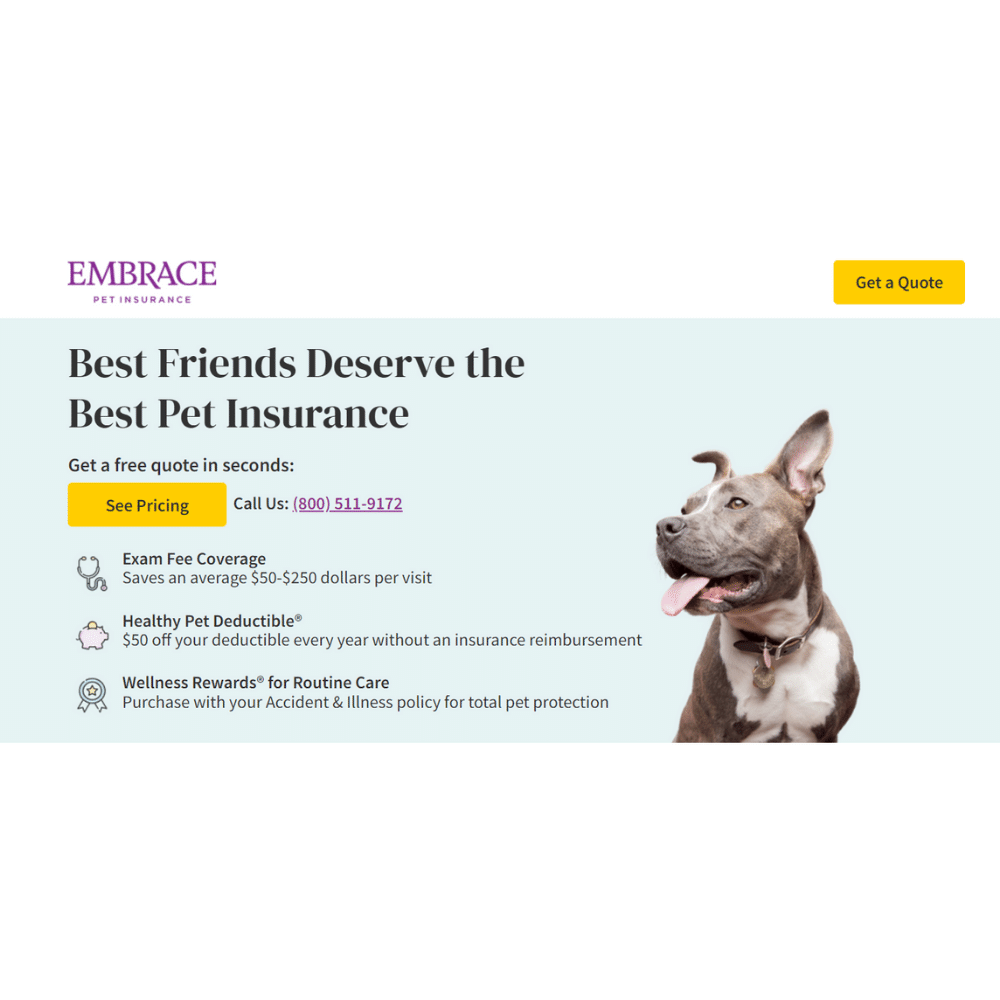 Best Pet Insurance that Accompanies other Home Owner Insurance Companies
Click to visit Embrace's Website
Embrace Pet Insurance
Best pet insurance plan that accompanies other homeowner insurance companies (Geico, Allstate and USAA)
Covers only dogs and cats
Pre-existing conditions won't be covered by the pet insurance company.
You will choose your annual maximum payout, deductible amount, and reimbursement percentage when you are signing up for Embrace.
Their wellness coverage plan is called Wellness Rewards*. It is an optional add-on to your pet insurance coverage that provides a flexible routine care plan.
The waiting period for accident coverage is 2 days. The illness coverage waiting period is 14 days. For coverage to start, each pet you are insuring must have visited a vet within the past 12 months.
Your pet can continue coverage for its entire life.
Some things are not covered such as prosthetic limbs, routine care, and pet training sessions.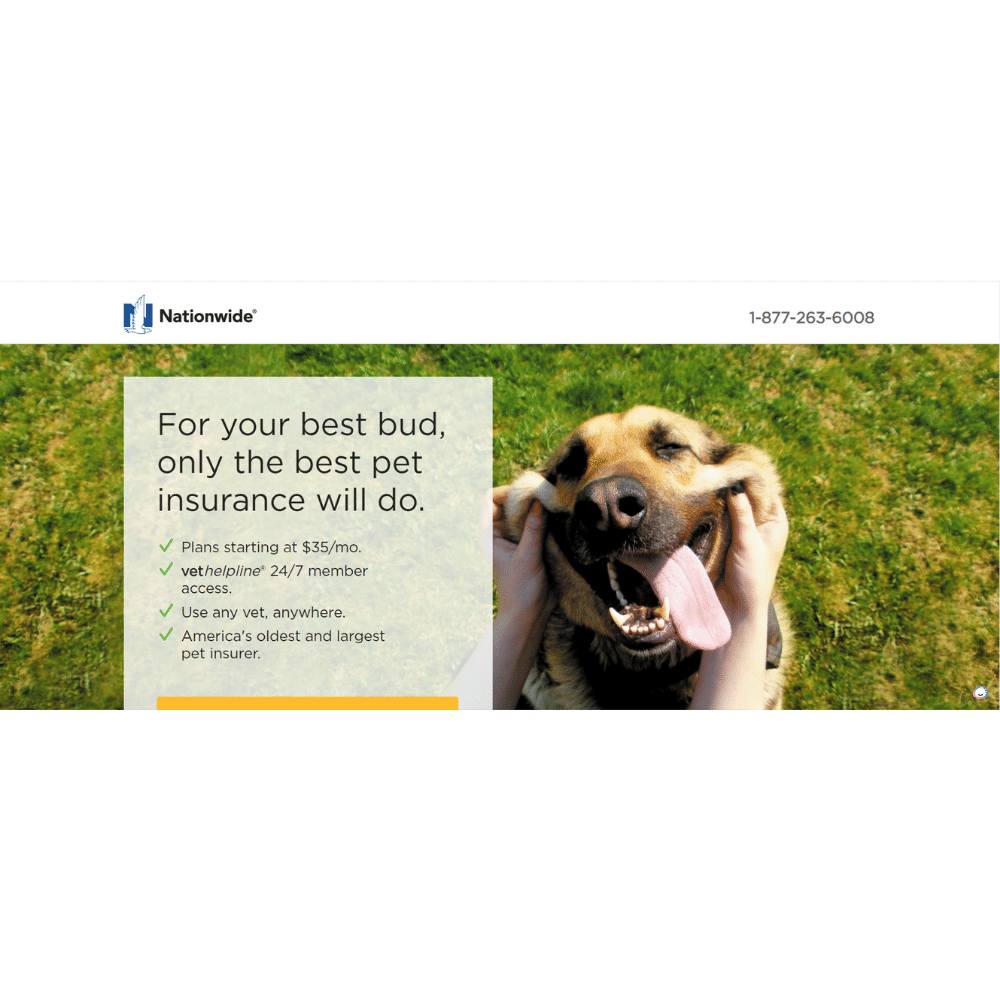 Best Pet Plan for All Pets - Not Just Cats and Dogs
Click to Visit Nationwide's Website
Nationwide Pet Insurance
Best pet insurance plan for pets that are not just cats and dogs
Covers cats, dogs, birds, and some exotic pets
They have two different forms of pet insurance plans. With Whole Pet insurance, you get a percentage of your vet bill reimbursed. Major Medical reimbursement for each condition is capped at a preset amount, regardless of the actual cost from your vet.
Regardless of which plan you choose for reimbursement, most problems are covered from accidents to hereditary and congenital conditions to long-term health conditions.
There is a 365-day wait period for knee injury coverage and; 14-day wait period for all other accident coverage
They do not cover behavioral issues.
They also have a wellness coverage plan that you can add on that covers vaccinations, well-checks, and flea/heartworm medicines.
They have a live vet helpline where you can contact a vet online to determine if you need to identify urgent care needs! That could be super helpful especially if it's in the middle of the night, on a weekend or holiday when vet exam, fees automatically go up!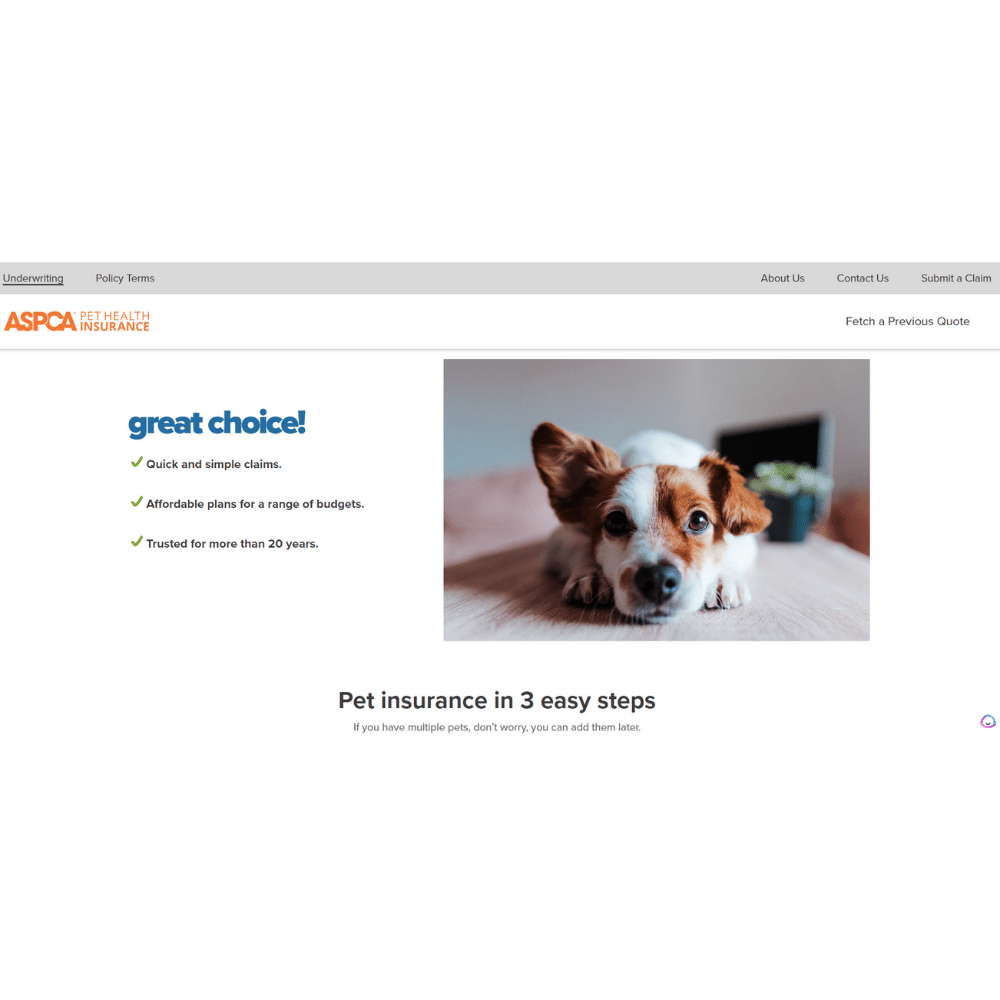 Best Insurance Plan Backed By a Non-Profit
Click to Visit ASPCA's Website
ASPCA
Best pet insurance plan backed by a non-profit. They also cover cats, dogs, and horses.
Coverage includes accident coverage, illnesses, hereditary and congenital conditions, alternative therapies, behavioral issues, chronic conditions, prescription medication, prescription food and supplements, and microchipping
Pre-existing conditions, cosmetic surgeries, and breeding fees/pregnancy fees are not covered
Wellness Coverage can be added on for an additional fee that will cover vaccinations, flea/tick/heartworm preventative medications
One of the oldest pet insurers in the USA and the only one associated with ASPCA
Insurance is offered through PTZ Insurance Agency, Ltd
Pet Insurance FAQs
Finding the best pet insurance plan for your furry friend can be a daunting task.
With so many different pet insurance companies and policies available, it can be hard to know which one is right for you and your pet. You want to make sure you get the best coverage for your pet, but how do you know which company to choose?
We've compiled a list of the most frequently asked questions about pet health insurance plans so you can make an informed decision and find the best coverage for your pet.
What is the best level of pet insurance coverage?
The best level of pet insurance coverage will depend on your individual pet's needs and your budget. Generally speaking, it's best to opt for a plan that covers the majority of your pet's medical expenses, including preventive care, emergency care, and chronic conditions. You should also look for a plan that offers coverage for specialist visits, medications, and hospitalization. Some plans also offer coverage for alternative treatments, such as acupuncture and chiropractic care. Ultimately, it's important to research different plans and find one that fits your pet's needs and your budget.
Is it worth shopping around for pet insurance plans?
Yes, it is worth shopping around for a pet insurance plan. Different companies offer different coverage levels, deductibles, and premiums, so it's important to compare the different policies to find the best one for your pet's needs. Additionally, it's important to read the fine print to make sure that the policy covers the specific needs of your pet, such as pre-existing conditions or hereditary diseases. Shopping around for pet insurance plans can help ensure that you get the best coverage for the best price.
How do I choose the right pet health insurance for my dog?
The best way to choose the right insurance company for your dog is to do your research and compare different policies. Consider factors such as the coverage offered, the cost of the policy, the exclusions, and any additional benefits. You should also read customer reviews to get an idea of how the company handles claims and customer service. Additionally, it's important to make sure the policy will cover any pre-existing conditions your dog may have. Ultimately, you want to make sure you are getting the best value for your money and the policy that will provide the most comprehensive coverage for your pet.
Is PetPlan worth the money?
Yes, PetPlan is worth the money if you are looking for comprehensive pet health insurance coverage. PetPlan offers a wide range of coverage options and customizable plans that can be tailored to fit your pet's needs. Additionally, PetPlan offers a variety of discounts and rewards programs that can help make pet insurance more affordable. PetPlan also offers excellent customer service, so you can be sure you'll get the help you need in the event of an emergency.
Is it better to get pet health insurance or set moeny aside?
The answer to this question depends on your individual circumstances and needs. Pet insurance can provide you with financial protection in case of an unexpected illness or injury, and also covers routine care such as vaccinations and spaying/neutering. On the other hand, setting money aside in a savings account can provide you with a cushion in case of an emergency. It's important to weigh the pros and cons of each option to determine which is best for you and your pet.
What are 3 factors that will affect your pet health insurance costs?
1. Type of pet: Different types of pets have different insurance costs. For example, cats are generally cheaper to insure than dogs.
2. Age of pet: Generally, older pets are more expensive to insure due to the increased risk of illness and injury.
3. Location: Insurance costs may be higher or lower depending on the area you live in. For example, if you live in an area with a higher rate of pet theft, your insurance premiums may be higher.
Is there an alternative to pet health insurance?
Yes, there are several alternatives to working with an insurance company. One option is to set up a pet savings account, where you can deposit money each month to cover your pet's medical bills. Another option is to purchase pet healthcare coverage from a third-party provider. These plans typically provide coverage for routine care, vaccinations, and emergency care, but may not cover pre-existing conditions. Finally, some employers may offer pet health insurance as part of their employee benefits package. It's always a good idea to explore all your options before making a decision.
How soon can you use pet insurance after purchasing it?
Most pet insurance policies have a waiting period before they will cover any medical expenses. This waiting period can range from 7-30 days, depending on the policy. During this waiting period, any medical expenses you incur for your pet will not be covered. It is important to check the details of your policy to ensure that you understand when coverage will begin.
What age does pet insurance stop?
Most pet insurance policies have age limits, typically ranging from 8 to 14 years old. This means that if your pet is older than the age limit, they are no longer eligible for coverage. Some pet insurance companies may also have an upper age limit for new policies, so it's important to check the policy details before signing up.
Does pet insurance pay you back?
Yes, pet insurance typically pays you back after you have submitted a claim. Most pet insurance companies offer reimbursement plans, which means that you will be reimbursed for the cost of your pet's medical bills after you have paid the vet. Depending on the policy, you may be reimbursed for a percentage of the cost or for the full amount. It is important to read the policy carefully to understand exactly what is covered and what is not.
Conclusion:
All things considered, pet insurance is at least worth considering for anyone with a furry (or scaly) friend. There are many different options available, so it's important to do your research and find the best pet insurance companies for you and your pet. We've tried to provide some helpful information and answer common questions about pet insurance, but ultimately the decision is up to you.
Thanks for stopping by - we wish you the best of luck in finding the perfect pet insurance plan for your family!
As an affiliate of Amazon and other marketing website, we may earn a small commission from certain qualifying purchases.
Other Related Articles: