Are you looking for the perfect way to take your little pup with you everywhere you go? Look no further than an amazing dog carrier purse! These stylish and convenient bags are perfect for transporting your pup in comfort and style.
Dog carrier purses are designed to keep your pup safe and comfortable no matter where you go.  These bags also have plenty of pockets for storing treats, toys, and other necessities. Plus, it's lightweight and foldable, making it easy to store when not in use.
Dog carrier purses are the perfect way to take your small pupper with you wherever you go. They are lightweight and comfortable, making it easy to take your pup with you on any adventure. Plus, the stylish design and colors make it a great accessory for any outfit. Get ready to take your pup with you in style with the amazing dog carrier purse!
Guess what! I have carried a pup in purse - lol - that should be a brand name! Of course, your pup needs to be purse-sized to pull this off. Most are 10 pounds or less, plus they kind of need to be trained to ride in a purse. Most purse-like carriers are more like purses than they are like carriers. When you think about a carrier - you expect it to "contain" your pup more than you would expect a purse to do so. Each of the purse I am reviewing do have a tether or strap that you can attach to your little guy's collar or harness - but if this is going to be a regular way of transporting Rover, you will need to practice with him so that he becomes accustomed to riding in your purse and staying there - even if you set it down for a minute or two.
So let's go check out these stylish handbags and see if any of them are a great pick for you!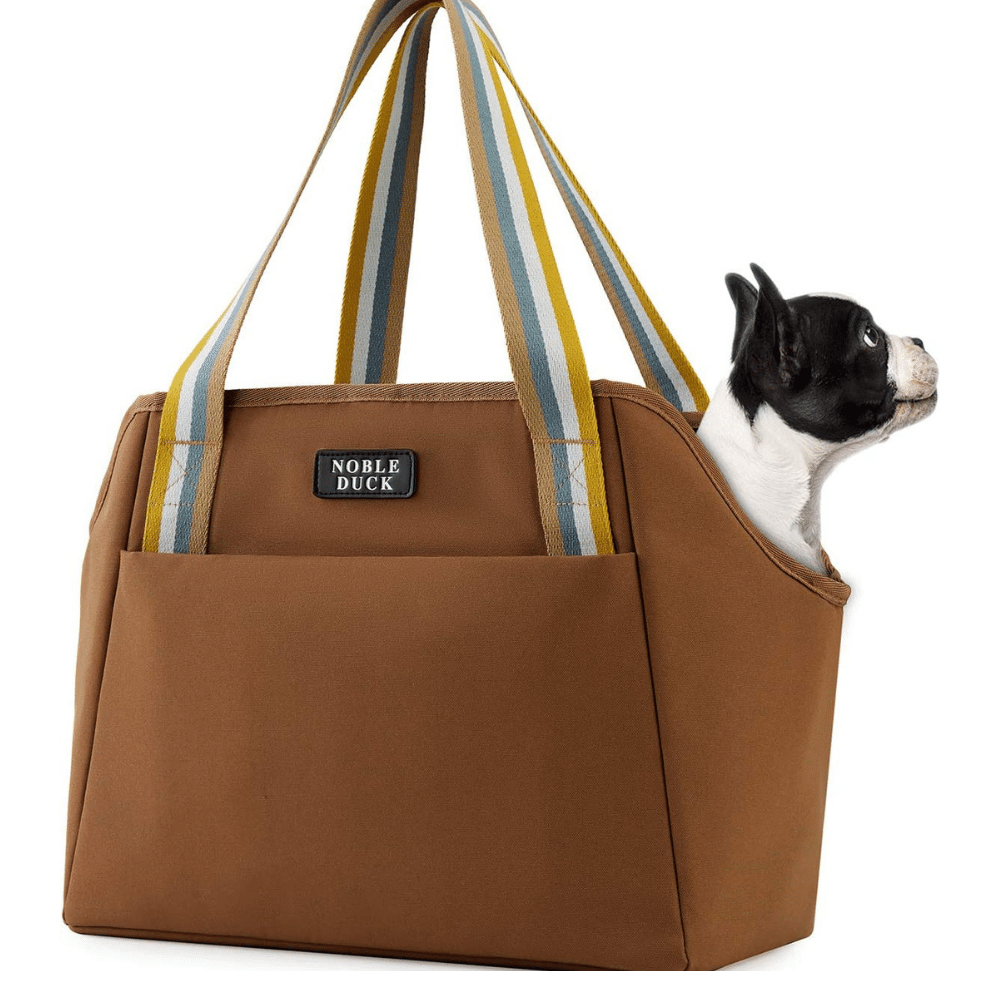 NOBLE DUCK Small Dog Carrier Purse with Pockets
Check Price on Amazon
Why We Love It
Do you want to take your small pet with you wherever you go? If so, the NOBLE DUCK Small Dog Purse with Pockets is the perfect solution!
This pet carrier bag allows your pet to stick out their head and breathe fresh air while enjoying the view. Plus, it comes with a dog leash hook inside to keep your pet safe and secure. Perfect for short - or long trips with your pup!
What You Need to Know
This purse is crafted from a blend of high durability polyester cotton fabric, making it strong and resilient for extended use. It has an inner layer of encrypted polyester material which is highly resistant to dirt and bacteria, thus allowing for easy cleaning and maintenance.
The zipper closure ensures that all items contained within remain secure while in transit. For added convenience, the bag features two comfortable straps that make it easy to carry on your shoulder. Its compact design makes it a great choice for pet owners who want to take their pets with them wherever they go.
The purse measures 15"L x 11.8" W x 7.5"H and has a maximum weight capacity of 12lbs. It is available in khaki or black.
So get your NOBLE DUCK Small Dog Carrier Purse today and enjoy taking your pet with you on your next adventure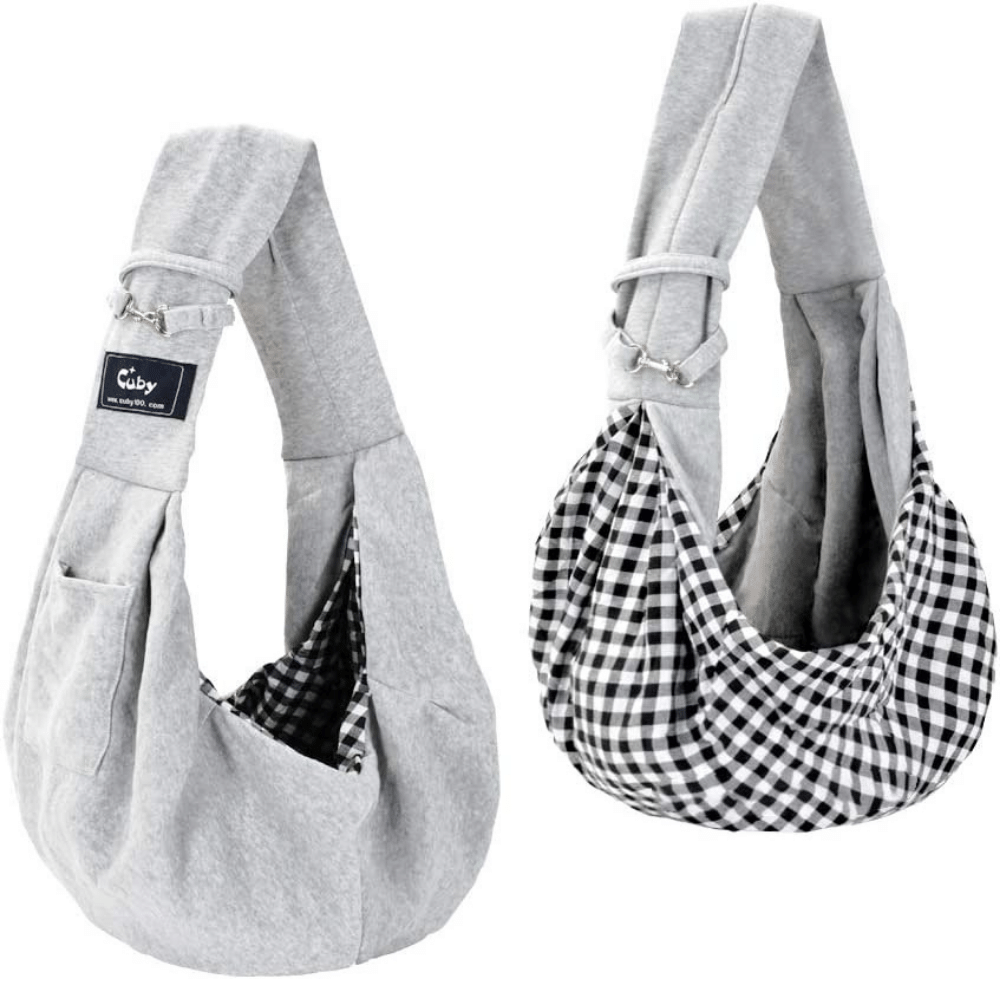 Cuby Dog and Cat Sling Carrier
Check Price on Amazon
Why We Love It
CUBY sling bag is the perfect way to keep your dog close to your body and to increase the bond you share with your pet. The high quality materials, such as soft cotton and sturdy polyester, keep your pet feeling comfortable and safe. Plus, the user-friendly design allows for easy carrying  and a hands free mode of transportation for your best furry friend!
What You Need to Know
CUBY sling bag is the perfect carrier for your beloved pet! With a size of 18.5" x 9.05" x 7.87" (L x W x H), it is suitable for small dogs and puppies who like or need to be carried. It is available in 10 different colors - each of them are reversable for either a solid color or patterned look on the outside of the bag.
It also features a safety first design with a hands-free sling-style carrier loops over shoulder while the pet rests in the pouch on the opposite hip to keep them secure and comfortable. Plus, it is made of high quality soft breathable cotton and has a wide and thick strap to spread the weight over your shoulder and back, minimizing the pain of carrying your pet.
So why wait? Get your own CUBY sling bag today!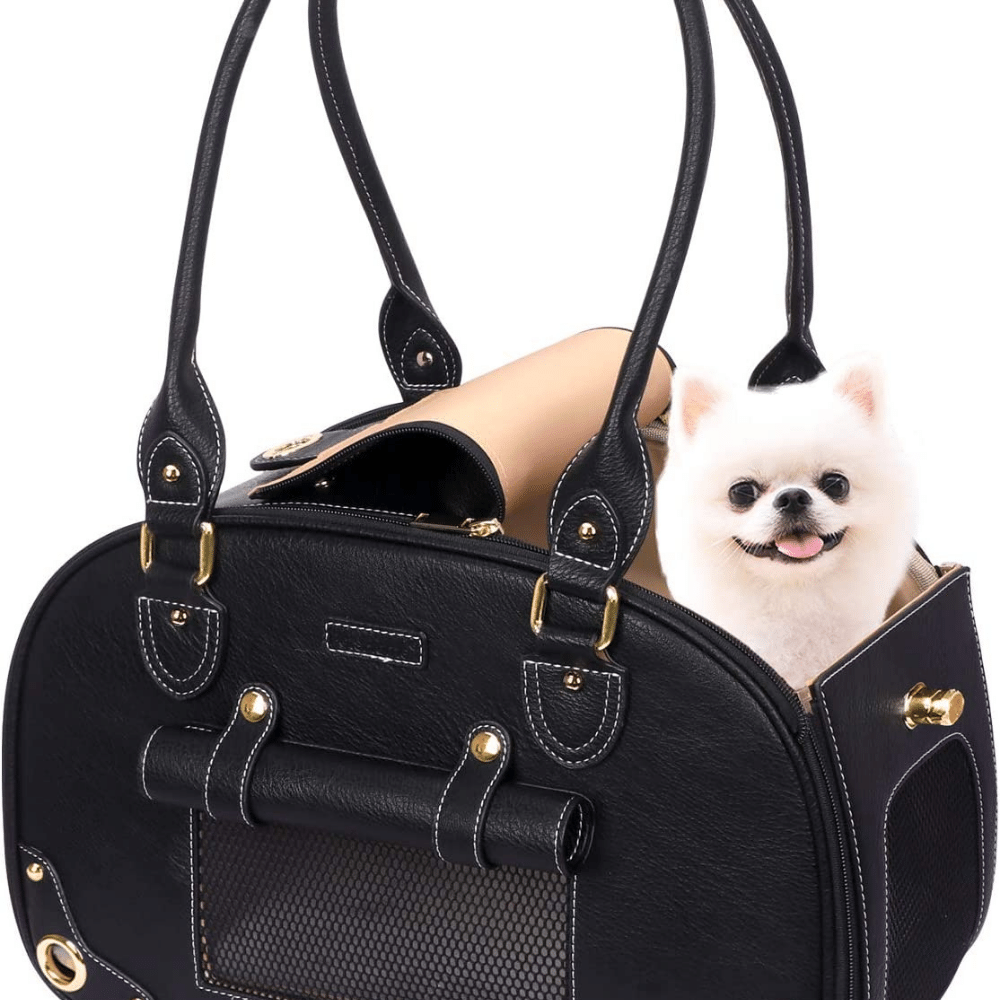 PetsHome Dog Carrier
Check Price on Amazon
Why We Love It
The PetsHome Dog Carrier is made of premium PU leather and studded with gold hardware, making it both durable and fashionable. The waterproof material inside keeps your bag dry and easy to clean.
The bag is also breathable and visible, with three mesh panels for better air ventilation and a full zip opening roof which has three options to provide your pet with better visibility, so they can enjoy the views.
What You Need to Know
The PetsHome Dog Carrier is designed with many features to provide a comfortable and secure experience for both you and your pet. It features a fixed leash inside to prevent your pet from jumping out, two comfortable soft pads for your pet to rest, and a back pocket to store small items. The detachable and foldable design is easy to carry and saves on space.
This bag arrives in 3 pieces and 2 mats, making it easy to assemble within minutes. It has an inner size of 15.7 inches x 7.9 inches x 9.5 inches (LxWxH), with a maximum load of 13 lbs (6 kg).
This beautiful dog purse is available in 6 different colors - so you should be able to find one to match everything you are wearing! It also conforms to under-seat dimensions of most airlines. So Fido can jump on the plane with you as your head out on your next vacation.
Get your PetsHome Dog Carrier today and make every adventure with your pet a stylish one!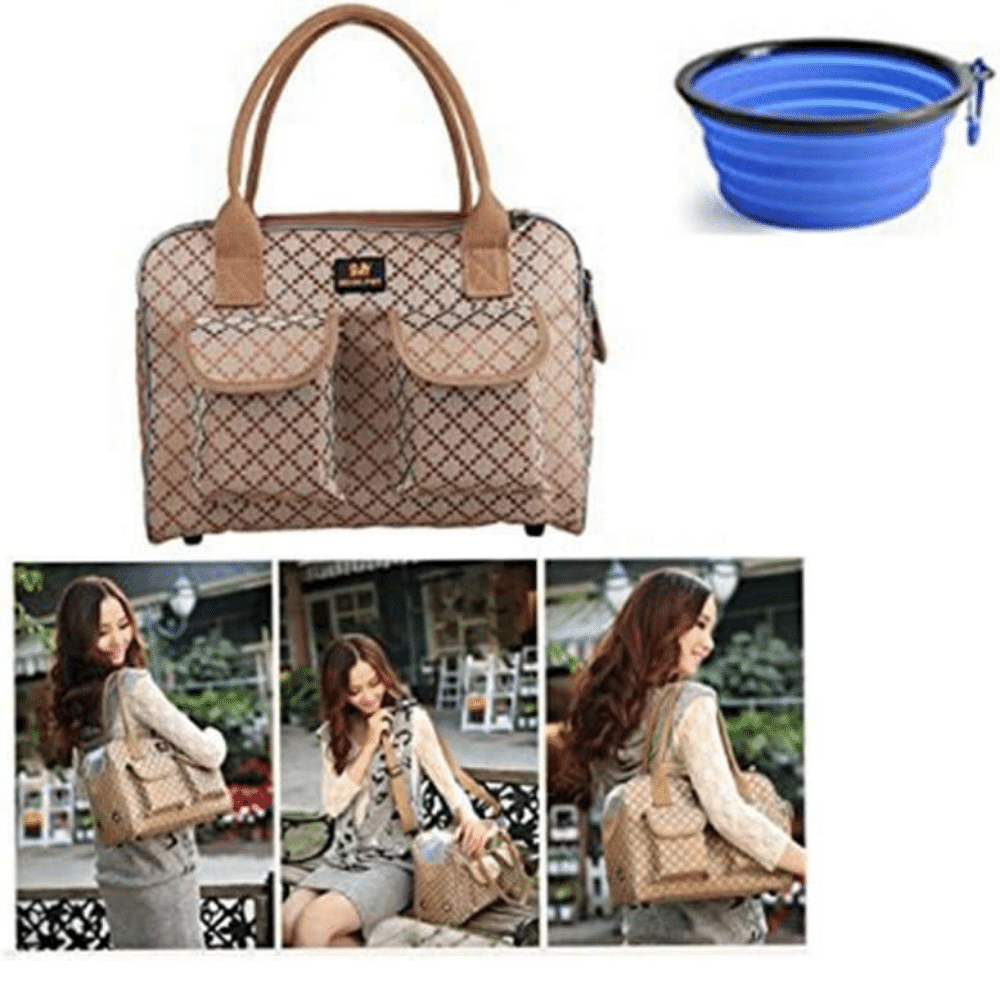 Hubulk Dog Carrier Bag
Check Price on Amazon
Why We Love It
Hubulk Dog Carrier Bag is the perfect companion for your furry friend! It's made from durable high quality Oxford cloth and is easy to clean. The bag features a top zippered opening with mesh windows for your pet's easy access, ventilation and visibility, plus six ventilation holes and four feet nails for extra protection.
With four pockets in the front and back, adjustable shoulder straps, and a movable padded cushion, this bag is sure to keep your pup secure and comfy.
What You Need to Know
Hubulk Dog Carrier Bag is available in two sizes, so you can choose the perfect one for your pup. The small size is 13.7"L * 7"W * 10"H and is great for pets up to 8.5 pounds, while the medium size is 15.7"L * 7"W * 11"H and is perfect for pets up to 13 pounds.
In addition to the adjustable shoulder straps and mesh windows, the bag also comes with an anti escape safety leash, so you can rest assured that your pet is safe and secure inside. Plus, Hubulk includes a free collapsible bowl so Rover will always have a food or water bowl with you on your travels!
So why wait? Get your Hubulk Dog Carrier Bag today and take your pup with you everywhere!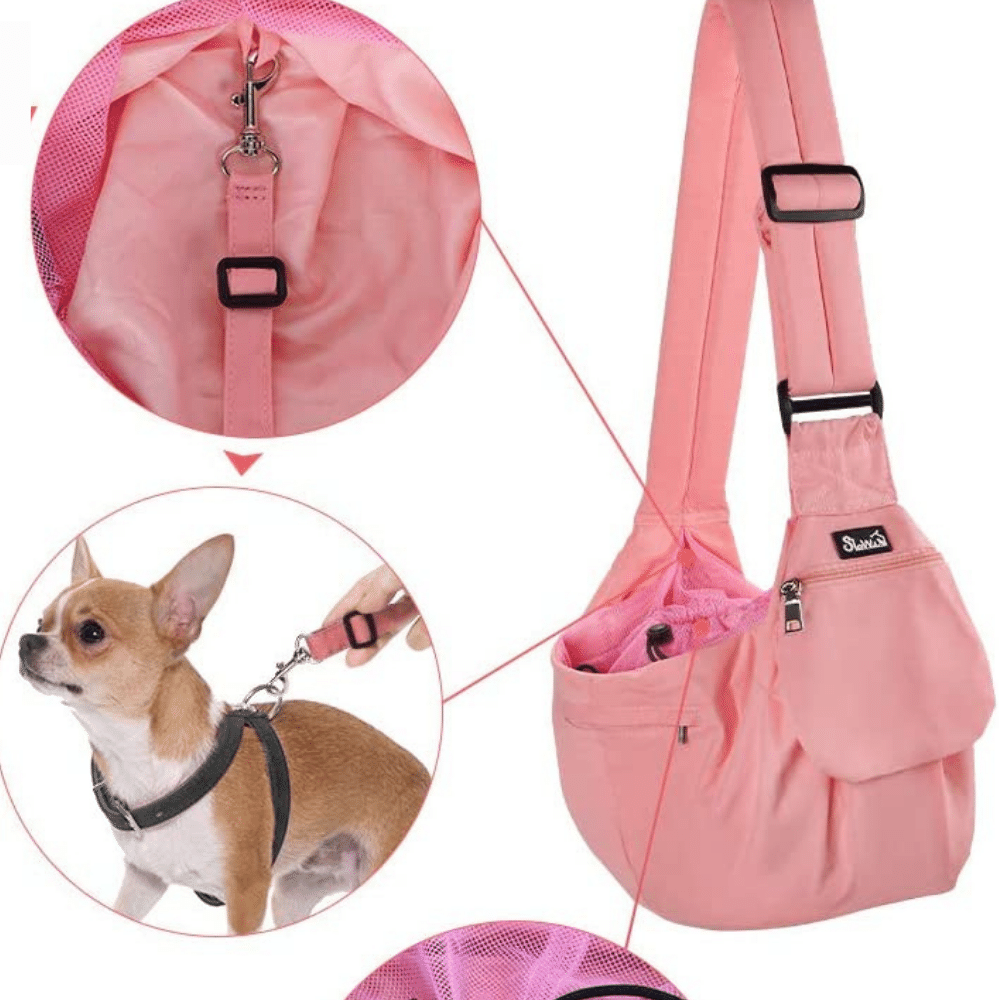 SlowTon Dog Carrier Sling
Check Price on Amazon
Why We Love It
SlowTon's new generation sling carrier is a must-have for all pet owners! Featuring a simple buckle for easy adjustments according to your height, this pet carrier is perfect for daily walks and weekend adventures. Its thick sponge straps help to relieve shoulder aches, and its adjustable safety hook links to your pet's collar to make sure they don't accidentally fall out.
What You Need to Know
Made from a soft and breathable cotton, your pet will have a comfortable and skin-friendly place to ride along with you. There is also a zipped pocket in the front of the carrier for treats, poo bags, your wallet, cell phone or keys.
The adjustable shoulder strap ranges from 17.72 inch to 35.43 inch, so it can be customized to the most suitable length for different heights. It can hold pets up to 16lbs. And when it needs cleaning, you can simply machine wash it! This bag's dimensions are 13.66"L x 11.18"W x 4.41"H and it comes in three different colors: peach, black or grey.
So why wait? Get your SlowTon Dog Carrier Sling today!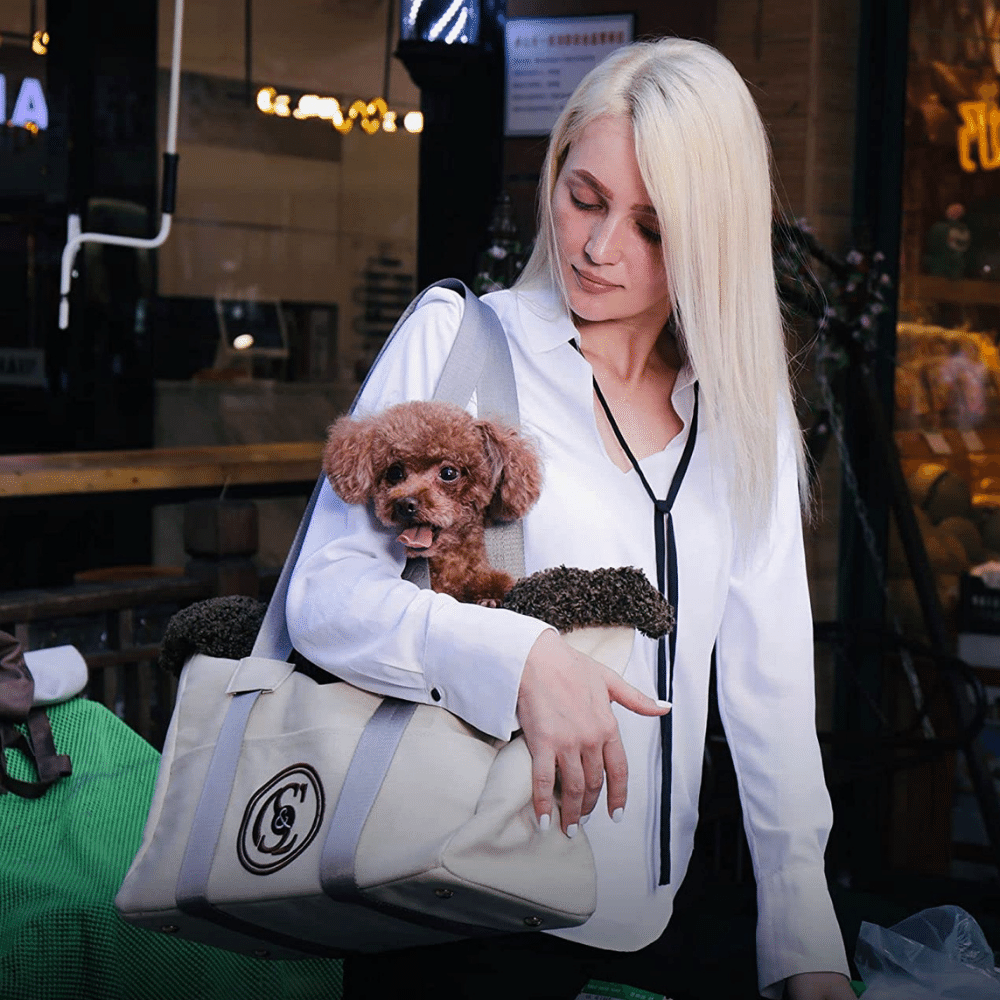 Scotch&Co Pet City Carrier Handbag
Check Price on Amazon
Why We Love It
Scotch & Co Pet City Carrier Handbag is made for the sophisticated pet owner looking for a fashionable and convenient way to travel with their furry companion. This elegant pet carrier is made from high quality canvas fabric and lined with a soft and cozy Sherpa lining for hot and cold weather use.
The multi-pocket design and four external pockets keep personal belongings secure, plus the included 8" safety adjustable harness with a 2" lobster clasp hook ensure your pet is safely fastened in the carrier.
What You Need to Know
Scotch & Co Pet City Carrier Handbag is lightweight and water resistant, so you can take your pet on your next shopping trip or vacation with ease. The 14" shoulder straps are stylish and comfortable and the spacious inner pocket can fit pets up to 25 lbs. This carrier purse is 15.7"L x 7.1"W x 11.8"H. It's available in 3 different colors: tan, black or dark grey.
The 5" side zipper offers a 180 degree view, so your pet can take in all the sights. With its stunning design and functional features, Scotch & Co Pet City Carrier Handbag is perfect for any pet owner looking for an elegant and stylish way to travel with their furry companion.
Plus, Scotch & Co strives to provide the best customer service to all our buyers. We are confident in our product quality, specification and performance and stand by our 100% satisfaction guarantee in keeping with Amazon's Customer Service Policy.
Sounds like a great purse for your best furry friend!
Dog Carrier Purses - FAQs
Looking for the perfect dog carrier purse for your furry friend? With so many different styles and sizes, it can be hard to know which one is the best fit.
It's important to find a dog  purse that is comfortable for your pup and also stylish enough to carry around. But how do you know which ones are the most reliable and have the features you need?
We've compiled a list of the most frequently asked questions about dog carrier purses so you can know more about these products.
Are puppy slings a good idea?
Puppy slings can be a great way to carry your pup around with you, but it's important to make sure you use one that is designed for your pup's size and weight. Look for slings that are made of breathable fabric, have adjustable straps and a secure closure, and are designed to evenly distribute the pup's weight. Additionally, you should always make sure to supervise your pup when they are in the sling, and never leave them unattended.
What is the best dog bag?
The best dog bag will depend on your individual needs and preferences. If you are looking for a bag that is lightweight and comfortable, a backpack-style bag might be a good option.
There are also dog carriers that can be worn as a sling or a purse, which are great for smaller dogs. Ultimately, the best dog bag for you will depend on the size of your dog, the activities you plan to do together, and your personal style.
Do dogs like being in purses?
It depends on the individual dog. Some dogs may like the feeling of being close to their owner and safe in a small space, while others may find it uncomfortable or even frightening.
It's important to pay attention to your dog's body language when putting them in a purse to make sure they are comfortable. If they seem anxious or uncomfortable, it's best to not put them in the purse - or take it slowly and practice carrying your little friend around in your house before you take him outside on an adventure! This will give your pup time to become comfortable traveling in your purse in style!
How do you carry a puppy in a purse?
When carrying a puppy in a purse, it's important to make sure the puppy is secure and comfortable. First, choose a purse that is the right size for your puppy and has a firm bottom. Place a soft blanket or towel in the bottom of the purse and make sure the puppy can't slip out. If possible, attach a strap to your pups collar or harness to provide extra security. Additionally, make sure the puppy is able to breathe easily and can see out of the purse. Finally, keep the purse close to your body when carrying the puppy to provide your furry friend with a great sense of security.
Is it OK to always carry a puppy?
No, it is not recommended to always carry a puppy. Puppies need to learn how to walk and develop their muscles, so it is important to give them the opportunity to explore and move around. Additionally, carrying a puppy can be dangerous if they become too heavy or if they start to squirm and you can't control them. It is best to let them walk and explore on their own when possible.
Do puppies like being carried?
Yes, most puppies enjoy being carried. Carrying a puppy provides them with a sense of security and comfort, and it can also help them bond with their owner. It is important to remember that puppies are still developing, so it is important to be careful when carrying them and to make sure they are supported properly as well as to give them plenty of time to run and play to develop strong muscles.
What kind of dog fits in a purse?
Small breed dogs such as Chihuahuas, Pomeranians, and Yorkies are examples of small breeds that will fit in a purse. These breeds are small and lightweight enough to comfortably fit in a purse or small bag. Any dog that is generally less than 15 pounds can comfortably ride in a purse or a sling.
What breed of dog is under 10 pounds?
There are a variety of small dog breeds that weigh under 10 pounds, including the Chihuahua, Maltese, Yorkshire Terrier, Toy Poodle, Papillon, Pomeranian, Shih Tzu, and Bichon Frise. While these breeds are all small and lightweight, they can still require regular exercise and training.
Conclusion
We hope this review has helped you decide on the best dog purse carrier for your pup. From stylish designs to extra features, there's something here to fit every pet parent's needs. Plus, you can be sure that these carriers are designed with your pup's comfort and safety in mind.
So go ahead and choose the one that's right for you and get ready to take your pup on all your adventures with ease! Whether you're heading to the beach, taking a stroll around the park, or just out for a day of shopping, your pup will be by your side in style and comfort.
Thank you again for stopping in at Red Barn Reviews. We are so appreciative of the time you spend with us. We also love our pets and enjoy helping you find great products that will make both you and your pet happy! If you ever have a product that you'd like us to research for you - just give us a holler at RedBarnReviews@gmail.com. We'll see you here again real soon!
Related Articles